When the Djoker Gets Serious: Wednesday Quarterfinals at Roland Garros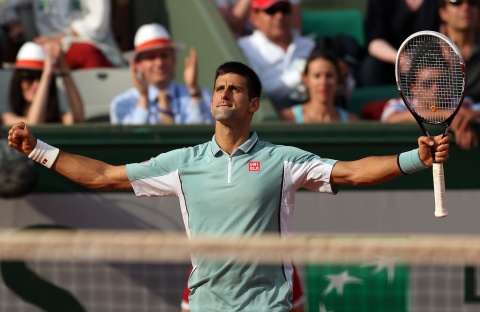 Just as Jo-Wilfried Tsonga flipped the script on Roger Federer, Novak Djokovic flipped the script on Tommy Haas equally emphatically. This fortnight in Paris has offered the world No. 1 opportunities to avenge his two most ignominious losses of 2013, to Grigor Dimitrov in Madrid and to Haas in Miami. Pouncing on both opportunities, Djokovic showed only slightly more mercy to the 35-year-old German than he had to the rising Bulgarian star. The six-time major champion also knew that a marquee meeting with Rafael Nadal lay just ahead, so he could not afford to display any signs of frailty to a rival gathering momentum. Much steadier than in his victory over Philipp Kohlschreiber, Djokovic regrouped from the personal adversity that arrived on the eve of that match and redoubled his determination to advance in straight sets. Haas deserves credit for staying competitive in each of the last two sets, showing integrity and poise in the face of looming defeat. His quarterfinal appearance marked the first of his career, an accomplishment that he will remember for a long time.
Likewise, Stanislas Wawrinka will prefer to remember the journey more than the destination. Wawrinka also reached his first career quarterfinal at Roland Garros, remarkable considering that he had doubted whether a leg injury would allow him to participate. Some of his accumulated fatigue and physical strain may have contributed to his disappointingly meek effort against Rafael Nadal. But the straight-sets rout did not surprise, for Wawrinka never had won a set from Nadal in nine previous meetings. The defending champion extended his encouraging resurgence from a tepid first week. Together with his commanding victory over Kei Nishikori in the previous round, Nadal's quarterfinal dominance delivered the same message to Djokovic that Djokovic's quarterfinal dominance did to him. We can expect plenty of fireworks when the two meet on Friday in one of the most anticipated men's matches of the year. With all due respect to Haas and Wawrinka, the overwhelming majority of fans got the semifinal matchup that they overwhelmingly wanted.
---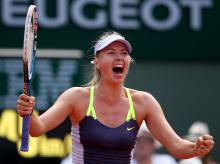 Rarely have things gone wrong recently for Maria Sharapova, playing the most consistent tennis of her career in 2012-13. When things do go wrong, though, they go horrifically wrong. In the first set of her quarterfinal against Jelena Jankovic, an opponent whom she regularly handles with ease, Sharapova committed 20 unforced errors to drop all six games. Handed a stunning bagel set, Jankovic then proceeded to throw the defending champion a lifeline by dropping serve with a double fault to start the second set. Such charity is generally unwise against Sharapova, who swiftly sank her teeth into the match and reversed the momentum. These two former No. 1s with excellent clay resumes dueled into the final set, but the outcome rarely seemed in doubt once the Russian secured the second. Sharapova has acquired a reputation for displaying steely will in third sets, while Jankovic has acquired a reputation for failing to close out winnable matches. Sure enough, both of those trends resurfaced as the Russian swept the last four games. Nobody knows how to win ugly better than Sharapova does.
As she well knows, the defending champion cannot afford to start her semifinal in such wayward form. World No. 3 Victoria Azarenka may enter as a slight underdog, but she regularly punished lapses in Sharapova's form when they met last year. Azarenka did not romp to a quarterfinal victory either, needing 76 minutes to finish off the first set against another first-time Roland Garros quarterfinalist in Maria Kirilenko. More convincing in the second set, the Australian Open champion soon celebrated her first trip to a Roland Garros semifinal. Azarenka has flown under the radar for nearly the entire tournament, which could aid her when the pressure mounts as the title beckons. Meanwhile, Kirilenko will gain some consolation by reaching the WTA top 10 for the first time. Like all three of the other quarterfinalists who lost today, she should feel thoroughly satisfied with her tournament. The favorites may have prevailed in every match, but the underdogs will leave Paris with their heads held high.