Welcome Back!

Caroline Wozniacki last played tennis competitively back in January 2020 at the Australian Open. She lost her last match on court to Ons Jabeur 7-5 3-6 7-5. That is, until Tuesday when she returned to competition after a 3-year retirement with a 6-2 6-2 win against Kimberly Birrell in the Canadian Open in Montreal.
Wozniacki left the sport to start a family with husband and ex-NBA player David Lee. She has since had two children during her absence from the sport.
Before stepping away, Wozniacki had built quite the tennis resume having reached the summit at world no. 1 in 2010, won the Australian Open in 2018, twice reached the finals of the US Open, and accrued a 70 percent win percentage on the tour.
Always the fan favorite, Wozniacki raised her hands with joy after winning her first match back on the tour.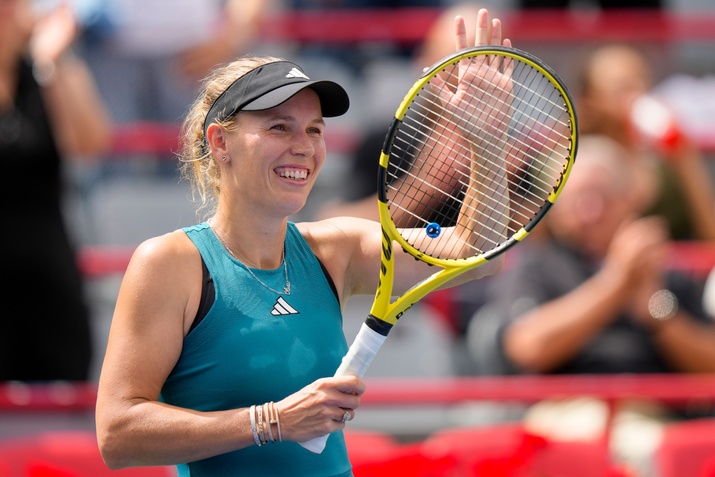 Mathieu Belanger/National Bank Open
"It feels great," Wozniacki said in the post-match interview. "It's my first match back in over three years. Definitely a little rusty but what an amazing place to come back and play my first match. I love playing here in Montreal."
Despite the rust, Wozniacki showed signs of the play that she has built a career on, in particular, a 29-shot rally that ultimately ended up with Birrell dumping a groundstroke into the net.
Wozniacki made it clear that she returned not just to win matches but to win titles.
"Can I win the US Open? I think so," she said. "Can I win the Australian Open? I think so. That's why I'm doing this. And I guess we'll see what happens."
Although her opponent on Tuesday at the event she won back in 2010 was a qualifier, she will be tested in the next round where she will face Wimbledon champ Marketa Vondrousova.
Despite what result this tournament may bring, Wozniacki made it clear where her priorities lay in a comment after the match, "That's the great part about playing early," she said speaking of her children. "I still have the afternoon with them."