Week in Review: Dubai, Acapulco, Delray Beach, Kuala Lumpur and more.

In an awkward position on the eve of marquee tournaments in Indian Wells and Miami, the medley of ATP and WTA events last week still did not lack for storylines. Among the most intriguing, and least expected, were the two women's finals in Florianopolis and Kuala Lumpur, both of which featured two women seeking their first career titles at this level. The first edition of the Kuala Lumpur, held at a Brazilian resort, pitted Olga Puchkova against Monica Niculescu in a contrast of styles between baseline slugging and disruptive guile. Although that match did not produce elite or especially memorable tennis, both women rose to the occasion in a three-setter that clearly captured the enthusiasm of an audience unaccustomed to watching live women's tennis.
Meanwhile, American veteran Bethanie Mattek-Sands dominated top-30 opponent Anastasia Pavlyuchenkova before falling just short in the Kuala Lumpur final against Karolina Pliskova, never even a WTA finalist until she stunned two seeded opponents in straight sets. Before the familiar stars blaze brightly again over the next few weeks, then, some of the lesser stars seized a rare moment to shine. That said, plenty of those familiar stars distinguished themselves in varying ways last week as well. Let's break down how it unfolded.
AD

-

IN

: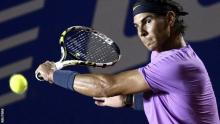 Rafael Nadal: Only sporadically impressive in his two previous tournaments, Nadal launched himself to a new level on the more heralded stage of Acapulco. Confronted with the most talented opposition whom he had faced this month in Nicolas Almagro and David Ferrer, Nadal sustained a confident, poised level of tennis for longer than one would have expected at this early stage of his comeback. His demolition of Ferrer in the final marked the first time that he summoned his vintage form from start to finish without a lull. More fluid on defense and more aggressive on offense, Nadal finally looked comfortable on the court as concerns over his knees receded.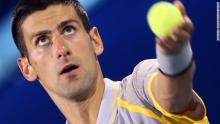 Dubai finalists: Notching his fourth Dubai title in five years, Novak Djokovic extended his latest winning streak to 18 straight matches and, more importantly, his winning streak against top-eight opponents to 13 consecutive victories. His usual blend of suffocating movement, patient point construction, and explosive counterpunching should prove as effective as the March Masters 1000 tournaments as they did against Juan Martin del Potro and Tomas Berdych. But the latter of those should leave Dubai with his head held high, following a strong effort against Roger Federer in which he saved three match points during a semifinal filled with pulsating rallies. While he may rue his shot selection on break points against Djokovic, he nearly swiped a set from the world No. 1 and blasted his backhand with the same authority as his forehand—a promising sign for Indian Wells.
Sara Errani: As the top seed and only top-20 woman in Acapulco, she entered as the clear favorite to defend her title. But Errani still deserves credit for walking the walk in collecting the trophy without confronting any serious adversity. Her first serve found the box with the steadiness of a metronome, striking its targets 130 times in 138 attempts during one stretch. With three finals in four February tournaments, Errani revived from a disastrous January in time for her most productive stage of the season.
Ricardas Berankis: A lucky loser in Delray Beach, he won more matches in the main draw (two) than in the qualifying draw (one). The small Berankis owns a pleasant, versatile game of which audiences have seen too little because of his chronic injuries. Halting Memphis sensation Jack Sock, he made the most of the opportunity that a main-draw withdrawal gave him to collect rankings points.
Suarez Navarro: The Spaniard with the exquisite one-handed backhand stroke still searches for her first career title, but she demolished most of her competition en route to the Acapulco final. Only tested by former Roland Garros champion Schiavone, whom she outlasted in three sets, Suarez Navarro bounced back from consecutive routs in Dubai (where she was a lucky loser) to live up to her billing as the second seed and reach a ranking on the edge of the top 20.
DEUCE

:
Delray Beach finalists: Both ranked outside the top 100, like the WTA finalists in Kuala Lumpur, Ernests Gulbis and Edouard-Roger Vasselin would have recorded their breakthrough before now if at all. And they received substantial assistance from the higher-ranked opponents whom they defeated en route to the final, which Gulbis won for the second time. On the other hand, this 250 tournament of mediocre draws and flagging attendance offered a rare opportunity to appreciate the Latvian's explosive power and the Frenchman's smooth feel for the ball that their inconsistency denies us on larger stages. Like Horatio Zeballos when he won Vina del Mar, both will climb dramatically in the rankings.
Roger Federer: More than once, Roger hovered on the verge of delivering the coup de grace to Berdych and arranging a final against fellow Dictator of Dubai Djokovic. (The Swiss and the Serb have combined to win nine of the last eleven Dubai titles.) Snatching defeat from the jaws of victory, he continued a curious start to 2013 in which he has looked his formidable self at times yet has struggled to win the key points against elite opponents. That said, this semifinal felt like a match that Tomas Berdych won rather than Federer lost. He now travels to defend his Indian Wells title, probably his last chance to return to the winner's circle until July.
Juan Martin del Potro: He earned a failing grade at the Australian Open and found himself on the honor roll after winning the 500 tournament in Rotterdam. This week fell somewhere in the middle, for del Potro took care of business by reaching the Dubai semifinals but could not muster sustained resistance to Djokovic at that stage. Since the start of 2012, or even longer, del Potro has excelled at suppressing players ranked lower than him while struggling to ambush players ranked higher than him.
Venus Williams: The long tail on this comet of a career continued with an arduous week in Florianopolis that ended when Venus reserves of energy finally failed her in a semifinal epic. While she hasn't looked herself for years, and probably never will again, she shows tremendous spirit and dedication for the game by continuing to compete even as the returns diminish. There's nothing but classiness about her in victory or in defeat, and that classiness may end up writ large in her epitaph.
Nicolas Almagro: In a match closer than the score suggested, he threw everything in his arsenal at Nadal and even held a set point in the first set. Granted, Almagro got a little too Almagro for his own good late in both sets, a predictable development considering his history. Before then, though, he lit up the Acapulco night with blazing serves and groundstrokes that cut through one of the best defenses in history as often as his fans could have wished.
David Ferrer: Meet the new boss. Same as the old boss. Until his old nemesis flattened him, though, Ferrer continued his mastery over the Mexican tournament where he has won three titles and extended his victory total in 2013 to an ATP-leading 21. Not a bad statistic for a tireless man who should recapture Acapulco when Nadal reverts to his more typical schedule next year.
Alize Cornet: One tips one's hat to the Frenchwoman for surviving a 213-minute ordeal against the mosquito-like Lourdes Dominguez Lino in Acapulco. Understandably unable to recover for Errani the next day, Cornet at least recorded a victory that combats her familiar (and well-deserved) reputation for flakiness.
AD

-

OUT

:
American men: In a theme repeated from Memphis last week, both Sam Querrey and John Isner underperformed in alarming fashion at Delray Beach. Leading Ernests Gulbis by a double break in the third set, the former double-faulted when serving for the match and later hit two more double faults in the decisive tiebreak to throw away this gruesome encounter. While Isner reached the semifinals, he survived the underpowered Jesse Levine in the first round by the narrowest of margins. Dropping serve three times to the anonymous Edouard Roger-Vasselin in a semifinal loss, he will have gained little confidence for defending his finals points at Indian Wells.
Caroline Wozniacki: A first-round loss by a top-10 player as the top seed at an International tournament to a qualifier ranked 186th speaks for itself. In a bit of unfortunate timing, the Kuala Lumpur upset broke her momentum from an otherwise encouraging February before two key tournaments where she has fared well before. At least Wozniacki endured a marginally less disastrous week than boyfriend Rory McIlroy.
Janko Tipsarevic: Another tournament, another early loss for the second-ranked Serb who has floundered ever since winning Chennai. Rarely does a member of the top 10 lose eight consecutive sets, yet that is what Tipsarevic has done following a Dubai loss to Davydenko in which he looked neither mentally nor physically fit to compete.
Stanislas Wawrinka: One of the most resilient—if not the most resilient—competitors of the year so far suffered his first notable setback when he fell in the first round of Acapulco to Fabio Fognini. That exhausting start to 2013 on so many levels may start to take a toll on Wawrinka over the coming weeks.
Yaroslava Shvedova: Call her the anti-Sharapova, or the anti-Azarenka. While both of those women have excelled in three-setters recently, Shvedova has lost ten straight amid a ghastly slide that she must reverse before defending her accomplishments of last summer. Especially concerning is the fact that eight of those ten losses have come after winning the first set, a feat paralleled only by Sabine Lisicki.