The Week of the Bounceback: Doha, Rotterdam, and More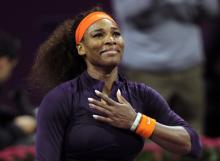 Seemingly destined to reach the top spot at the Australian Open, Serena stunningly fell just two games short in a quarterfinal against Sloane Stephens. Last week in Doha, she wiped away the taste of that bitter disappointment by claiming the No. 1 ranking with an epic thriller against fellow Wimbledon champion Petra Kvitova. The oldest woman ever to reside in the WTA penthouse, Serena showed just how much a distinction that she chronically dismisses meant to her with an emotional reaction.
But she was far from the only player to soothe the sting of an Australian Open setback this week, joined by others in Doha and in the ATP tournaments at Rotterdam and San Jose.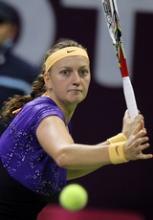 Petra Kvitova: Although she lost the aforementioned epic to Serena, the former world No. 2 followed her encouraging Fed Cup weekend with two victories at this Premier Five tournament, where the chilly conditions may have suited her breathing. Few would have expected the woman who lost two breadsticks to Cibulkova in Sydney and reached double digits in double faults against Robson in Melbourne to come within two service holds of toppling one of the game's great legends. Kvitova couldn't finish it off, but she finally showed flashes of her familiar self for the first time since August.
Sara Errani: Gone from the Australian Open in the first round, she gained little momentum at a Paris tournament where she won just one completed match before falling to Mona Barthel. Errani could not even catch fire during a home Fed Cup tie on clay, so a quarterfinal appearance here injected her with some vital optimism. Avenging a January loss to Daniela Hantuchova, she maintained the high first-serve percentage that she needs to keep pace with more powerful rivals.
Sam Stosur: To be sure, dropping a 6-1 set to Monica Niculescu and absorbing yet another thumping from Sharapova did not exactly provide cause for jubilation. Stosur had set the standard extremely low by winning just one of her first six matches this year, however, so her fans should have welcomed the signs of life shown by her two victories here. Since injuries have played a significant role in her struggles, her form should improve once she recovers from them.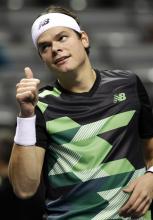 ATP giants: Flustered and thoroughly overmatched in his Melbourne meeting with Roger Federer, Milos Raonic appeared to have regressed from his three tight 2012 clashes with the Swiss. Back in his favorite hunting ground of San Jose, he capitalized on holding the top seed (the first of his career) by winning the title without losing a set or his serve. Raonic became the first man since the 1950s to win this fast indoor tournament three straight years, and he will remain the last as it leaves the Bay Area after this edition. Less stunning than the Canadian tower of power, but still solid, were the semifinal efforts of Sam Querrey and John Isner. While the former had wobbled to a first-week exit in Melbourne, the latter had withdrawn from the fortnight with a knee injury. Signs of rust predictably dogged Isner this week, and his compatriot struggled with consistency, but both found ways to win that should build their confidence for next week's tournament in Memphis.
Tommy Haas: Unable to escape a five-setter in the first round of the Australian Open, the comeback story of 2012 endured a miserable January. Among the goals of Tommy's late career was playing in front of his daughter, though, and he secured that goal in style this week by reaching the San Jose final while she watched. A bit like Lleyton Hewitt, Haas has mellowed from his temperamental self with age into one of the sport's more endearing elder statesmen. Despite a surface better suited to overpowering serves than his elegant game, he outmaneuvered Isner in a display of the poise that he could not find in Melbourne.
Dimitrov: After he had grasped attention with a Brisbane runner-up performance, Grigor Dimitrov left Australia even earlier than Haas did. In fact, he left it earliest of all the men who entered the draw, unable to win a set from Julien Benneteau. A quick loss in his next tournament deepened the concern, so his week in Rotterdam loomed large. Responding impressively with his second semifinal in two months, he came through his section as an unseeded entrant with victories over Bernard Tomic, Nikolay Davydenko, and Marcos Baghdatis—all notable talents, albeit all lacking in consistency. Even in a semifinal against Juan Martin del Potro, Dimitrov competed more valiantly than the routine scoreline showed, much as he had against Murray in the Brisbane final.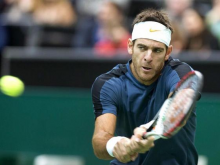 Del Potro: A popular dark horse choice in Melbourne, the former US Open champion could not escape Jeremy Chardy in the first week. Del Potro rarely has lost to such an anonymous figure over the past year or so, during which he has installed himself in the top 10. Once he returned to action in Rotterdam, then, one expected a result more worthy of his talents.
All the same, he arguably exceeded expectations by not dropping serve through 40 games en route to the final. Another Frenchman, Julien Benneteau, could not repeat Chardy's feat there despite a tense first set, and Del Potro claimed his 14th career title at a tournament where he finished runner-up to Federer last year.
That said, not everyone deviated from their recent trends last week. While Victoria Azarenka followed her Australian Open defense with another in Doha, Rafael Nadal claimed the 51st crown of his career by advancing one round further than he did in Vina Del Mar the week before. In both cases, though, their title runs felt like subplots to other stories surrounding them this week. Azarenka achieved a crucial breakthrough by finally toppling Serena for the first time since 2009 (and just the second time overall), which built upon her near-victory in their memorable US Open final and suggested that a fascinating rivalry could loom on the horizon. Less auspicious were the concerns voiced by Nadal on physical and mental levels, for he voiced discomfort in his knees and frustration with the overall state of his game as he appeared to regress from his level in Vina del Mar. Dropping sets to Carlos Berlocq and the thoroughly unknown Martin Alund, this perfectionist sounded much older than his 26 years at times. At least he did finish the week holding hardware, which was more than archrival Federer could say after succumbing to Benneteau in a Rotterdam quarterfinal.
Outside the champions, two other high seeds echoed their performances at the Australian Open. A semifinalist there and a semifinalist in Doha, the third-ranked Maria Sharapova continues to either crush or get crushed in a trend that has typified much of her career. In all ten of her matches this year, she either has lost six or fewer games—or won six or fewer games. Meanwhile, Nicolas Almagro digested another dose of disappointment less than a month after he had failed to serve out an Australian Open quarterfinal three times. Serving 28 aces on the red clay of Sao Paulo against a rusty David Nalbandian, he nevertheless managed to lose in a third-set tiebreak. The star-crossed Spaniard now may face the Australian Open's other star-crossed man, Stan Wawrinka, in an intriguing Buenos Aires semifinal this week.