Vondrousova Wins Wimbledon Title

Twenty-four-year-old Marketa Vondrousova has made history as the first unseeded Wimbledon ladies' champion, defeating sixth seed Ons Jabeur 6-4, 6-4.
Vondrousova is the fifth left-handed ladies' champion in the Open Era (Jones, Navratilova, Kerber, and Kvitova) and the fourth Czech-born woman to win the title in the Open Era (Navratilova, Novotna, and Kvitova).
At world No. 42, she is the lowest-ranked ladies' champion.
A tricky lefty, Vondrousova is lithe and long-limbed and moves extremely well. She has incredible feel with the slice, dropshot, and lob. She has a fantastic serve. Her slice serve on the deuce side is especially dangerous, and it sets up her plus one.
She anticipates well. She tracked down many drop shots, taking full swings for winners. She is a master at mixing up speeds and spins and breaking her opponent's rhythm. I can imagine she would be incredibly tough to play.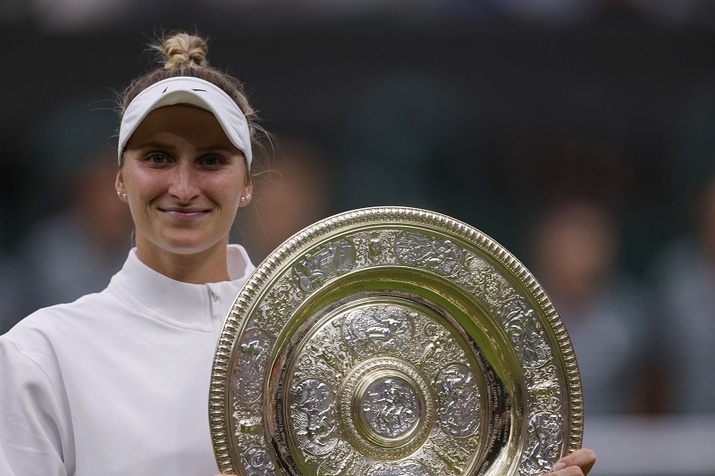 Andrew Couldridge | Reuters
Jabeur made too many errors, especially on her backhand side. Her serve also wasn't at its best. She made only 48% of first serves in.
Perhaps the pressure was too much for the twenty-eight-year-old Tunisian. If she had won, she would have become the first African Grand Slam singles champion. She was a finalist here last year, and she seemed like she was on a mission to win this year.
In her post-match press conference, she said: "Honestly, I felt a lot of pressure, feeling a lot of stress. But like every final, like every match I played, I was telling myself it's okay, it's normal. I honestly did nothing wrong. I did everything that I could.
"But, yeah, I think things take time with me. Again, I said it wasn't meant to be this time. Hopefully I will be like the others that failed couple of times to do it and it will come after."
She said of her opponent: "I think Marketa just put the ball in, slices a lot. I believe that it was completely different match from the last three that I had. So maybe adapting to her rhythm was very difficult for me. Plus, the pressure and the stress of the final.
"I didn't think she made a lot of mistakes. I thought she served good. I think she played maybe a perfect final for herself."
At times, Jabeur looked frustrated, slapping her thigh. She was not able to find the composure that she needed.
Vondrousova seemed confident and calm. In the first point, she lifted a lob that landed just inside the baseline for a winner.
Jabeur did have a 4-2 lead in the first set, but Vondrousova, who won both their previous matches last year, reeled off four straight games to take the opening set.
In the second set, Jabeur lost her serve in the opening game. The crowd did its best to cheer her on—she was clearly the crowd favorite—and she broke the Czech's serve at love to take a 3-1 lead.
This was not Vondrousova's first time in a Grand Slam final—she lost to Ashleigh Barty in 2019 at the French Open. But injuries kept her out of the game. She even came to London last summer as a tourist during Wimbledon with her wrist in a cast.
Vondrousova is an extremely talented player, with wonderful creative variety, and she came back to level the second set at 4-all before breaking again. On her serve, she had triple match point, but on the first one she double-faulted, showing a bit of nerves. But she got the next one, putting away a backhand volley, then falling to the grass in celebration.
In her post-match press conference, Vondrousova was asked what was going through her mind when she finished the match: "I mean, relief. 'Cause when I was 40-Love up, I almost couldn't breathe. It's just like everything is on you. Yeah, I mean, I'm just very happy that I stayed in my head and I just kept it together.
"It was really tough in some moments. I think it was just a great match. We had some great rallies. She's amazing player. She's amazing person. That was the tough part also. We know each other very well.
"I'm just very happy that I kept fighting in the important moments."
The roof was closed due to strong winds, and Vondrousova was asked if it helped her. "I mean, the roof can help you with serve," she said. "You don't have to focus on the wind so much. I feel like everything is the same on every side. I think you just have to focus on the game, not on the wind, not even on the sun.
"I think that's a good thing. I'm used to playing indoors. We practice in Prague in winter indoors. I always play good indoors. I was like, yeah, maybe that's going to help me.
"Yeah, I mean, winning, it's amazing feeling. I have my husband here. My little sister came also on Friday. Yeah, I'm just very happy to share with the people I have here 'cause in Paris it was a bit sad. I couldn't go there to hug them. Now this happened. I think just to share it with them, it's amazing."
Vondrousova has an array of tattoos on her arms. She said if she won, she was going to get a new tattoo and her coach was going to get one, as well.
"I think I'll choose for him," she said. "Maybe we'll get the same one. We talked before the tournament, and he said, 'Yeah, so maybe if you win a Grand Slam, then I'll do it.' Then this is happening.
"I hope he's not going to back. I think I'm just going to made him do it. So, we'll see," she said, smiling. "I hope we can make it happen here."