Visiting the Madrid Open: A Spectator's Guide

The 15th annual Mutua Madrid Open takes place April 29th-May 8th. While celebrating 15 years, Madrid is keeping tennis accessible with tickets starting at 7 euros. That's about $8.00 per ticket, an amazing gift for fans. The WTA singles and doubles finals take place Saturday, May 7th. and the ATP finals will be held Sunday, May 8th.
The event was originally played on indoor hard courts and was an ATP only tournament. The first champion was Andre Agassi. In 2009, the event moved outdoors to red clay and expanded to include the WTA. The record for the most titles is four, held by Rafael Nadal.
Last year, WTA singles champion, Petra Kvitova, won the title after taking out No. 1 Serena Williams by playing inspired tennis in the women's semifinal. With Spain's Queen Sofia in attendance, Andy Murray was victorious over Spanish son Rafael Nadal. Andy has spoken about his eagerness to defend the Madrid title. Doubles finals saw ATP winners Rohan Bopanna and Florin Mergea on top, while WTA partners Casey Dellacqua and Yaroslava Shvedova raised the women's trophy.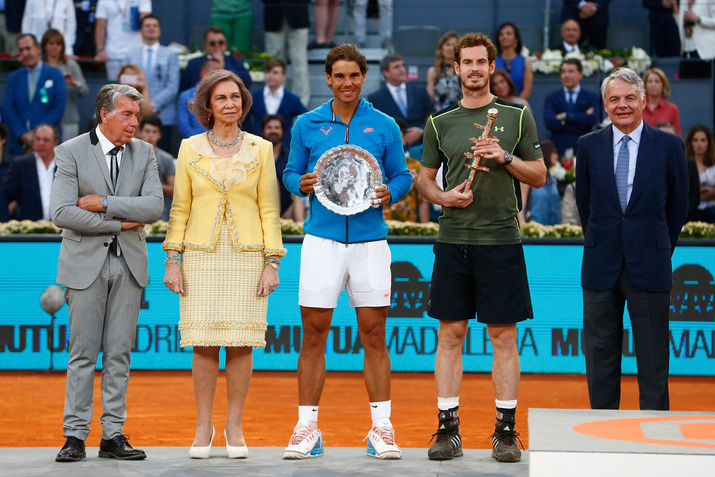 To provide a perspective on the intensity of Madrid competition, 2015 resulted in twenty three-set matches on both the WTA/ATP tours and twenty-one ATP tie-breaks. Since Madrid awards 1000 points to both the WTA and ATP singles champions, you will not see many players skip Madrid and the opportunity to secure their ranking for the French Open. However, Novak Djokovic, with a solid lock on the No. 1 ranking, chose to sit out last year. This week, the world No. 1 returns to join the Madrid anniversary celebration.
Tickets
Tournament play spans 10 days. Last year, I purchased a full tournament pass for about $600. The tournament offers something for everyone with several multi-session passes. My ticket provided a good seat in the main stadium, Manolo Santana, for the duration. For a dose of perspective, the Madrid center court holds approximately 12,000  fans versus the U. S. Open Arthur Ashe Stadium, which accommodates 23,000  guests. The event pass allowed access to everything except for a few matches in stadium 2, Arantxa Sanchez Vicario, and a clearly decadent Club VIP area. Next time.
A little something else - I managed to talk my way into the Mary Kay sky box and received a makeover while perched above center court. Since the tournament pass included the quarters, semi-finals and the finals, I felt this was a good value. With the purchase of the tournament pass, I received individual electronic tickets. This was a big plus. It gave me the option to resell session tickets through the Viagogo ticket exchange site, http://www. viagogo.com. Many events issue a single tournament credential, making the resale of individual tickets impossible.
The Facilities
The Caja Magica, translation "Magic Box", is an open air multi-level structure that houses three show courts or estadios. Spanish legends Manolo Santana and Arantxa Sanchez-Vicario are celebrated with stadium names 1 and 2 respectively. Stadium 3 is yet to be named. Fans have great open seating options in both stadiums 2 and 3.
All three stadiums feature a retractable roof that overhangs the seats. This design provides afternoon shade and relief from the Madrid sun. Most important, the roofs are a virtual guarantee that the show will go on regardless of weather conditions. At present, not many outdoor events can make that promise.
The bottom level of the Caja Magica is a breezy, cool oasis filled with retail shops, entertainment, a media center, beverages, and eateries. There is also a combined use outside practice and lower court "island" called the Tennis Garden. This area consists of a raised viewing platform overlooking courts. It has stadium seating below and additional R&R space featuring the Rodilla Bar, a Madrid culinary staple.
The Tennis Garden was one of my favorite features. Here's why. The layout gives you the ability to float between matches and practices without the commitment of sitting down or being "locked in" until players change sides. Switching courts is easy and fast, so you miss nothing. The walkway platform overlooking the courts provides a panoramic view of the area. I was generally able to see what I wanted without waiting in lines or having obstructed views.
Player practice schedules are published at the event Information Desk daily and generally started about 11AM. The only downside to the Tennis Garden is the metal construction, so walk lightly to avoid being a distraction for matches in progress. If you are considering Madrid versus the French Open, keep in mind there are no accommodations for evening play at Roland Garros, while late night matches at Caja Magica were common. Extended matches at the French roll into the next day once dusk falls, but Roland Garros is of course a major.
Bring the Kids
Madrid has the most kid friendly amenities that I have seen thus far. There was a Lego play room on the bottom level, open spaces away from courts where kids can run around in the shade, make noise, and be kids, fun social media booths, and more.
My favorite 2015 non-match experience was watching David Ferrer and Garbine Muguruza running Cardio Tennis style drills with the young Spanish players. The rising stars were impressive while David and Garbine, clearly enjoying the role, were encouraging coaches. The event also showcased the junior finals played on center court. I have never seen juniors play on the big stage anywhere else. Perhaps this gesture speaks in part to the success of the Spanish Tennis Federation.
The Rules
All events have them and they vary, so always check the event site. Fan preparation, like player match preparation, produces better results. Once you enter the Caja Magica grounds, you cannot leave and re-enter. Equally important, when you leave the main stadium for a break, you must obtain a re-entry coupon from the gate attendant as you exit. To re-enter the stadium, you must present both the re-entry coupon and your session ticket.
This is a European practice that I've also seen enforced in Rome and Paris as well. I make a habit of chatting up my gate attendant. If they remember you, they may take pity on you if you lose your coupon, and it makes the experience more fun.
Sustenance & Selfies
Madrid does not allow outside food or beverages. Empty beverage containers are allowed without a lid. Main stadium post match access is strictly for VIPs. The stadium sections are built so you cannot move down at the end of a match. Try the practice courts, outside show courts and player arrival gate instead if you are seeking autographs and brush with fame selfies. Typical stadium fan etiquette is expected, although cell phone use during matches was common, but please don't.
A fun tidbit is that some rules are in fact mandated by Royal decree.
Ad Points
Event facilities are spacious and not overcrowded. Ladies, I never waited for a restroom, not once in 10 days. The ticket purchase process on the event site, www.madrid-open.com, is seamless. It may seem odd that I point this out but, if you have used other European event sites, you understand. A night club like setting features daily live music and dancing. In Madrid, they know how to party! The event provided free publications, the ABC Daily and The Event Magazine. Both are worthy keepsakes with photos and articles in English and Spanish and the updated draw.
The event staff were friendly and helpful in spite of my limited Spanish. Madrid locals as a whole were warm and welcoming. Madrid the city is a blend of history combined with modern convenience. It boasts stunning architecture, museums, traditional markets, grand parks, and of course Tapas bars. Public transportation is excellent. It is easy to stay in the historic center and use public transit to arrive at the event in about 20-30 minutes. The Metro is clean, modern, economical, and user friendly, as are the buses. You will find direct connections from the airport to the historic center.
Madrid Economics
If you are staying for more than a day or two, save by purchasing a multi-day transit pass. Ticket machines with English instructions are located at the airport exit and as you enter the Metro and Light Rail stations. The event produced an excellent Madrid visitor guide, highlighting museums, music, festivals, and other sporting events. National museums, the Prado and Reina Sofia, are open some evenings for free. I took in a Real Madrid match and attended traditional San Isidro Festival events around the city, http://www. sanisidromadrid. com. It was possible to queue for Real Madrid tickets about 90 minutes before the match started. The Madrid location is an opportunity to enjoy a cultural European vacation wrapped in tennis bliss.
Finances & Getting There
Spain remains a great value with a stronger U. S. dollar coupled with Spain's economic slide. I discovered a fantastic boutique hotel near the Opera, a central location, for about $50 per night. If you want a day off from tennis, the Atocha central rail station makes it easy to plan day trips to historic gems like Toledo. Madrid has direct flight connections from several U. S. airports, Los Angeles, Miami, Washington D. C., and New York to name a few.
Hop a flight and cross the pond. Join tournament director and former No. 1, Manolo Santana, pour a nice glass of Tempranillo, share some tapas, and take in the excitement of Spanish red clay. Vamos!