Viewpoint: The Revenge of Rafa

Nobody could have predicted the carnage. The post-Wimbledon hard-court American swing was meant to be all about Andy Murray's U. S. Open defense, the Roger Federer reprisal, or the Novak Djokovic domination.
Rafael Nadal has flipped the script, and his vengeance has been majestic. He is a man on a mission, seeking out and taking back the spoils that he considers his. His Wimbledon hiccup seems such a long time ago.
Rewind back to when he was away with the knee injury that turned into a suspected psychological problem. People talked. They said that his game was too exhausting to play on a day-to-day basis. They said that his uncle, Toni, had pushed him too far. They said that he was getting too old to play his ferocious brand of tennis while Murray, Djokovic and Federer were sitting pretty.
Rafa has a score to settle.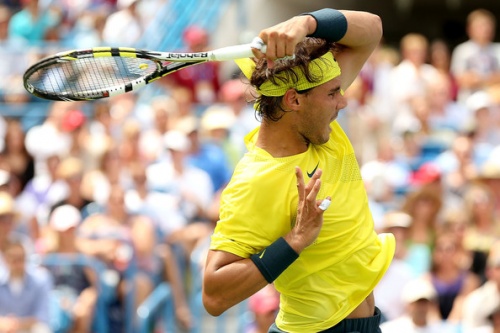 2013 has been the year of the raging bull. Granted, there has been two hiccups on his return: the unexpected losses to Horacio Zeballos at Vina del Mar and Steve Darcis at Wimbledon. But from Sao Paulo in February through Roland Garros in June, Nadal was nearly perfect. Since the grass debacle against Darcis, he has won two straight Masters 1000 crowns as he has shaken up the rankings with no points to defend. The demoted David Ferrer and Murray will not be happy, not to mention the faltering Federer or the hunted Djokovic.
For Rafa, a rest has been better than a change. Now he is playing more aggressively than we ever could have imagined and closer to the baseline, resulting in a quicker pounce on the short ball. Even more so than on the clay, this strategy has reaped rewards on hard courts, where he has a 15-0 record this year.
So let's get the facts straight. Rafa is not just the King of Clay. He is much more than a one-trick pony, so lately it is safer to refer to him simply as The King. Of the nine Masters 1000 events, three are played on clay. Certainly, Rafa has cleaned up on those played on clay with 18 of his 26 wins on the surface. That still leaves eight Masters 1000 events won on hard courts. True, Nadal has won only two majors on hard courts. But with his current strategy and visible hunger it would be foolhardy to bet against him.
Apart from the usual niceties and gratitude that he displays during interviews, Nadal's play is that of a quest for vengeance. The hunger that he has displayed and his pursuit of victory remind me of a cast-off outsider. Titus Andronicus, Edmond Dantès, and Steven Segal, please welcome Señor Rafael Nadal.