Venus Crushed At US Open. What's Next For Her?

Venus Williams fell to qualifier Greet Minnen of Belgium 6-1, 6-1 at Arthur Ashe Stadium on Tuesday night. It was the most lopsided loss by the 43-year-old in her 24 appearances at the US Open. She was a shell of her former self. And, of course, afterward much of the talk centered on whether she should retire from the sport, but there are a few things to consider.
Williams has earned the right to retire on her terms so there should be no issue with whether she continues to play or not. Retirement is a personal decision and we have seen examples over the years where one size does not fit all. Bjorn Borg essentially retired at the age of 26 while Roger Federer was 41 years old. Ash Barty retired at the peak of her career at the age of 25 while Feliciano Lopez is still grinding it out at almost 42 years of age. The point is that it is up to each individual player.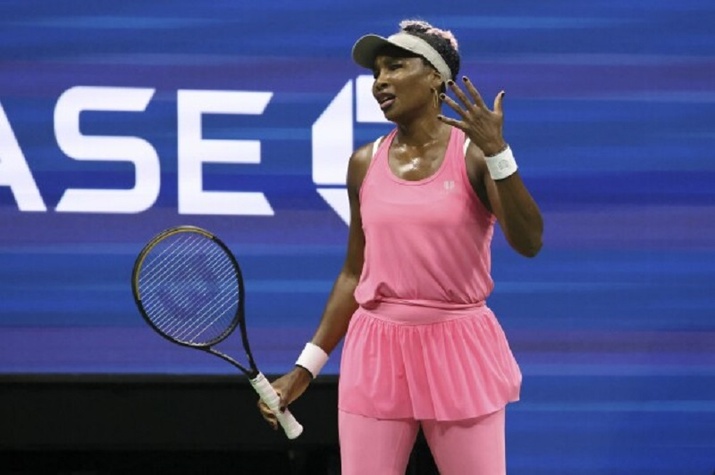 AP Photo/Jason DeCrow
However, one factor that should also be considered is that for each wild card entry a player with the ranking of Venus receives to enter a slam, there is often one spot taken away from a player who could often use a boost to get their career jump-started. At what point does this option dissipate? Would Williams stay in the game if she had to go through qualifiers, or play ITF events?
Nonetheless, it is a little unfair to use her first-round performance as evidence that she should no longer compete. Williams was forced to withdraw from Cleveland before the US Open due to an injury that was clearly hampering her movement on the court against Minnen. A better barometer to assess whether a player should call it a career is when they can no longer compete when they are at the best level of health their body will give them at their age. It is well-documented that Federer stuck around, rehabbed, and went through surgeries, just to have a chance to compete at the best level his post-prime body would allow. He finally concluded that he could no longer do it.
In my interaction with former professional players, one common theme has always surfaced in one regard or another when it comes to retirement. And that is, when the blood, sweat, and tears they put in outweigh the enjoyment they receive from playing, it is time to let it go. Clearly, Venus still enjoys playing the sport, and kudos to her as many players are burned out from professional sports long before her age.
As for her future, Venus playfully addressed it with the media, "I wouldn't tell you, so… I don't know. I don't know why you're asking (smiling)."