Vandeweghe-Cash Partnership Off To Good Start In Birmingham

Coco Vandeweghe produced a good all-around performance to beat countrywoman Christina McHale 6-4 6-2 in a one-sided encounter at the Aegon Classic. It was her first win since Craig Kardon ended their coaching relationship and she hired Pat Cash in his place, and she said the disruption had been difficult to deal with.
"Well, the tour is not over, but it definitely doesn't help things. That's for sure. I don't think anyone could say a coaching split helps anybody. Because you just lose that comfort level. I think even if you go and the next coaching relationship ends up a huge success, it's still a learning curve of learning each other, learning how to speak to each other, kind of their lingo and everything like that. So it definitely wasn't helpful, but I am a big believer that things happen for a reason, and I have a really good feeling about working with Pat, and just kind of his energy and aura and how we've been communicating and working together. I think it's been a really huge positive."
Vandeweghe explained that she never expected to be able to hire Cash. She said, "Well, actually, I didn't even know that he was available or considering coaching at all. When Craig and I split, it was a huge surprise for me, so it was more a case of just getting myself in order. When you have success with a coach, it's a disappointment when the relationship ends. So first and foremost I was getting myself in order and getting my ducks in a row tennis-wise. Then I sat down with my agent, and he suggested three people, including Pat."
"Obviously Pat was the most intriguing one. I've been around him at an exhibition or two and things like that, and I actually practiced with him at Indian Wells. At that time, I was just listening to him focus on himself as a former player and champion more than looking for a coach, which I always enjoy doing, hearing about how they did it and what worked for them. And I liked his personality and the way he didn't leave a stone unturned even in himself, which is my approach too. I'm always looking to improve and get myself better, healthier or fitter or whatever I need to do."
Against McHale, it was Vandeweghe's bigger serve and heavier weight of shot that made the difference as the younger American was unable to get enough shots into court when the ball was hammered back at her repeatedly. Vandeweghe also produced some superb touch shots, including a glorious backhand cross-court that hit the outside of the service box. And McHale also paid the price for a distinct lack of aggression on court, as she waited in vain for her opponent to implode.
When Vandeweghe hit a crisp forehand winner off McHale in the first point of the match, it looked like the scoreline might be even more convincing. But the first set was surprisingly close, as the older American made too many errors early on. She found her rhythm late on in an awful fourth game. After a string of errors, she saved a break point with a forehand winner down the line, then powered down an unreturned serve and roared in frustration.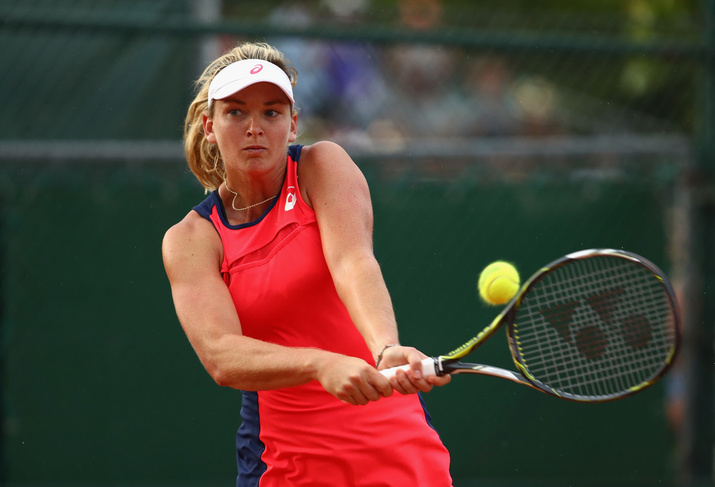 Then, suddenly, Vandeweghe played much better, hitting her groundstrokes hard and deep to earn a break point in game five. She took it and followed it with a brilliant hold to love. First, she hit the brilliant backhand, and then she clipped the ball delicately up the line to set up an easy volley. After that, she played a consistent point to force an error, before clinching the game with a huge unreturned serve.
Vandeweghe never looked back from that point on as she strolled through her next two service games to win the first set 6-4, then returned very aggressively to break McHale in the first game of the second set. She followed it up with another excellent hold, characterized by very consistent groundstrokes once again. And the match was effectively over after the third game of the set, as Vandeweghe twice pinned McHale way behind the baseline to earn a break point before the younger American made an unforced error to hand her the double break.
There was brief drama in the sixth game of the set when a good volley from McHale looked to have landed on the line but was called out. McHale protested, and thankfully for her Vandeweghe told the umpire the ball was in so the linesman's call was overturned. It did not matter anyway, as Vandeweghe continued her serene progress to a very comfortable victory.
The victorious American faces a tough task in the last 16 against world number seven Johanna Konta, but she does not seem too concerned about it. She said, "It's not like I've been focusing on her specifically at all. Tennis is an individual sport, and so I focus on myself mostly and on what I can improve in every tournament against different opponents."
A win over a player of Konta's standard is exactly the kind Vandeweghe will need if she is to achieve her stated aims for this year. She said, "My goals for this year are to make another second week of a Grand Slam and to make the Top 10."