USC'S Ryan Colby Thrived Thanks To Laurel Springs School

When Ryan Colby was three and a half years old, he found his father's tennis racquet in the garage and started hitting against the wall.
His father was a top-ranked junior in Korea during high school, but was never a serious, serious player. Though he had talent.
His mother, Tina, tells the story: "So Ryan was in the garage, but he was really young, and he found his racquets. I walked outside and saw a little three-and-a-half-year-old hitting about eighty balls, which seemed to be really nice form at the age of three and a half.
"And so that moment on, I grabbed him and took him into a tennis facility and then it just went from there."
With that same certainty, Tina Colby knew that Laurel Springs was the right school for her son. "We heard such wonderful things about Laurel Springs. And you know, as a parent, I was very concerned about my son that was in a preparatory school going to an online school, and I couldn't be more happy with Laurel Springs.
"They were phenomenal. They were able to push him through and with AP courses to qualify for the Ivy League schools. And you know, he graduated high school early in December, went off to USC [University of Southern California], and his first semester was an all A and B student coming from Laurel Springs."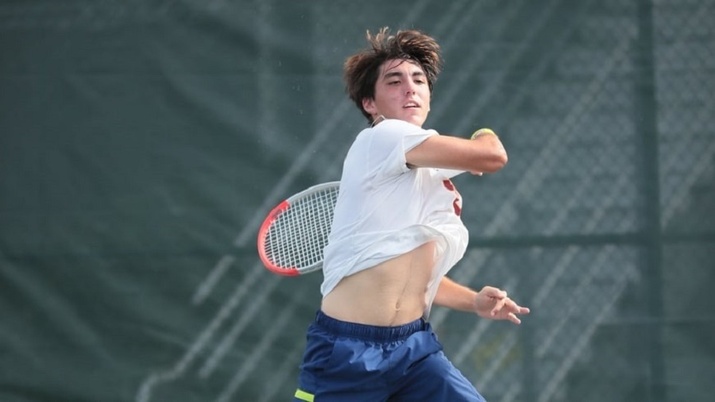 Laurel Springs School (LSS) is a favorite private school of premier tennis players because it sees education differently. Its online program is designed to help students excel academically and personally, while maintaining a flexible schedule.
LSS is an accredited, private, online school offering K–12 and postgraduate programs.
Their asynchronous model allows student-athletes to train, travel, and compete at the highest level, while receiving a top-tier college-preparatory education.
"You know, I was a high school teacher," Tina Colby said. "I was hesitant, and this program really prepares them.
"It's a great program, and they really assist you and help you raise to the level of what you need in order to succeed at these Ivy League or top-level schools as well."
Recently, LSS, a long-time sponsor of the Junior Orange Bowl International Tennis Championship, became the education partner for IMG Academy.
For tennis players, tournaments and practice time often take place during regular school hours. The traditional brick-and-mortar education doesn't make it easy.
Ryan Colby said that Laurel Springs was tough, but so much more flexible. "I could take my tests on pretty much any day I set, morning or at night. Or if there's homework. It was a lot simpler and more flexible than a regular school."
At Laurel Springs, students have the ability to use blackout dates, which means they can put dates on their calendar so that they have no school. It might be a travel day or a day they're preparing for a tournament. It might be a mental health day before or after a tournament. They don't have to choose between school and athletics. They can be a star student and a star athlete. They don't have to weigh one over the other.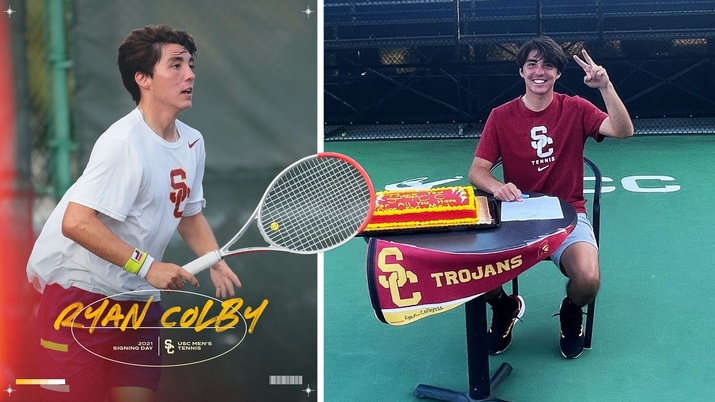 The individual nature of Laurel Springs also prepared Colby for life as a Division I NCAA student-athlete at the University of Southern California. "There's a certain responsibility with it. Like even when you're not traveling, you have to be on your work. If you get like too far behind, it's kind of tough to come back. But even with college, though, it helped me prepare because it's, I mean, it's all by yourself."
Almost half of the students at LSS are athletes or pursuing their dreams outside of the classroom (dance, theater, music).
Forty percent of graduates are Division 1 or Division II athletes. The Laurel Springs counseling team works closely with students to build out their transcripts to make them the most attractive recruits as possible, not just on the court, but also in any classroom.
There are also alumni who go on to play professionally, like current stars Amanda Anisimova, Jenson Brooksby, and Frances Tiafoe, who was a mentor to Ryan Colby.
"Ryan won the United States Clay Courts earlier last year in the 18s, and I'll be darned if Frances Tiafoe didn't come out to support him," Tina Colby said.
"It's a wonderful place, and to see not only the pros here, but to help develop future pros. It is really amazing.
"It's really become the premier homeschooling program for all the tennis players. It's not like any other sport. You're traveling year-round. The sacrifice that you make because you've got to be able to play your section, then your USTA, then your national, and then if you're playing ITF, which Ryan did that as well.
"You know, Ryan had a bone transplant. A piece of bone in his elbow broke off when he was just shy of 15 at National Clay Courts. And he had to have a bone transplant. They [doctors] said he wouldn't play at a high level again, and then lo and behold, three years later, he won that tournament and became the number one player in the country earlier this year.
"That's what so great about Laurel Springs, creating the whole human being."
From the moment he found his father's racquets, Ryan Colby seemed destined for a life in tennis.
With that same focus he used to hit the garage wall over and over, he recovered from a nearly career-ending injury, and he became a successful student-athlete at a prestigious university, rich in tennis tradition.
Ryan said that the most rewarding thing about Laurel Springs School was "just knowing that I could do pretty much anything to get by, like my game, or myself as like a person, as far as I can.
"It's a little complicated, but just knowing I can exceed my limits, like get to my dreams, at Laurel Springs."