U.S. Women on the Rise—But Should the Optimism Be Tamed?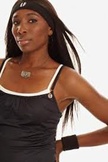 The first day of the Australian Open is under wraps, and among those winning matches were Americans Venus Williams and Madison Keys.
You'd be hard-pressed to find a more striking contrast among compatriots as far as careers go: Williams has established herself as one of the greatest players ever, while Keys will just crack the top 100 for the first time after the Australian Open.
Still, Keys is generating a lot of excitement: With her powerful game and youth (she's only 17), she looks like the second coming of Venus.
Actually, that may be an overstatement, which could also develop into an issue as Keys and others in her peer group develop.

It's a part of sports to always be on the lookout for "the next big thing," particularly as those athletes who've raised the bar begin hit the later stages of their career. And the search for the next Venus or Serena Williams has been going on for a few years now.
It's a search that probably should be suspended, especially after the year Serena just had.
But fans only want to see continued success, and there's no small amount of national pride involved—something that has been a part of American tennis for years. It's something all players have to face the moment they have a decent string of success.
Keys, for example, is coming off her first career WTA quarterfinal. And Sloane Stephens has also had a good few weeks in Australia prior to the start of the Open with quarterfinal and semifinal appearances in two tournaments.
And they're not the only young players from the U. S. who've had solid stretches of late.

Christina McHale has notched some solid wins over top-10 players over the past few years. CoCo Vandeweghe made her first final on the WTA Tour last summer. Varvara Lepchenko is looking to solidify her spot in the top 20.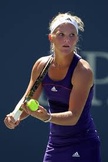 However, the only other American woman to win a singles title besides the Williams sisters since 2010 has been Melanie Oudin, who captured the grass-court event in Birmingham.
And if there's any player who has had to deal with the added pressure of expectations the past few years, it's Oudin. After her run to the quarterfinals of the U. S. Open in 2009, she was anointed America's next great hope.
But 2010 and '11 ended up essentially being lost seasons singles-wise for Oudin. She made a solid turnaround in 2012, though, and is back on an upward path.
From Chris Evert to Jennifer Capriati to Venus and Serena, there's such a rich tradition of American women succeeding in pro tennis. And while the results of the current crop is very encouraging, considering the depth on the global front, perhaps expectations need to be tempered until they're winning singles titles with consistency.
The last thing any player needs is additional pressure on their (potential) way to the top.