US Open: Nadal Survives Challenge From Khachanov

Defending champion Rafael Nadal survives Karen Khachanov 5-7, 7-5, 7-6 (7), 7-6 (3) in a thrilling third round match that lasted four hours and twenty-three minutes. Nadal, the world No. 1, and Khachanov, the world No. 26, had played four times before, most recently in the semifinals of the Rogers Cup in Toronto, with Nadal winning each time in straight sets.
In Arthur Ashe Stadium, sounds from the crowd reverberate off the retractable roof, creating a constant hum. Nadal, before serving first, waited for a few fans to find their seats. He held, losing only one point, when Khachanov, with his extreme western grip, hit a ferocious forehand return. The 6' 6" Russian also held but had to save two break points with two big serves. Then he broke by attacking Nadal's second serve and was able to consolidate that break, holding at love.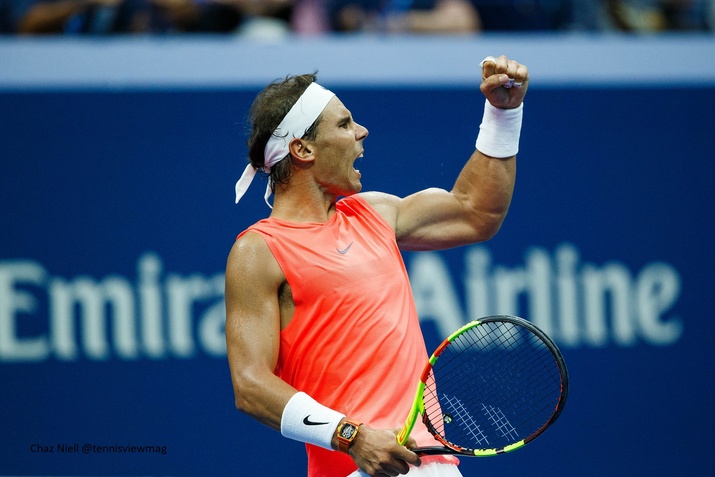 Nadal was down 3-1 and looking edgy, and it was clear that this was going to be a very close match.
Khachanov took the first set, serving at nearly 80% first serves with eight aces and 23 winners. In the second set, Nadal hit some incredible forehands down the line, but Khachanov responded with brilliant, crushing backhands.
At five games all, because of a drizzle, there was a 12-minute delay to close the roof. During that time, Nadal stayed loose, taking shadow swings and hitting serves against the back wall above the Chase sign. When play resumed, Nadal held at love and was able to break when Khachanov faltered with two double faults.
The match was even, with two 7-5 sets, and each player having won 80 total points.
In the third set, Khachanov was at times able to overpower Nadal. But Nadal continued to hit beauty down-the-line forehands, found the corners with flicks of the wrist, made deft drop shots, angled off volleys. On his fifth set point, Nadal won a 39-shot rally. In his press conference after the match, Nadal said, "I needed that set."
In the fourth set, Nadal dictated play, mixing up speeds and spins. Khachanov, though, kept hanging around, always on the verge of a comeback. When he was down 5-4, he broke Nadal at love and had all the momentum, leading 6-5. Nadal was able to hold, but in that game, the Russian showed impressive defense, even hitting a tweener after running down a lob.
In the tiebreaker, Nadal was punishing, maneuvering Khachanov corner to corner. Still, Khachanov never gave up, saving two match points before missing on the third into the net. Nadal, as ever, was gracious in victory, applauding along with the crowd as Khachanov left the court.