US Open: Medvedev Victorious In All-Russian Quarterfinal Battle

Daniil Medvedev, age 24, and Andrey Rublev, age 22, are good friends and have been playing tennis against each other since they were kids in Moscow.
Rublev says when they were juniors that Medvedev "could play lobs, maybe hours, just to win."
Medvedev says: "I was always on practice trying to play aggressive, maybe going to the net and stuff like this. Then there was a match going, I start to do it, I'm losing 3-0, the match is up to 4, the set. I'm like, 'No, back to lobs.' Yeah, because I always hated to lose."
On Wednesday afternoon, in the quarterfinals of the US Open, world No. 5 Medvedev beat world No. 14 Rublev, 7-6 (6), 6-3, 7-6 (5).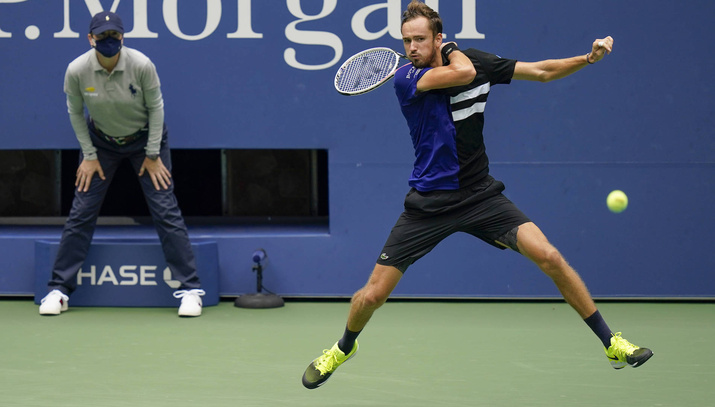 Andrey Rublev, a sinewy 6'2" Russian, was wearing Nike: a white shirt with splashes of black, wild lines of yellow and aquamarine, an image-is-everything look, reminiscent of Andre Agassi in the nineties. His headband held back his long blond hair, but he wore a couple more necklaces. His neon-yellow wristbands matched his neon-yellow tights peeking out from under his loose black shorts.
You notice Rublev. He's flamboyant like the lead singer of a heavy metal band (his favorite music) and has the feisty intensity of a boxer (his father is a former boxer).
Daniil Medvedev, the lanky but lithe 6'6" Russian, wears Lacoste, a more classic look with blocks of black, navy, and white. He wears one necklace, one black wristband. He has short light brown hair swept to one side, a thin nose, high cheekbones. He looks like an academic. He went to school at Physics and Mathematics Lyceum. He enjoys video games, chess, and reading.
Medvedev sometimes has a smirk on his face, as if he is smarter than his opponent, and today, like most days, he was. He's through to the semifinals for the second consecutive year.
After the match, in his on-court interview, Medvedev said: "It was tough at the end. Maybe the first time in almost a year I celebrated my win because it was very tough at the end. I felt like I could get in trouble, so I was really happy to get the win in the tiebreak. One point decided two sets, so it was a really tough match."
In the first set, Rublev was outplaying Medvedev. Rublev was a machine, crushing forehand winners, while also being patient, staying in the long rallies. Hitting many excellent serves out wide and down the T, he held easily and often at love.
In the tiebreak, with a perfect forehand inside-in winner, Rublev was up 5-1. He then lost a point on Medvedev's serve. At 5-2, Rublev double-faulted. Then he hit a good serve wide and got lucky with a dead net cord for 6-3. Rublev just needed one point to win his first set ever against Medvedev. He'd lost in straight sets the previous three times they'd met on tour.
Rublev didn't get it. At 6-all, Medvedev hit an incredible backhand winner, open stance with so much pace. Rublev smashed his racquet. At 7-6, Medvedev hit an ace down the T. Rublev, understandably, looked frustrated, volatile. On the changeover, he said: "Not one, not one. Why?" And then took a bite of his banana and threw it down.
In the second set, even though Rublev held for 1-all, he was still chattering away that he just needed one point. Medvedev held at love for 2-1. In the next game, Rublev hit an ace down the T for 40-love and looked a bit calmer, but still on edge. Medvedev stepped inside the baseline and hit a blistering backhand crosscourt winner. Rublev replied with an ace out wide for 2-all. Then Medvedev held at love for 3-2. In the next game, on Rublev's serve, it was 15-40. Medvedev finally had break points, and he just needed one, breaking with an overhead smash.
Medvedev was serving and hit a huge forehand for 5-2. Rublev screamed a primal scream. The umpire gave him a warning. Rublev held at love. Medvedev hit an ace down the T, an amazing forehand down the line, another fantastic backhand down the line. Rublev missed wide, looking demoralized.
Medvedev is a strategist. His whole demeanor, his whole game, looks unorthodox. He has a very short backswing on his backhand, his arms close, more like a punch shot. He has a forehand he slings around, with his elbow by his neck on the finish.
But he has great variation of his speeds and spins. He has great feel. His finish on the volley is mostly a soft drop. He's a great mover, especially for his size. He plays quick points on his serve, which is a weapon. He goes big on both first and second. He's one of the best defensive players on tour, but then can turn defense into offense easily, even when he's thirteen feet behind the baseline.
In the third set, Rublev gave fist pumps and stayed positive. They stayed on serve. There was a small window when it looked like Rublev might have a chance when he led 5-4 and Medvedev called for the trainer because of shoulder pain and cramping. But then Medvedev seemed to play more aggressively, needing to finish the match in straights.
In his post-match press conference, Medvedev said: "When you serve like I did today, it helps a lot. You just know that like this you can focus more on your return games without having to face, well, a breakpoint during all the match.
"Yeah, I was really happy with my serve when it went in. The percentage can always be higher. I think it was like 59%. I think we say usually very good percentage is like 70%, but it was enough today. I was really happy when it went in, it was going in the corners. I mean, it's just a feeling. Sometimes you have it; sometimes you don't.
"Actually, I'm satisfied with everything today. I think it was a really high-quality match.
"I started, as I always do, trying to see what he does, a little bit defensively. Then during the match, I felt like I needed to change it because he was actually better than me in defense today, and he was controlling the pace of the rally when we were playing slow.
"I needed to put it up, and it worked a lot. I was making a lot of winners I saw after the match, which I think is amazing when we play with Rublev. That I had more winners than him, it's something unbelievable for me. But it shows that I was able to really adjust my game during the match and do it in a right way."