US Open Fast Forward: Previewing the Women's Semifinals

US Open Fast Forward returns with a look at the two women's semifinals on Friday, which feature three of the top six women in the world and an Italian veteran.
Flavia Pennetta vs. Victoria Azarenka: The Flavia of the fortnight has won all 10 sets that she has played in New York, six of them against notable opponents. In a quarter filled with Italians, Pennetta overcame two top-15 compatriots in Sara Errani and Roberta Vinci as well as summer sensation Simona Halep. Just the fifth player outside the top 50 to reach a US Open semifinal, she hopes to become the third different Italian to reach a major final in the last three years.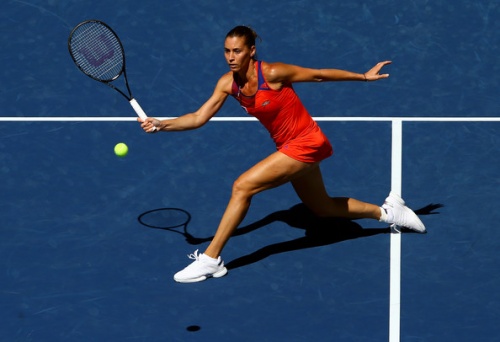 Although this semifinal looks like a mismatch on the surface, Pennetta won her only previous hard-court meeting with the world No. 2. It came early in 2011 before Azarenka evolved into a global juggernaut that she has become, yet she already was the better of the two women then. And last year's finalist has not played bulletproof tennis for most of the tournament, struggling repeatedly on serve. Even in her more emphatic victories, Azarenka has relied upon her return game to claim and hold leads. Pennetta thus cannot lose faith if she falls behind early or labors through arduous service games of her own. Instead, she should know to expect a match filled with breaks and momentum shifts, where staying focused and confident could carry her halfway to her goal of an upset.
That said, Pennetta faces long odds against someone who has more wins against Serena Williams on this surface in 2013 than total losses to all opponents combined. Azarenka surely remembers the disappointment of her narrow loss in last year's final, and she will spare no effort in earning a chance to settle that year-old score.
Serena Williams vs. Li Na: While the defending champion holds an 8-1 record against the Chinese star, their history deceives somewhat. Li has threatened Serena in all of their hard-court meetings, winning a set or forcing a tiebreak in all but one. Among them were a two-tiebreak and a three-set affair at the Australian Open. Their most recent meeting, a few weeks ago in Cincinnati, also featured plenty of suspense as Li served for both sets, only to lose both on double faults.
Serena's superior poise and superior serve in those tense moments of close, pivotal matches have separated her from an opponent with few clear flaws. Able to transition fluidly between defense and offense, Li can stand toe to toe with anyone from the baseline and has improved her forecourt play under coach Carlos Rodriguez. This pathbreaker and survivor of adversity brings more belief to the challenge of conquering Serena than any other opponent except Victoria Azarenka. Li enters the semifinal less dominant than the defending champion, who has won 21 of her last 22 games against a series of overmatched victims. Yet the world No. 6 may be more battle-tested than the world No. 1, having fought through a fierce three-set quarterfinal while Serena cruised through a double bagel.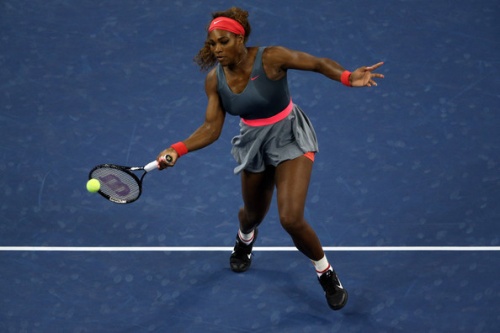 The 16-time major champion will look to weather Li's ebbs and flows with patience, as she did in Cincinnati. Serena has looked thoroughly intent throughout the tournament, moving her feet crisply and showing discipline in rallies. That discipline could prove the key to withstanding an opponent of greater quality than anyone who has faced her in New York this year.