US Open Fast Forward: Previewing Wednesday's Quarterfinals

US Open Fast Forward looks at the last two men's quarterfinals and the first two women's quarterfinals at the US Open.
Roberta Vinci vs. Flavia Pennetta: A cascade of all-Italian bouts in this section of the women's draw climaxes with this ninth meeting in a very even matchup. Seventy ranking slots may separate Vinci and Pennetta at present, but little has separated them on the court. The Italians have alternated victories through their previous, mostly clay meetings, of which the most recent came in 2010. If this pattern continues, Vinci will move a round further than her US Open quarterfinal showing last year.
In fact, the winner of this match between a 30-year-old and a 31-year-old will reach the first major semifinal of her career. Both Italians will know that they cannot expect many more of these opportunities to await them in a section of the draw, weak from the start, that imploded before their eyes. That awareness should lend this match an air of urgency and determination as well as the inevitable edginess of two women relatively unaccustomed to the stage. Pennetta assisted in the section's implosion by demolishing compatriot Sara Errani, former US Open champion Svetlana Kuznetsova, and summer sensation Simona Halep. Her sequence of wins impresses more than those of Vinci, who faces her third straight unseeded compatriot. Pennetta's more aggressive game and two-handed backhand also suit these fast courts more than Vinci's finesse. A comeback from injury that stagnated this spring looks ready to achieve a stirring success that few would have expected.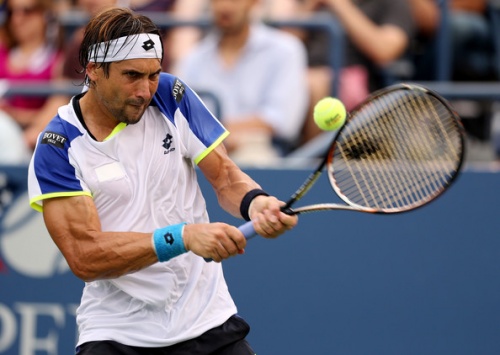 Richard Gasquet vs. David Ferrer: This matchup of top-eight seeds has not produced as much drama in the past as one might think. All nine of their matches have ended in straight sets, Gasquet winning just once at the Rogers Cup five years ago. The contrast in their personalities, which their games reflect, emerges from their backhands. Gasquet wields a graceful one-handed backhand and positions himself deep in the court to give his elongated swings more time. Ferrer has earned a reputation as a counterpuncher, and deservedly so, but his compact two-handed backhand shows his intensity as well as his preference for function over form.
Much more formidable a competitor than the languid, sometimes fatalistic Gasquet, Ferrer has bounced back from a miserable summer on hard courts to reach his eighth straight major quarterfinal. He has not played impeccable tennis through four rounds, but his form often rises once he fights his way into a tournament. On the other hand, Gasquet showed uncharacteristic grit of his own in winning a five-setter at a major for the first time since 2007. Saving a match point in the fourth set against Raonic, he weathered the slings and arrows of fortune better than most anticipated. That match, the longest of the tournament, may have infused the Frenchman with belief or drained his energies for a grueling battle that will require all of his physical and emotional reserves. Two key strength-on-strength matchups should play a key role: Gasquet's serve against Ferrer's return and Gasquet's forecourt attack against Ferrer's passing shots. Those are the battles that the Spaniard has won before.
Daniela Hantuchova vs. Victoria Azarenka: The road to a second straight women's final yawns so open that the world No. 2 could drive a Hummer down it. Or does it? Azarenka has made heavier weather than expected of her last two matches, rallying from losing the first set against both Alize Cornet and Ana Ivanovic. The serving struggles that she overcame to reach the Carlsbad final and win the Cincinnati title (from Serena Williams, no less) have persisted in New York. Azarenka dropped serve seven times in her latest three-setter, surrendering nine double faults.
And yet she has excelled at compensating for that defective area of her game throughout her career. Azarenka has lost only one match on an outdoor hard court since last year's US Open, largely because she competes so tenaciously and combines penetrating groundstrokes with a fierce return of serve. At 25-3 in three-setters during 2012-13, she rarely lets a tense battle slip away from her. The same cannot be said of her quarterfinal opponent, although Hantuchova did win two three-setters to reach this stage and saved four match points in one of them. Mental frailty has outweighed shot-making talent in preventing Hantuchova from reaching more than one major semifinal over the last ten years. She has troubled Azarenka, winning at least one set in each of their first three meetings. But Vika thrashed her at Indian Wells this spring. The unseeded Slovak's elegant strokes and keen eye for the geometry of the court should not carry her far against Azarenka's superior pace, depth, and competitive will.
Tommy Robredo vs. Rafael Nadal: Two years ago at the US Open, Novak Djokovic defeated Roger Federer and Rafael Nadal in consecutive matches. The identical task now confronts Tommy Robredo, who never had defeated either man before this tournament. Robredo's first victory over Federer in 11 attempts may leave him emotionally flat for a battle against his compatriot. Most of the men to topple the Swiss star this year have lost their next match, from Andy Murray and Kei Nishikori to giant-killers Sergiy Stakhovsky and Daniel Brands.
Robredo stands somewhere between those two levels of players, a solid second-tier performer who has reached two quarterfinals at the last three majors but never reached a semifinal at any. He did extend Nadal deep into a final set when they last met in 2009, the only time that he has tested him. In fact, Rafa rarely has allowed his compatriots to challenge his perch at the top of the Spanish pyramid. He has won 24 of his last 25 against fellow Spaniards, the only loss to Verdasco during Madrid's blue clay experiment. Fourth-round opponent Philipp Kohlschreiber, who extended Nadal to four sets, may have tested him more sternly than the less explosive Robredo can. Somewhat like a lesser version of David Ferrer, Robredo will struggle to either hit through or outlast Nadal on a consistent basis. He lacks clear tactical options, so he must hope for a sluggish performance from the world No. 2. That prospect seems unlikely from someone enjoying the longest hard-court winning streak of his career. Nadal has not lost on this surface since Indian Wells 2012, recording 23 straight victories.