Twenty And Counting

Just a few short years ago it did not seem possible but after winning his 6th Wimbledon title, Novak Djokovic pulled even with Roger Federer and Rafael Nadal with 20 career grand slam titles.
During the trophy presentation, Djokovic gave credit to the two legends he chased down.
"I have to make a great tribute to Rafa and Roger, they are legends of our sport pand the two most important players I ever faced in my career," Djokovic said. "They are the reason why I am where I am today. They showed me what I needed to do to get stronger, physically, tactically and mentally. Over the last 10 years it has been an incredible journey that's not stopping here."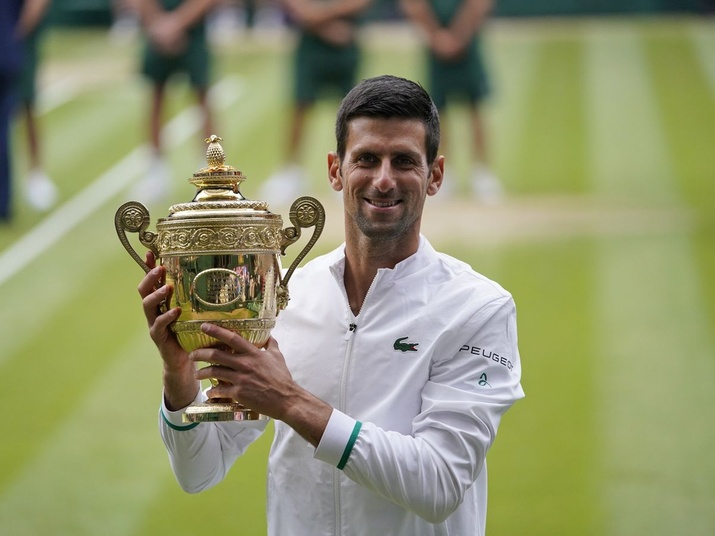 Not so long ago, Roger Federer seemed secure in ending this phenomenal era of men's tennis with the most slams, not just among his peers, but of all time. However, Rafael Nadal would equal the Swiss maestro, and now, after a tremendous run by Djokovic (which included defeating Nadal at Roland Garros and ultimately taking the title this year), the Serb appears to be in the driver's seat to finish with the most slams in history and securing that debated GOAT label.
It will be interesting to see how his two rivals respond, but Djokovic made it clear that he is not done and he now has his sites on the first calendar-year grand slam in the men's game since Rod Laver accomplished the feat.
I suspect Rafael Nadal still has some fight left in him, and despite some believing he is well older than Djokovic, he is actually less than a year his elder. Nadal has had some success at the US Open and having decided to skip Wimbledon and the Olympics, he should be fully rested and ready to go in New York.
As for Federer, time is not on his side as he will turn 40 in August. But, fans can take some solace in the fact that he made it to week two in both the French and Wimbledon after a long period of time rehabbing knee surgeries. On the other hand, he clearly showed at Wimbledon that he is not where he needs to be to compete for a major title again - yet. Whether he can trick father time and summon another memorable fortnight will be the question in the months ahead.
So, all eyes now turn to New York where the three legends will all presumably compete for the last grand slam title of the season. And as dominant as the "big three" have been in the majors, it wouldn't be a bad bet that one of the three will break the tie with their 21st slam title there.
(photo credit: AP)