Turning a Corner? Nadal, Del Potro, Sharapova, Wozniacki at Indian Wells

At the Acapulco clay tournament in the week before Indian Wells, Rafael Nadal comprehensively dominated world No. 4 David Ferrer in a statement of his return to form. Afterwards, many of us thought that Rafa should avoid the brief North American swing on hard courts and simply bottle his Acapulco brilliance for the European clay on which he thrives. He made a different decision, and this week proved that he made the right decision.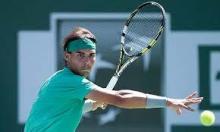 From the outset, though, it was hardly apparent that Nadal would reap rewards from his trip to the desert. Although he started promisingly with a straight-sets victory in his opener, the explosive Latvian Ernests Gulbis nearly ended his Indian Wells campaign a round later. Gulbis swept the first set behind bulletproof serving and thrust Nadal to the brink in a third set filled with pulsating shot-making. Trailing 15-30 on his serve at 4-5, the Spaniard hovered two points from a deflating exit. But timely first serves and pinpoint passing shots averted the danger, paving the way for him to survive the most electrifying match of the tournament. Much less electrifying were Rafa's quarterfinal and semifinal victories over an ailing Roger Federer and Tomas Berdych, who lacked belief that he could conquer this opponent because of his double-digit losing streak against him.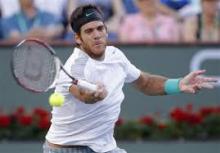 In the final against a surging Juan Martin del Potro, however, Nadal's own belief was tested as severely as it has been throughout his comeback. After he claimed an early lead and looked poised to cruise through the first set, the unexpected resilience of the Argentine seemed to fluster him. Losing consecutive games in which he held break points and game points, Nadal suddenly lost his poise and began to spray balls wildly as his confidence plummeted. As he admitted afterwards, the situation temporarily stripped him of his sense for point construction and shot selection, normally among his greatest strengths. When he dropped his first service game of the second set amid a series of ghastly forehand errors, the breakdown of his most formidable weapon seemed to signal an inevitable defeat.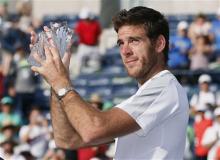 Scrambling to retrieve Del Potro's serves, Nadal controlled his returns just enough to put the Argentine in awkward positions from which mishits leveled the set. Granted the reprieve, the Spaniard regained his composure and recalled the tactics that had put him in a winning position to start the match. He meticulously picked apart Del Potro's less fierce backhand wing with stronger groundstroke depth, while his first-serve percentage climbed to allow him more comfortable holds. Wearing down a man brimming with confidence, Nadal clinched the title at the first Masters 1000 tournament of his comeback by securing a third consecutive victory over a top-eight opponent. Notably, Indian Wells marked his first championship away from clay since 2010 and his first in four years at a hard-court Masters 1000 tournament. Taking a 14-match winning streak to his clay citadels in the spring, Rafael Nadal has reaffirmed himself as a member of the elite—on every surface.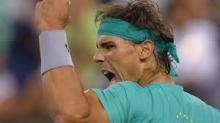 So, in a sense, did the man whom he outlasted on Sunday. While he had not experienced any significant injury since his wrist surgery three years ago, Del Potro had simmered in the lower echelons of the top ten without repeating his breakthrough at the 2009 US Open. Until this week, he had won just three of twenty-three matches against players in the current top five in 2010-13, unable to win the handful of points that usually decide matches at the ATP's highest level. One held few expectations for his quarterfinal bout with Murray, then, and those expectations dwindled even further when he lost the first set in a tentative tiebreak. But Del Potro turned a page with the comeback that followed, yielding just four games over the next two sets and none on his serve. Known for his blistering forehand power, he showed surprising finesse by outmaneuvering Murray at the net and changing the pace at times with backhand slices that allowed him to restart rallies.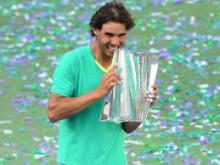 Both of those uncharacteristic traits resurfaced in the thrilling semifinal a day later against world No. 1 Novak Djokovic, the longest men's match of the tournament. Across its sprawling two hours and fifty minutes, Del Potro battled doggedly through a series of physical baseline exchanges in which the Serb's suffocating defense tested his firepower to the utmost. Once again, he lost a tight first set. Once again, he rebounded early in the second to capitalize on a lull from his higher-ranked foe. Whereas he had cruised to the finish line past Murray, however, Del Potro found himself plunged into the cauldron of a nerve-jangling final set. Shrugging off early opportunities that escaped him, he stayed patient until he secured the climactic break and then hammered an ace on his first match point. Those two wins over Murray and Djokovic marked Del Potro's first against each man on an outdoor hard court, a triumph that could mark the second breakthrough that his fans have awaited so long.
---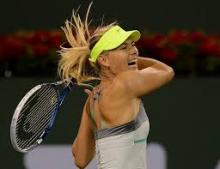 Her face locked in an impassive expression, Maria Sharapova spurned the finalist's bouquet of flowers and strode imperiously to her chair. Sharapova had come to finish a job, and finish it she did. Only once in the last two years had she won a hard-court title, at Cincinnati in 2011, while building her career resurgence upon a cluster of clay exploits. Maria had reached several finals at marquee hard-court tournaments during that span, but she had failed to summon her best tennis at any of them and had suffered unsightly embarrassments at several. Much of those frustrations had stemmed from struggles against Serena Williams and Victoria Azarenka, so the absence of one and the withdrawal of the other offered her a golden opportunity on which she pounced.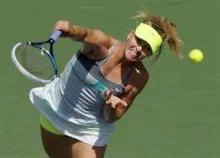 Not dropping a set en route to the title, Sharapova measured her groundstrokes with sustained accuracy as she soared past a sequence of counterpunchers, highlighted by Sara Errani, to her second straight final in the desert. Confronted there by former world No. 1 Caroline Wozniacki, the Russian wasted no time in stating her intent. She broke serve at love to start a championship match that never was in doubt thereafter but turned into a clinic of controlled aggression.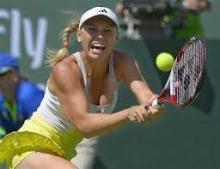 Facing only two break points on Sunday, Sharapova saved both with her signature shot, blazing cross-court backhands. Never in her semifinal or final did she lose her serve, which allowed her to create pressure consistently in return games. Nor did she show any sign of faltering as the title approached, collecting the last seven points with a flurry of winners from every shot. After the match, Sharapova credited her trainer for improving her movement and fitness to a level where she can balance her raw shot-making talents with a sensitivity to point construction that she lacked in earlier years.
While she could not find an answer to Sharapova in the final, Wozniacki enjoyed arguably her best result since winning this title two years ago. Gradually slipping down the rankings for most of 2012, she hinted at a brighter future with a solid February in the Middle East, and the slow, gritty courts of Indian Wells showcased her style effectively. She did receive a critical bit of assistance from top seed and defending champion Victoria Azarenka, who withdrew prior to their quarterfinal with an ankle injury. On either side of that walkover, though, Wozniacki notched victories over top-15 opponents with notable successes against her last year in Nadia Petrova and Angelique Kerber. Especially impressive was her victory over the latter, in which the Dane rallied from losing eight of the first ten games to survive. Known for her competitive resilience when she held the #1 ranking, Wozniacki rediscovered that strength to weather the multiple momentum shifts of their semifinal better than her higher-ranked opponent. She still must improve her groundstroke depth to challenge the true elite of the WTA, but this trip to the desert marked a promising step forward.
If all four of this year's singles finalists at Indian Wells offered compelling stories, theirs were not the only narratives of note to emerge from this joint event. In an article later this week, we return to discuss more briefly others who left their imprints on the desert sand, for better or for worse.