Tsitsipas Defeats Rublev For Monte Carlo Crown

On a cool, damp Sunday, in the final of the Rolex Monte-Carlo Masters, world No. 5 Stefanos Tsitsipas, age 22, of Greece defeated world No. 8 Andrey Rublev, age 23, of Russia 6-3, 6-3.
Tsitsipas is the first Greek ATP Masters 1000 champion. He said he was inspired by thoughts of his mother, Julie Salnikova, who won a junior title at the Monte-Carlo Country Club in 1981.
"I'd consider it the week of my life so far," Tsitsipas said, who did not drop a set along the way to winning his sixth career title.
The 6'4" Greek played near-flawless tennis, breaking once in the first set and twice in the second. He served with precision and power, winning 86% on his first serve and 72% on his second serve. He did not face a break point.
Rublev was also chasing his first Masters 1000 title. Though he must be disappointed, he did have a wonderful tournament. He beat 11-time champion Rafael Nadal in the quarterfinals. And, on Monday, he will overtake Roger Federer in the ATP rankings at No. 7.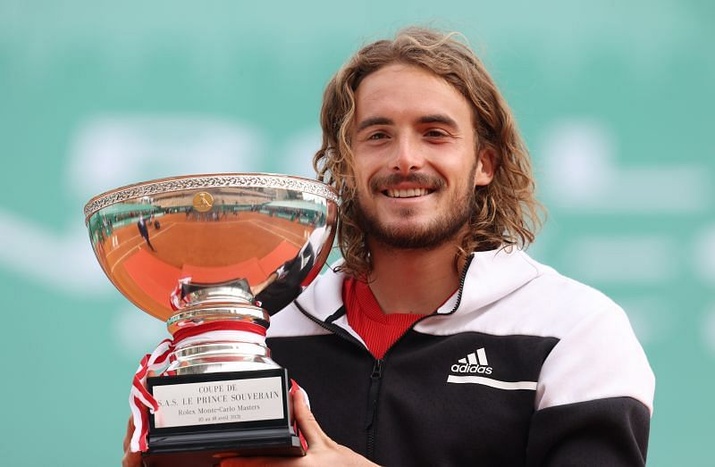 Tsitsipas will remain No. 5 in the rankings and is at the top of the ATP race to Turin for a spot at the Nitto ATP finals. He now has a 4-3 lead over Rublev in their rivalry.
Tsitsipas hits with heavy topspin, which has more margin, more space, and is a great advantage on clay. He and Rublev both have punishing groundstrokes, though today Tsitsipas's forehand dominated. He was able to run around his backhand more and better. He had 11 forehand winners, while Rublev only had six.
Tsitsipas also defended well and played his attacking style with creative variety.
Before the match, Rublev said: "You need to know how to do everything: dropshots, volleys. Of course, you need to know how to defend well. Of course, I'm trying to do it.
"My main game is aggressive because this is what I was doing the best since I was kid. In the end all the players, they are starting to play with the things that they are doing best. Of course, they are learning. It's like some players who run so good and they defend so good, maybe they don't attack so well. All the matches most likely they are defending, but they're also trying to learn how to attack. It takes time.
"Of course, I'm doing this better. I'm defending better. I start to go more to the net. Of course, not so perfect. Sometimes some mistakes. I'm starting to do this. Some matches I start to do dropshots. Even yesterday with Rafa, I did couple dropshots."
After the match, in his on-court interview, Tsitsipas said: "Andrey, first of all, I know it's not easy. I understand. I've been in that position myself, and I would like to remind you what a great athlete you are.
"And what incredible matches we've played in the past. And I'm pretty sure we're going to
continue playing matches like this, making the sport grow together and learn together.
"It's been an incredible journey for both of us to be here. We started both in juniors and now we're playing in big stages, in personally one of my favorite tournaments. I came here for the first time when I was six years old. Kept coming for four or five years in a row after that. It was the only tournament I came to see.
"So I don't know if that's something that was already kind of building up from a very young age, but I'm super happy that I'm able to lift the trophy, watching Rafa and Roger play on this court, I think every single time I came, which was incredible from both of them."