Tsitsipas Cruises Into Toronto Semis

In Toronto, in the opening match on quarterfinals day, at the National Bank Open presented by Rogers, third seed Stefanos Tsitsipas of Greece snapped the 13-match winning streak of sixth seed Casper Ruud of Norway by a scoreline of 6-1, 6-4.
Tsitsipas at six foot four with his flowing blond hair held back with a white headband, wearing a deep ocean-blue shirt, is a philosophical soul. He turned 23 yesterday, August 12th, sharing a birthday with legend Pete Sampras.
He said of Sampras: "I enjoyed watching his serve-and-volley game. People say Roger Federer is effortless. I also feel like Pete Sampras was very effortless and just making the game so beautiful to watch."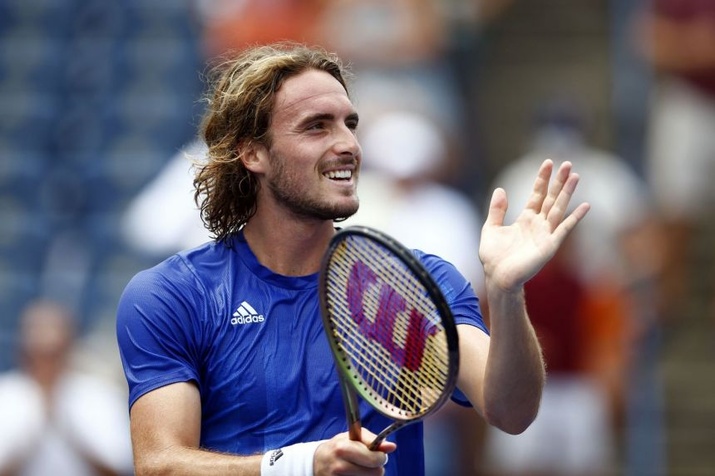 Tsitsipas's game is also beautiful to watch. His serve is massive—he struck eight aces in the match—and his forehand is monstrous. His one-handed backhand, his weaker side, is stylish and still wonderful in that he can come over the ball even when it's hit high because he has so much upper body strength.
He has creative variety and feel with his volley, lob, and dropshot. He has an attacking game, often finishing points at the net, but he can also defend.
He's always improving, and he certainly has an excellent chance to not only win this tournament, but also the US Open.
Tsitsipas started fast against Ruud, racing to a 5-love lead. Ruud looked out of sorts, overwhelmed by the situation, and struggled to find rhythm.
Serving at 5-1, 30-love, the Greek hit an astonishing dropshot from the baseline, with an unreal angle. It felt like Tsitsipas could do anything. He had only four unforced errors in the first set.
In the second set, though, the thoughtful 22-year-old Ruud raised his level.
The Norwegian began using his heavy forehand to move Tsitsipas around the court, creating longer rallies. He earned one break point, but wasn't able to convert. At 4-all, Tsitsipas broke and then held, hitting an ace down the T on match point.
Afterward, in his press conference, Tsitsipas said: "Well, you know, I was close from the baseline. I was trying to come in as much as possible, take the balls early, approach most of my shots. You know, I guess that was his initial reaction, to start rushing and go for more.
"I saw that, and, you know, obviously I feel like he would realize that and would switch up his game and change a few things, which he eventually did in the second set."
Tsitsipas explained how he was able to become the player he is today. "It comes, it's absolutely obvious that you're going to get that when you're aiming high and you want to be in that—you want to be among the best of the sport. It's part of the job. You can't ignore it. It's there.
"It's a different challenge on its own. You know, certain things come with character, with willingness to have that in your daily life and daily routine.
"Well, myself, I guess I was prepared for it, and I was sort of experiencing from a young age playing juniors, transitioning to the pros. It is something that you build something, something that you, I guess, know how to deal better over time.
"In the beginning it comes as a kind of something that you're not really expecting at that level, but eventually you pick up and, you know, it becomes your new habitual life."