Tsinging a Tsonga: Tuesday Quarterfinals at Roland Garros

The memories of last year's epic Roland Garros quarterfinal against Novak Djokovic must have floated through Jo-Wilfried Tsonga's mind as he prepared to face Roger Federer on the same court in the same round this year. Tsonga had allowed four match points to slip away in that missed opportunity to reach a semifinal at his home major, but today he ensured that no such collapse would unfold.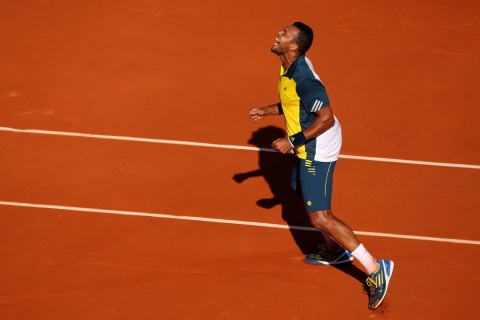 For the first time in his career, the Frenchman had reached the quarterfinals of a major without losing a set in the tournament, and he carried that momentum a step further with a stunningly resounding victory over Federer. The Swiss star led by a break midway through the first set as Tsonga's futility against top-eight opponents in 2012-13 looked likely to continue. Able to dig out of that hole with a flurry of inspired shot-making, Tsonga completely took over the match from that stage and battered Federer out of the tournament by breaking his vaunted serve six times. As the elation grew among the spectators on Court Philippe Chatrier, their home hope never took his eye off the ball in closing out his biggest victory in years.
Across the net, Federer struggled with all of his game's key weapons, most notably his serve. He did not hit an ace in the match and could not rely on that shot to save him on crucial points, as he has throughout his golden era of greatness. A disappointing season continued with his failure to exploit a soft draw that offered him a route to the final without facing either Novak Djokovic or Rafael Nadal. The winner of the projected marquee semifinal between those two champions will find himself heavily favored in Sunday's final.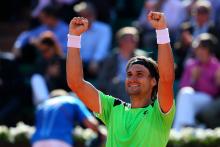 In a battle between men seeking their first Roland Garros final, Tsonga will meet another man who has not lost a set en route to this stage. The fourth-seeded David Ferrer has lost just nine games in his last two matches, including a rout of compatriot Tommy Robredo in today's quarterfinal. Stymied by Djokovic, Nadal, and Federer throughout his career, Ferrer will know that the chance to reach a major final without facing any of them will not arrive often. At age 31, he should feel a special urgency to capitalize on this opportunity, while Tsonga will spare no effort in seeking to give France its first men's finalist of the century at its home major.
Another, more celebrated 31-year-old advanced today in unexpectedly eventful fashion. Or perhaps Serena Williams should have expected tense moments to arise against fellow former champion Svetlana Kuznetsova. After all, "Sveta" had knocked her out of the tournament here four years ago in a quarterfinal also played on the grim Court Suzanne Lenglen. Business went as usual for Serena in the first set of the rematch, while Kuznetsova struggled to assert her presence. A sudden dip in the favorite's form then gave the underdog fresh life in the second set. Snatching that set as Serena's game began to crumble, Kuznetsova must have harbored real hopes of an upset that could have opened a path to a second Roland Garros title.
The woman who remained on course for her second title in Paris, however, remained the woman whom most expected to survive the day. Weathering an early third-set surge by Kuznetsova, Serena swept six of the last seven games with tennis more determined than brilliant. The howl of elation that she emitted at the end revealed her relief at escaping a talented opponent on a day when her serve and footwork deserted her. Whereas Tsonga punished Federer ruthlessly for his lapse, Kuznetsova could not quite sustain her form long enough to punish Serena for hers.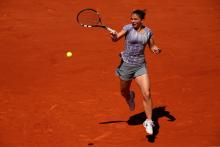 Aligned to meet the title favorite in the semifinals is a woman who never has defeated her. In fact, Sara Errani never had defeated any woman in the top five until she ousted world No. 4 Agnieszka Radwanska in two tight sets. A year after she reached the final in Paris, Errani has dropped just one set en route to the semifinals in a feat reminiscent of compatriot Francesca Schiavone, who reached consecutive finals here in 2010-11. The 11-break match that unfolded against Radwanska featured plenty of momentum shifts and shaky play from both women, the Pole maneuvering on her worst surface and the Italian attempting to defeat someone whom she never had defeated before.
Errani's surface edge probably proved the difference between the two women in a match that either could have won. She will face a much more formidable challenge against Serena on Thursday, though, when each woman will seek her second Roland Garros final. A serve that produced no aces (although also no double faults) for Errani in her quarterfinal will offer the world No. 1 an inviting target in her semifinal. But history has shown that one never should count out an Italian woman at Roland Garros, a magical world for them in recent years.