Tougher Than Nails: Serena Williams Dominates Li Na in US Open Semifinal

The first Chinese player to reach a US Open semifinal, Li Na sought her second straight final at a hard-court major. She knew that it would not come easily against world No. 1 and defending champion Serena Williams, who had won eight of their nine career meetings and all three of their encounters at majors. But Li also could harbor some hope. The world No. 6 had lost just one set en route to the semifinals and had held plenty of chances to upset Serena in Cincinnati last month. There, Li had served for both sets in a tight battle typical of the hard-court matches between these two fierce competitors.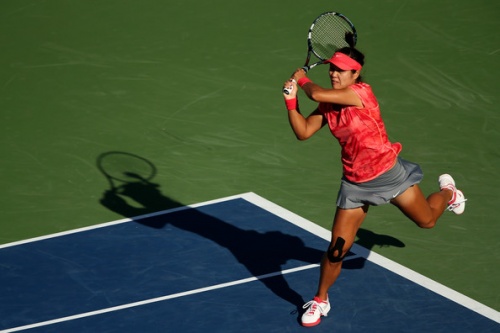 The only player who has not lost a set in the tournament, Serena had waged no tight battles through her first five matches. She entered this semifinal having won 20 of her last 21 games, having served at least one bagel or breadstick in each match, and having lost no more than five games in any of her matches. On the other hand, she had not faced anyone more imposing than Sloane Stephens, so Li marked a clear step upward in opponent quality.
Aiming to set up a rematch of last year's US Open final against archrival Victoria Azarenka, Serena could not overlook the challenges posed by Li's athleticism and balanced weapons. While she held a clear edge on point-starting shots, the world No. 1 would not overwhelm someone as expert at absorbing pace from the baseline as the Chinese star when longer rallies unfolded.
Serena's first-strike superiority paid dividends with a quick service game to open the match in which she hit barely a single groundstroke. A nervous Li missed most of her first serves in the next game as she let a 40-15 lead slip away. Pouncing on her first chance to break, the defending champion needed all of her athleticism to retrieve a brilliant defensive lob from her opponent, who then dropped serve with a routine error. A languid service game did not cost Serena, for Li could not convert her chances.
Not willing to give an inch, both women clung as close to the baseline as they could while trying to push the other further behind it with depth and pace. Uninspired forehands continued to befuddle Li's game as Serena raced toward a vital one-set lead. Even the most ordinary groundstrokes became adventures for the Chinese star, her normally steady backhand joining her forehand in disarray as she dropped a first-set bagel with strokes well wide of the sidelines.
After such a dismal set, Li's fortunes could grow only more promising from there. For her part, Serena needed to ward off complacency from cruising past such a dangerous foe so easily. Li's only previous victory against her had come after losing a first-set bagel, so the match was far from over. A love hold, completed by a crisp volley, stamped her presence on the scoreboard and signaled a more competitive set ahead.
A miniature surge from Li combined with diffident play from Serena to leave the world No. 1 staring down double break point. While she spurned those, a pinpoint cross-court forehand from the Chinese star converted a third. Rarely a sturdy front-runner, Li let a 40-0 lead slip away in the next game as she attempted to consolidate. Serena rediscovered the radar on her groundstrokes to erase the deficit, but neither woman played her best tennis at the same time.
Li's fearlessness with her forehand bordered on recklessness as defeat loomed ever nearer. By contrast, Serena played with more margin without losing the explosiveness on her groundstrokes. An emphatic ace sealed a string of four straight games after she had trailed by the early break at 1-2.
Serving to stay in the match at 0-6, 2-5, Li weathered eight deuces and six match points in a 14-minute game. She harnessed her weapons just well enough to force Serena to serve out the semifinal. Although Li's spirited play continued, the seventh time proved the charm when Serena set up her rematch of last year's US Open final against Victoria Azarenka.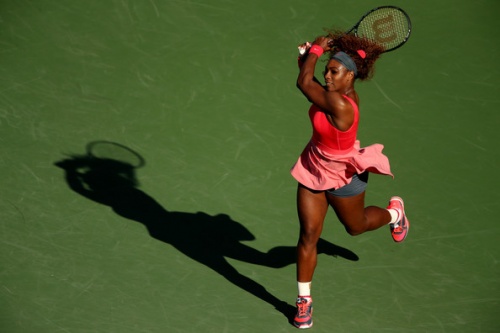 If history is any guide, that match should offer a worthy climax to a tournament high on dominance and low on drama. A preview will appear on this site tomorrow.