Timea Bacsinszky Launches Inspired Comeback in Portugal

Wunderkind Belinda Bencic had the eyes of Swiss tennis upon her as she qualified and reached her first WTA semifinal at the Family Circle Cup in Charleston earlier this month. Meanwhile, another Swiss player was hard at work putting together another run of her own. Rather than a breakthrough, however, this player was just getting her comeback started.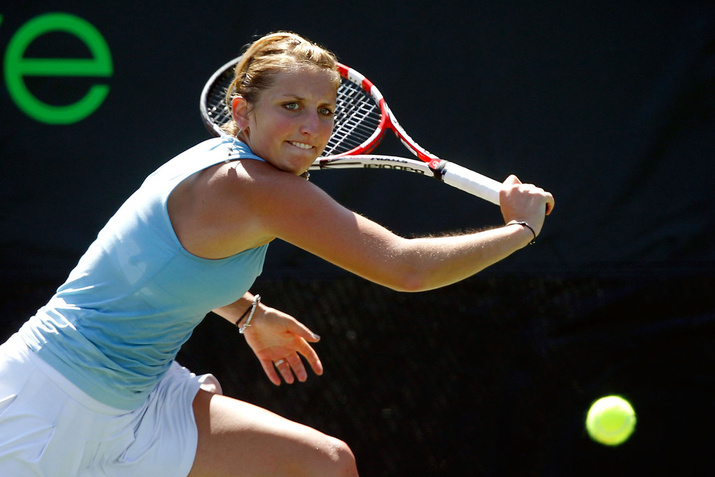 Timea Bacsinszky first put herself on the tennis map in 2008. It was a simpler time. The WTA's tournaments were still organized in tiers, the phrase "slamless-No. 1" had not yet been born, and Mean Girls had yet to turn four, let alone 10. Then just 18, Bacsinszky qualified and made it all the way to the semifinals of the now-defunct Proximus Diamond Games in Antwerp, Belgium. She won the first set there against the top-seeded Justine Henin, but one of the game's all-time greats proved to be too strong for Bacsinszky and would win the next two sets en route to winning the title.
The young Swiss, armed with a lethal two-handed backhand and contrastingly sunny disposition, continued her upward rise that season. It culminated with a memorable match against Dinara Safina under the lights on Arthur Ashe Stadium at the US Open that year. Bacsinszky's run continued into 2009, when she captured her first career title in Luxembourg over Sabine Lisicki, and in 2010, when she defeated then-No. 11 Li Na in Miami for her biggest career win and reached her career-high ranking of No. 37.
But injuries began to plague Bacsinszky's burgeoning career, beginning with a foot injury that required surgery and forced her to miss 10 months between 2011 and 2012. She made a return to action for her nation in Fed Cup in 2012 and used a protected ranking to enter WTA tournaments. With her fitness far from top form, however, Bacsinszky won just two matches at the WTA level and gave up her place at the London Olympics. She returned to the ITF circuit to rebuild a ranking that had fallen from No. 37 to nearly 400 places lower.
Again plagued by injury, Bacsinszky played sporadically in 2013. After reaching the final of an ITF event in her home country in February, her name did not appear on a drawsheet again for months. Speaking with Swiss media earlier this season, she said that she took up a job in a hotel during this period and began studies in hotel management. However, she returned to the courts when she learned that she was still ranked high enough to compete in qualifying at Roland Garros. Despite losing to Sharon Fichman in the first round there, Bacsinszky's love for tennis returned.
She began to work with Stanislas Wawrinka's former coach. Able to play back-to-back weeks for the first time in nearly two years, Bacsinszky gained traction at the end of the season by reaching the final of an ITF event in France and the semifinals of an event in Egypt to close out her 2013 season.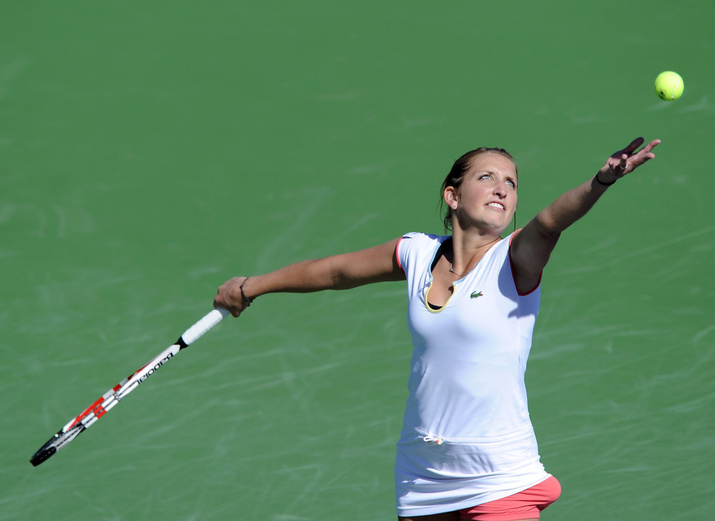 Then, the Swiss talent began 2014 on a 14-match winning streak that saw her win two ITF tournaments and reach the final of a third. In the shadow of Bencic's performance in Charleston, Bacsinszky took her good form into Switzerland's World Group II playoff tie against Brazil on the road. Stepping into the spotlight herself, she clinched the tie for her country with a win over Paula Cristina Goncalves.
Despite being points from defeat against the very same Fichman in the first round of qualifying this week in Portugal, Bacsinszky found a way to win. She won two more rounds to make her return to a WTA main draw. Pitted against Samantha Stosur in the opening round, and already well adjusted to the windy conditions, Bacsinszky took advantage of her opponent's erratic play and upset the former US Open champion 6-4 6-0.
The win over Stosur marked several milestones for Bacsinszky in her long road back. Nearly four years had passed since her last win over a top-20 player, which came via retirement over Victoria Azarenka in Beijing in 2010. The match also marked her first win in a WTA main draw since 2012. Bacsinszky followed that breakthrough with a 7-5 6-0 win over wildcard Tunisian Ons Jabeur reach her first WTA quarterfinal since that same event in Beijing four years ago. Bacsinszky will face off against fellow qualifier Irina-Camelia Begu for a place in the final four.
The journey from teenaged starlet to comeback queen has taken place on a long road back for Bacsinszky. If she can remain healthy, however, Oeiras certainly won't be the end of her road.