Three Days At The US Open

Day One (Sunday-Practice Day)
You start in the viewing gallery at the practice courts. You hear him first. He has a distinctive grunt, Andrey Rublev, when he's demolishing forehands. He's a tall, lithe, young, 20, blond Russian, wearing a green Nike shirt, green headband, and wristband. Then you see Sascha Zverev, even taller, a year older, and also blond. He was born in Germany to Russian parents. He's in Nike, too, red shirt with a black headband. Supercoach Ivan Lendl is with him. He has on a blue shirt. "He's in terrible shape," your friend says. You smile, nod, but you've been told by someone who knows Murray's fitness coach that he's actually in pretty good shape. You are looking down from above, a view you get from television, though across five courts, which is not a normal way to watch tennis, with your head moving player to player, side by side, instead of following the ball.
You check the US Open app on your phone and see that Canadian Denis Shapovalov, another blond rising star of Russian descent, is on Grandstand, the futuristic-looking, circular arena. Shapovalov is in a white shirt, trademark backward baseball cap, also white. His mom is in long sleeves and long pants. Working as a tennis coach in Alabama, you understand that look. You'll do about anything to protect yourself from the sun. She looks just like Denis—blond, long-limbed, same height, same gait. Most of the seats are empty, and you watch Shapovalov leap into his one-handed backhand exquisitely, crush forehands rhythmically. It looks like he makes contact with the ball at his pocket, rather than out in front. This cheers you up, as you feel like the older you get, the later you hit. Watching this 19-year-old, you think of that halcyon summer when you were nine and you beat everyone 6-0, 6-0 and timed the ball nicely in front, like Federer. Or that's your memory.
Next, you watch Jean-Julien Rojer and Horia Tecău practice on Court 11, and the stands are full. They won the doubles last year. Through lucky timing, you had a picture taken with Rojer. He told you to hold the trophy, too, so it'd look like you won mixed. Unsurprisingly, Rojer is lively, often smiles and interacts with the crowd. Everyone watching is happy.
Afterward, you wander under an awning on a side court and see Benoit Paire with his bleached-dyed hair and thick, brown beard. This is the closest you've stood to the court, where you can really hear the power of these elite players. Paire is focused and killing it. The strike of the ball sounds like a gun going off.
Lastly, you stumble onto Daniel Nestor, a lefty, almost 46, a Canadian who is a legendary doubles player. He says to his hitting partner, "The balls feel heavy." You've also heard players talk about the courts playing slower, which would help those who like the extra time when the court grips the ball that split-second longer. Nestor seems serene, unaware of the few watchers. It's getting dark, and the court lights blink on. Nestor is going to retire after this US Open, after 28 years on the tour.
Day 2 (Monday-First Day of the Tournament)​
You watch Kyle Edmund first. His Nike shirt is half white, half blackish-blue, with a thick orange diagonal stripe. It seems bold for the quietness of Edmund, but his game is bold, with that flamethrower forehand that blasts through the air. Another young male player you don't recognize on the next court is wearing the same kit. Edmund takes the first set easily.
You leave for the new 14,000 -seat Louis Armstrong Stadium with a retractable roof to see world No. 1 Simona Halep. But it turns out she's already lost. "Maybe the noise in the crowd," she says afterward. "The city is busy. So everything together. I'm a quiet person, so maybe I like the smaller places."
You're there for the start of the Andy Murray match. Fans mill around and talk, drink, and eat while peering over the court. The crowd noise reverberates off the roof and through the stadium. Murray is on a comeback, recovering from hip surgery. Your seats are courtside, in the corner opposite the players' box, and in the shade. The players' box is in the sun, and you watch Andy's wife, Kim, fanning herself with her credential. You spot his coach, Jamie Delgado, and his mother, Judy, also a tennis coach. (The night before Judy was at the same place as you for dinner—a Midtown Greek restaurant—and you felt such a thrill seeing her.) They all seem calm and don't seem to mind when Andy has his angry one-way discussions with them.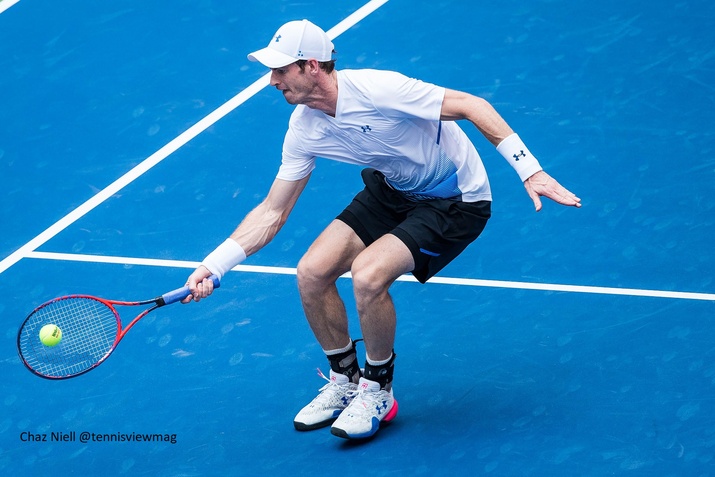 Andy has become your hero. Two years ago, he was No. 1 in the world and now he just wants to play. Earlier in the summer, after a 3 a. m. win in Washington, he sobbed into his towel, and he wasn't embarrassed by it. You always think that a tennis match is a perfect metaphor for life. Your birthday is coming up, September 2nd. You survived another year. You're happy to be alive. Murray is playing this match with fire and freedom, which is a pretty great formula for how to live your life.
Later in Armstrong, you watch Sascha Zverev. Lendl is in his box. On the big screen is a retrospective of Lendl's career, how he owned the eighties. It takes him a moment, but then he looks up at the big screen, smiles. The crowd applauds when it's over. Lendl is not his usual stony-faced self. After Zverev wins, he jogs up the stairs and stops to take selfies with fans. You're wildly impressed by Zverev, by how cleanly he crushes crosscourt forehands at acute angles. You think, He's the best player I've seen.
Later that night, in Grandstand, you arrive late to a match you've been anticipating between friends and fellow Canadians Denis Shapovalov and Felix Auger-Aliassime. It's one set all, and there should be hours left, but instead, Auger-Aliassime has to retire because his heart rate won't slow down. Shapovalov goes to the other side of the net, hugs his friend. They both are crying. It's a truly frightening and beautiful moment. Denis says in the on-court interview that he told Felix, "We're going to be back here, we're going to be playing in the finals, this is just one match. We're going to have so many of these."
It's been an emotional day. You're thinking of going back to the hotel, but then you hear an announcement that Dominic Thiem is next. You've never seen him play in person. He's amazing. You think, "He could win this tournament". Your friend notices how he spreads his fingers as he raises his arm on the serve and also on the forehand, like he's playing a scale on the piano. "He is from Austria," you say, and you imagine a view of the central square in Vienna, a city you've always wanted to visit. One of the best things about the US Open is hearing all the different languages around you—it's such a global sport. Being a tennis fan makes you feel like a citizen of the world.
Day 3 (Tuesday-Second Day of the Tournament)
Extreme heat. The numbers you hear are 109 on court, feels like 118 with the humidity. As you're waiting to go inside Court 11, under an awning in the shade, to watch Americans Amanda Anisimova and Taylor Townsend, the usher says, "Enjoy this moment. It's the coolest you're going to feel all day."
She's right. It takes about five minutes to be drenched in sweat. You can't imagine how the players are doing it. At least they have ice towels. When they split sets, you leave for shady, loud Armstrong. Angelique Kerber is in a battle, but like great champions do, she finds a way to win.
You've kind of recovered from being so sweaty, and it's starting to cool down. You head to the practice courts. Federer is supposed to be there soon. The viewing gallery is packed, so you sit in the bleachers that are near the players' entrance. You have to watch through a black chain-linked fence, but it's still a nice view. You arrive about the same time 20-year-old Greek star Stefanos Tsitsipas is coming on court. This is exciting. In the summer he beat four top-ten players in Toronto. He's 6'4", sinewy, with long flowing hair and an angular handsome face. He moves as though he's starring in an arty movie, and the director has slowed down time for effect. Your friend whispers to you discreetly without turning her head, "He just looked at us. But I feel kind of funny because we're more than twice his age." You smile and say, "Maybe he just recognizes kindred spirits, fellow dreamers." Tsitsipas looks around a lot, though he's quiet and does what his coaches tell him. He begins hitting crosscourts, your favorite tennis drill, and is in full flow, especially when you see him separate his arms on his backhand. You think, "He's the best player I've seen. He could win this whole tournament."
You hear the roar of a crowd that's been gathering. You see phones raised and clicking and kids with giant tennis balls and sharpies. You know he's there, but you don't see him yet. Then the great man appears, Roger Federer, strolling across Practice Court 5. Tsitsipas watches—you've read that Federer is his idol, but he doesn't give that away in his glance. Federer looks more like he's floating, in the heat haze, in his maroon kit, as he gets farther away. He walks with nothing—someone else is carrying his racquet bag to Practice Court 1. Federer is transcendent.
Then you watch him apply sunscreen—his hands touch his face like anyone doing this—and he seems human. Until his first swing. "A great liquid whip," David Foster Wallace called his forehand. And it is the Federer forehand with that slingshot looseness. He is Federer, you think. He could easily win this whole thing. But then your eyes go back to Tsitsipas. You can't really tear them away. But you do. You think of Federer as the past/present, Tsitsipas as the present/future. Federer is 37 and Tsitsipas is 20, though maybe on the court, you all feel like kids. You think, "Time is not real. Time is an illusion." You and your friend watch for an hour until Tsitsipas's practice ends and he sits on the bench resting, and you imagine, sealing this moment in his memory.
The sun is beginning to set. You rest on the benches between the Media Center and Courts 5, 6 & 7, which have matches on, but are so crowded that you can't see the players. You don't really care. You've just witnessed the most amazing visual and on the hottest day you remember at the Open.
Tsitsipas will lose the next day. So will Murray. Shapovalov will lose in the third round. Federer will lose in the fourth.
But these are just matches. We're all going to be back here. We're going to have so many of these.