Thiem Stops Nadal In Madrid

It was Dominic Thiem who last defeated Rafael Nadal on clay, nearly a year ago in Rome. Nadal had been cruising on the surface once again this spring, entering Madrid and had won his last 50 sets and 21 matches on the surface. However, in no way did that intimidate Thiem who competed at an exceptional level, advancing to the semifinals past the "King of Clay", 7-5, 6-3.
The Austrian took an aggressive approach right out of the gate and controlled most of the points, setting the trend for the match. At times, Nadal appeared baffled by some of the shots that Thiem executed, as he struck winner after winner and controlled the rallies more effectively.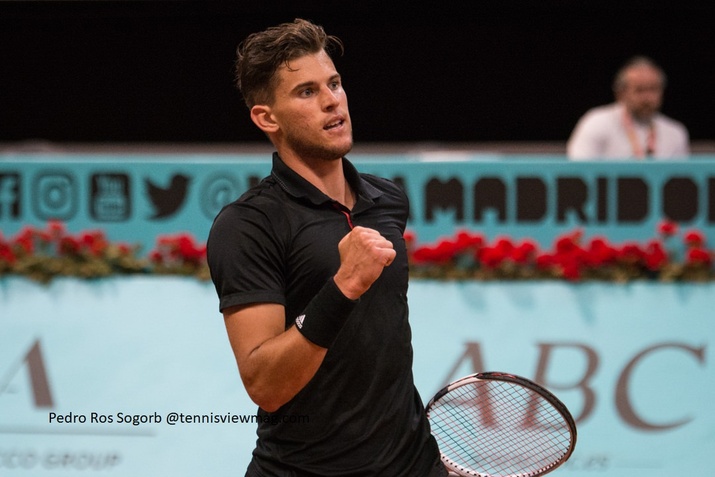 Nadal conceded that Thiem was the better player on this day afterward, "I haven't been good enough today," He said. "He was better than me today. That's the end of the story. Some days you don't play as good as you would like to play. Also, when that happens it's because your opponent is doing really well."
The 24-year-old understood that he would need to raise his game to defeat a red-hot Nadal, "I had to really increase my level compared to Monte Carlo to beat Rafa here," he said. "He won 21 matches on clay and 50 sets. So, I had to play an extraordinary match, and that's what I did. I think a very important thing also was today that I went in with the attitude that I can beat him."
Nadal never looked comfortable from the beginning of the match. "I think that today I wasn't reading the ball well enough to be able to handle the situation, to put him in places where he didn't feel comfortable to play," he explained.
"The fact also that the ball here flies a lot, and he puts a lot of topspin on the ball. I was not good enough with my forehand or my backhand to open to his forehand, then to find a space to the backhand.
"I wasn't putting myself in position. He always had position to move around and to play a good shot, to strike the ball in a comfortable position for him."
Thiem will face Kevin Anderson in the semifinals on Saturday as he now appears to be the favorite in Madrid.
Meanwhile, Nadal will look to rebound in Rome next week and is still the favorite to win the title at Roland Garros. However, with the quarterfinal loss in Madrid, the Spaniard will slip to world no. 2 and Roger Federer will move back to the top of the rankings. Federer has skipped the clay season.