Thiem Battles Into Paris Quarters

World No. 8 Dominic Thiem of Austria is through to the quarterfinals of the Rolex Paris Masters. He defeated world No. 13 Borna Coric of Croatia 6-7 (3), 6-2, 7-5 in two hours and 28 minutes.
In a high-quality first set, there were no breaks of serve. Thiem had three break chances, but Coric managed to save all of them. Thiem took the strategy of hitting slice backhands, trying to keep the ball low and spinning away from Coric's strike zone, but Coric played aggressively, taking the ball early and finishing points at the net. In the tiebreak, Coric's offensive play got him a 6-2 lead with four set-point chances. Thiem saved one set point with a big serve, big forehand combo, but Coric was able to win on the next one.
In the second set, Coric served first and was able to hold easily, despite an incredible backhand cross by Thiem that landed in the service box and angled off the court. Thiem began the next game with an ace and held at love, then broke at love, taking a 3-1 lead. Coric managed to hold, but now Thiem was the aggressor, pushing Coric well beyond the baseline, and he had all the momentum. Thiem's power was piercing on both wings, but on his backhand, especially, he was coming over the ball, hitting heavy topspin. Thiem got the double break and led 5-2, and then held at love.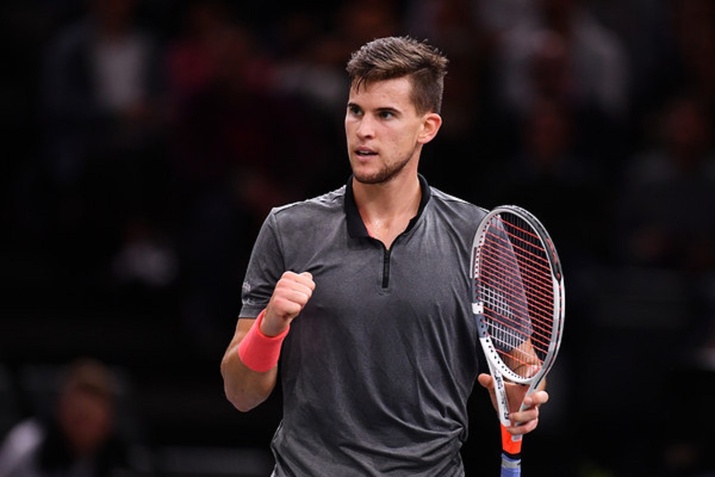 The deciding set was topsy-turvy. Coric had a 3-1 lead. Then it was 3-all. Then Thiem got the break after Coric sailed a forehand long, leading 4-3. Coric got lucky with a couple of net cords and got the break for 4-all. He then grittily held for 5-4. Then Thiem grittily held for 5-all. It felt like a battle, but when Thiem broke at love, Coric was clearly frustrated. Thiem was able to hold his serve for the win, hitting an ace and finishing the match with another big serve, big forehand combo.
Afterward, Thiem praised Coric, saying that it was a great fight from beginning to end. "Borna is in great shape. He has his career high right now, so I think I was beating one of the best players right now in the world. It makes me very happy."
Thiem's next opponent will be American Jack Sock, who is the defending champion. In a phone interview with The Tennis Channel, Sock suggested that his abysmal singles season might be due to his string tension. His racquets are now being strung a bit lower, and he's feeling back to his old self.
On playing Jack Sock in the next round, Thiem said, "It's always fun to play him. We had some great matches in the past. Haven't played for a little while now, so I'm looking forward to that one. Two years ago, he played quarterfinals. Last year he won it. This year now he went deep again. It's going to be tough, especially here in Bercy."