A Tennis Junkie's List of Accessories

A Tennis Junkies List of Accessories
The Game for Special People
Tennis players have always stood out from the crowd. There is something wholly magnificent about a tennis player in full gear. They always attract attention and an awe-inspiring admiration. Adding to this mystique is the mindset that tennis players are "different" "special" or "high class" when compared to other sports like basketball or swimming. A major reason for this is that tennis needs a lot of equipment.
If you play soccer, for example, you will need just a shirt, shorts, shoes, a ball and voila! Your soccer game is set. But not the gentleman's game of tennis. It requires much more, including items such as tennis shirts and shorts, tennis shoes, a racket, balls, and a host of other glittery and cool stuff, most of it very expensive and specifically designed for tennis.
Tennis Accessories Everywhere
All sports require some level of accessorizing, but some sports require more accessories than others. But what exactly is an accessory anyway? Well, an accessory in tennis is anything that enhances your enjoyment of the game. This can be almost anything. Sometimes accessories are as small as dampeners or as large as an extra-large tennis towel. The list of tennis accessories is extremely long.
Today I'll flush out my tennis bag to have another look at my favorite accessories. Let's review each item's uses and benefits. In addition, we'll also discover how each item compares with what professional players use. Does that sound interesting? Then let's get right into it.
Types of Accessories
In this article we have arranged our tennis accessories into 3 groups.
1) Tennis Apparel Accessories
2) Health & Fitness Accessories
3) Personal Care Accessories
We won't include some common items such as tennis bags. Also, some play-enhancing accessories such as dampeners, lead weight, and strings are too many and too varied to discuss in one article. So, we'll keep it simple and very basic.
1) Tennis Apparel Accessories
The basic attire for playing tennis includes a shirt, a pair of shorts, and shoes. Any additional item worn is an accessory. Let's explore a few of these I found in my tennis bag.
Sports Watch
While watches are accessories to your regular daily clothing it appears today that wristwatches are more essential than optional. No basic attire is complete without a wristwatch. However, your heavy stainless-steel Rolex or leather strap Timex is unsuitable for rigorous movement, sweat, and general wear and tear of tennis. Even at recreational levels, the stress on any wristwatch is intense.
So, to protect our priceless and beloved timepieces it's always advisable to get a special "sports watch" to track the minutes and hours of your precious time spent on the tennis court. The ideal wristwatch will have to be made of tough material with a sleek design, rugged build, waterproof, rustproof, and of course, fashionable.
My Choice: Pichupur Fitness Tracker Wristwatch
This unique sports timepiece comes with a built-in tracker for heart rate, blood pressure, physical activity like distance covered, and fitness. All stats are tracked all day long and it can even send alerts and reminders to me as I play. It has a USB for charging and eleven other sports modes for other sports activities like running, yoga, and basketball.
In addition to all these stats the watch also has a calorie counter pedometer to monitor my calorie burn. This watch is also rated IP67 which means it's waterproof to a reasonable degree. This doesn't mean I'll be jumping into the swimming pool after every match. Instead, it merely shows that the watch will not be damaged by sweat or moisture during extended periods of play.
In addition, this watch is rugged enough to resist the crazy movement on my unorthodox but thunderous forehand (okay, so I'm flattering myself) Anyway it's safe to use while playing and won't fly off my hand into the bushes somewhere. Other features include a sleep monitor. I rarely use these other features but it's good to know that it's available. Oh, I almost forgot, the strap is also washable which allows you to clean up after a long day on the court.
What the Pros Use:
Rafael Nadal: Richard Mille Wrist Watches
Rafa uses the exclusive and ultra-expensive Swiss watch maker Richard Mille's RM27-04 (Manual Winding Tourbillion Rafael Nadal) wristwatch which is valued at a whopping eye-watering $1.2 million. Rafa has had a long-running relationship with Richard Mille since 2008 during which time he has sported many of its iconic watches (and broken many while testing prototypes too!) Considering how aggressive Rafa plays, his wristwatch would have to be something truly special, and it is.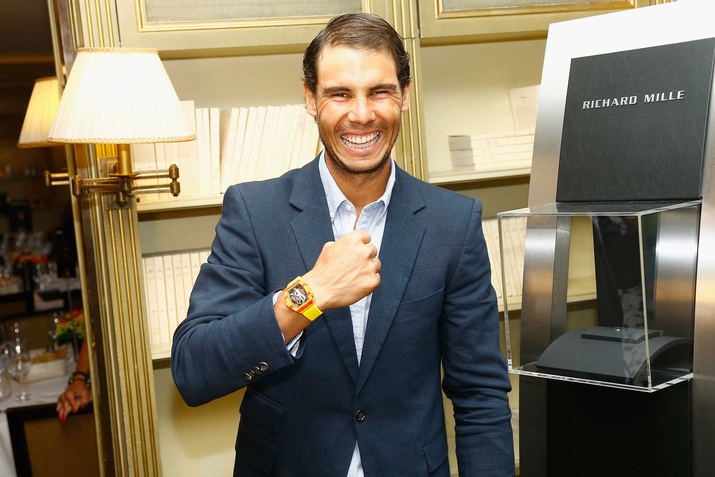 Source: Richard Mille
The RM27-04 was made to honor the 10th Anniversary of the wonderful relationship between Richard Mille and Rafael Nadal. The Richard Mille RM27-04 is a masterpiece of watch-making craftsmanship. It's an intricately beautiful timepiece and ridiculously expensive. Some of its unique features include its resistance for up to 12,000 g of acceleration and 50m of water. It's made from Grade 5 Titanium (its exact composition is 90% Titanium, 6% Aluminum and 4% Vanadium). It weighs only 30g. Also, if you want to get one of these you'll have to move fast. It's a special limited edition and only 50 were made.
EYEWEAR & SUNSHADES
My Choice: Proguard Eyeguard Sports Glasses
I don't intend to be rubbing shoulders with the Rafa's of this world when it comes to accessories. However, you don't have to be a 22-time Grand Slam winner to have nice accessories. My choice of sunshades is a great example. I regularly wear glasses so I'm very particular about anything that I wear on my eyes. The Proguard Eyeguard is my perfect choice and a compromise with perfection. They are not the best or most expensive, but they do provide a respectable level of performance and satisfaction.
If you play in conditions that are usually hot, humid, and sunny a good pair of specs is something you're going to need. The Pro Guard ticks all the boxes for me. It is extremely tough and durable. The frame and lenses are made of polycarbonate. The inner side of the glasses is soft and padded so the glasses comfortably rest on the nose. The glasses have a solid rugged feel which gives you confidence wearing them. In addition, it comes with a special strap that is washable (I'm fanatical about cleaning and hygiene). It's all rubber and plastic. Even the earpiece is soft and comfortable on your ears.
The description online says it's economical (probably another way of saying the glasses look cool?) Maybe not. It means it's built for inexpensive comfort and convenience. Other nice features include its cool and stylish black matte finish. The glasses are very lightweight and super easy to wear but also super easy to misplace so I keep them safe and protected in my tennis bag when I'm not wearing it.
What the Pros Use:
Roger Federer: Oliver Peoples Lachman Sun OV5419SU
Remember when Janko Tipsarevic made wearing dark shades and glasses on the court sexy? But the trend started much earlier than that. Who remembers Andre Agassi wearing a pair of Oakley Sunglasses for a match back at the 1992 Davis Cup? That match was against Argentinian Martin Jaite. Agassi claimed his eyes were red and bloodshot after partying all night with his friends the McEnroe's (John and former wife Tatum O'Neal) In a ridiculous twist Agassi won the match against Jaite despite his less-than-ideal appearance. That match is long forgotten but what endures is the iconic look that is forever etched in tennis history.
Roger Federer is usually the man to beat when it comes to style. For sunshades, he endorses a brand called Oliver Peoples. This is yet another Fedex class act as he has been spotted at a MET Gala wearing a pair of stylish Oliver Peoples Lachman Sun OV5419SU. Roger has been endorsing the brand with which he has a long-standing relationship. He recently signed a new bumper endorsement contract with the brand in 2023.
SUN PROTECTIVE HATS & CAPS
My Choice: Adidas Baseball Style Face caps
When it comes to apparel, I'm a full-blooded Adidas man at heart. Nothing beats Adidas Climacool tennis tops and shorts. And the same goes for my caps. I can't be caught on a tennis court without a baseball cap on my head.
I prefer Adidas style caps over the equally stylish Adidas Super Lite Visors (visors don't do a great job of hiding my bold scalp). Of course, I love to alternate between black and white colors depending on the rest of my attire for the day. Baseball caps are cool and sporty. Of course, it's also an important part of protecting the face and eyes from the dangers of ultraviolet radiation.
What the Pros Wear:
Andy Roddick: Lacosté Baseball Style Facecaps
Today we have a lot of successful baseball-cap-wearing players including Jannik Sinner, Tommy Paul, and Holger Rune. These guys have made baseball caps part of their attire and identity. But when I think of yesteryear's stars it also includes some great players. It gets hard to choose the best. Who can forget Leyton Hewitt and Jim Courier in the 90's?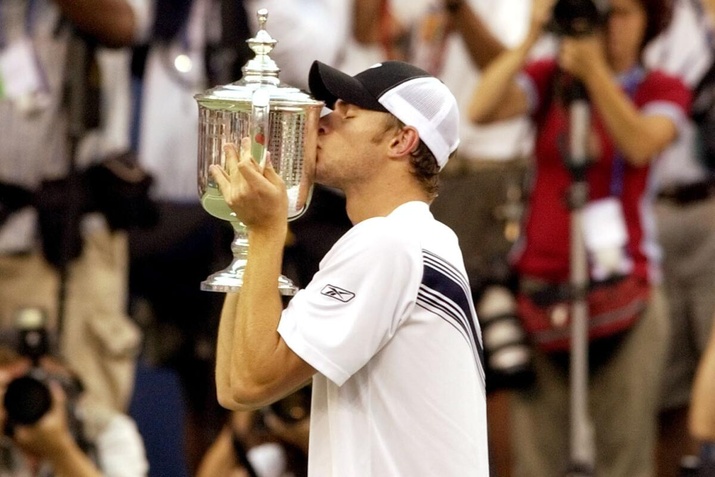 AP Photo/Kathy Willens
But the all-time favorite must be Andy Roddick. His caps were more of a fashion accessory than protective gear. He wore his caps with a distinctive style, and it would become part of his identity. Early in his career, Roddick signed with bold and adventurous Reebok Sporting Goods and quickly embraced its rebellious fashion style of the 2000s. At the end of the 5-year deal, he would eventually settle for the more reserved styles of Lacosté and its iconic crocodile logo.
Tennis Wrist Bands
My choice: ADV CHARCOAL TENNIS WRISTBANDS
These are super cool wristbands. Unlike the regular wrists I've used in the past ADV provides double of everything. My old wristbands were the small ones because I wanted to avoid the heavy uncomfortable feeling on both my wrists. The ADV wristbands are the size of a double wristband plus it's super thin and snug with elastic material on both ends. It feels so comfortable. You almost feel like you are not wearing anything because it's so light.
The obvious question is why ADV uses activated carbon-treated fabric. Activated carbon fabric provides several advantages over regular materials. This is because it benefits from the micro-porosity of activated carbon and its other attributes. AVB wristbands are super absorbing helping you avoid getting sweaty palms. Also, air passes freely through the material always keeping it cool and dry. It takes a lot to get these wristbands soaking wet.
Another benefit is that the wristbands have antibacterial properties that will keep them from having a bad odor should you forget to wash them for a couple of days. This is altogether a cool and comfortable pair of wristbands to have. The price is not crazy, and it lasts a long time before you need to replace it. My preferred color is black because it goes with anything I wear.
What the Pros wear:
Novak Djokovic: Lacosté Wristbands
Back in his UNIQLO days, I had never known Novak to be a man passionate about style or fashion. Since he started wearing Lacosté, however, that has all changed. Today he ranks amongst the best and most well-dressed tennis players (and athletes) on the planet. This is a man who is meticulous and deliberate about everything he does from tennis to mental health to fitness. Djokovic applies the same attention to detail in his choice of tennis apparel.
Novak's choice of Lacosté is uncanny. It's interesting to note that Lacosté itself was founded by another tennis legend and champion player - René Lacosté who designed the first Lacosté shirts in 1933 and began wearing them at tennis matches. Interestingly he single-handedly rejuvenated interest in the polo shirt. The crocodile logo is today an iconic symbol of fashion worldwide. It makes sense for Novak to endorse Lacosté and the results are spectacular. Novak's Lacosté sweatbands are simply gorgeous and come in a variety of colors. He also has the habit of wearing different colors on each wrist.
"René Lacosté was a revolutionary in two senses: he changed the game of tennis, and he changed fashion. That's why I was so curious about the brand and what we could work on," says Djokovic. Djokovic has made the iconic brand his own whether it's the blue, white, and orange wristbands at the Australia Open 2023 or the white and blue of the US Open 2023.
LARGE TOWELS
My choice: HEAD XTRA LARGE TOWEL
The Head towel is my perfect choice for tennis as a large side-line towel. Of course, I always play with a smaller face towel which I can easily hang on the fences (am I the only one who does this?) The smaller towel I use in-between points, but the Head is my go-to towel for lush comfort during rest periods or between matches.
It's big enough to wrap around my body and has the absorption capacity to deal with my profuse sweating on hot and humid days. It's interesting just how much sweat an average recreational player can produce on any given day. An extra-large towel is excellent and a must-have for any serious player whether professional or recreational. Sometimes wristbands and headbands are not enough for long periods of play.
I must also mention that my Head towels are 100% cotton and need to be laundered after every use to keep them clean and in good condition. There is nothing worse than being "the guy with the big smelly Head towel on Court 2…" So, I always go the extra mile to keep my towels extra clean.
What the pros use:
Nick Kyrgios: Everything and Anything That's Controversial
I've not seen a lot of pro players bring their towels to court. Mostly tennis towels are provided by the tournament organizers. But one tennis player stands out when I think of tennis and towels and that's Nick Kyrgios. His ranting about getting colored towels instead of white towels at the Stuttgart Open earlier this year drew a bit of unwanted attention. Unfortunately, Kyrgios ended up losing a match to lower-ranked player Wu Yibing in straight sets 5-7, 3-6. Kyrgios most probably lost the match because of his lack of movement, having only just returned from a long injury layoff. The insufficiency in the towel supply was probably just a case of Nick Kyrgios being Nick Kyrgios.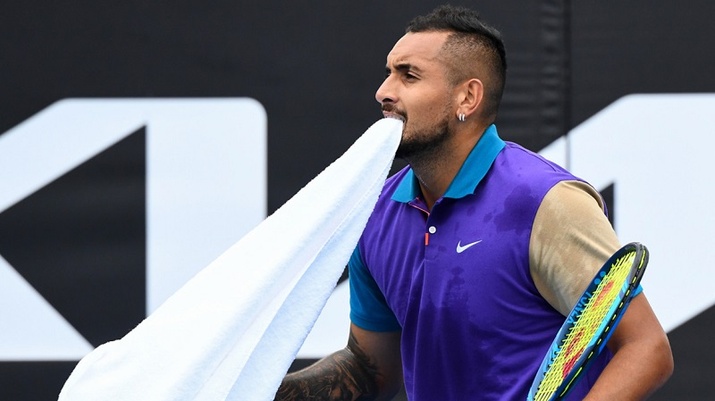 © AFP
2) HEALTH AND FITNESS ACCESSORIES
ELBOW BRACES
My Choice: SENTEQ Bamboo Charcoal Elbow Arm Compression Sleeve
The purpose of an elbow sleeve is to protect your elbows mostly from tennis elbow which is the major concern for most tennis players although it is used in a wide variety of sports from golf to basketball. The name for tennis elbow is "lateral epicondylitis" and it occurs when there is an excessive load on the tendons of your elbow. In tennis, this is often caused by the motion of striking a tennis ball with a racket. It can often be very painful and can even restrict the affected person from playing altogether.
I've never experienced a serious case of tennis elbows. However, I'm a big fan of prevention over cure so I use elbow sleeves often to protect my elbows. For this purpose, SENTEQ Bamboo Charcoal Elbow Arm Compression sleeve brace support straps are ideal because they are lightweight and fit well. It's snug on the elbow making it firm without restricting my movement.
What the Pros use:
Novak Djokovic
Novak wore a sleeve to protect his elbows at the 2023 Italian Open in Rome. According to him, he experienced some discomfort and was forced to use the sleeve. This sparked a wave of hysteria among his fans who feared the Serbian would succumb to injury and be able to compete. Djokovic however played down those concerns stating that the injury was "all good" and that it was "normal" for him, especially at his age.
Milos Raonic
Another star player sporting an elbow sleeve is Canadian star Milos Raonic who started wearing elbow sleeves in 2014 not as an elbow guard but to cover up a skin rash on his forearm. This sparked interest and quickly became a tennis fashion statement of sorts. He's continued to wear the sleeves ever since.
ANKLE SUPPORT GEAR
My Choice: NEENCA ANKLE BRACE
Ankle braces support one of the most vulnerable spots on the human anatomy. For tennis players, the ankles are crucial. It supports a wide variety of movements that are necessary to play the sport effectively. NEENCA Ankle braces are very effective in protecting my ankles during play. It does this by providing my ankles with extra support while remaining comfortable and flexible for all types of movement. The fabric fits snuggly to my body. It's tight and will not slip due to the fact the fabric is extremely elastic yet comfortable.
The ankle portion of the braces wraps around the ankle to give it extra rigidity and support. This is done without compromising flexibility so you can still play or train in the normal way. The most important thing about any ankle support device is that it fits and needs little or no adjustment during play.
What the Pros Use:
Andy Murray: Air Caste A60 Ankle Braces
Andy Murray uses Air Caste A60 ankle braces. By 2011 he had started wearing it on both ankles. The issue with his ankles goes back to his prodigious days as a promising youth player. He won the prestigious Orange Bowl in 1999 at age 12 and again two years later at age 14 being one of only 9 players to have ever achieved that feat since the Junior Orange Bowl inauguration in 1947. It was in his youth that he started wearing ankle braces on his left ankle after an injury caused his ankles to start rolling. In 2011 he began to wear them on both ankles to provide the protection he felt he needed to continue to compete at the top level. He still suffers other occasional injuries such as the hip problem that kept him out of Queens Club Championship 2022 after reaching the Stuttgart final where he lost to Matteo Berrettini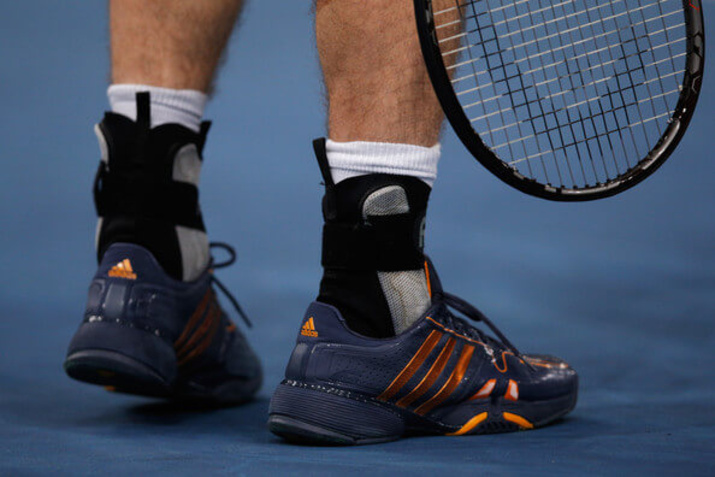 3) BODYCARE ACCESSORIES
Mosquito Repellant
My Choice: Gardia Cream Repellent
There are hundreds of different mosquito and insect repellent products on the market, but my personal best choice is Gardia Cream. It comes in a small blue sachet which is super convenient to use because I can keep the little sachets in my tennis bags inside pockets.
Insects and mosquitoes are an issue as most tennis courts are outdoors and players wear mostly loose clothing that often leaves large portions of the arms and legs exposed to the elements (and insects). This is a major problem in the tropics of Africa, Asia, and South America. But no matter where you go night-time tennis and floodlights are a guaranteed way to bring out all the small insects like ants, gnats, sand flies, mosquitoes, and a host of others.
Gardia cream is smooth, very light on the skin, and only has a slight floral fragrance. Some insect repellent sprays tend to be oily or greasy but not Gardia cream. After application, you will hardly remember that you had applied it and it will stay effective for hours. It's always a one-time application and there is hardly ever any need to re-apply it. It doesn't cause irritation or discomfort of any kind and it's super effective in repelling insects. It's essential for any tennis bag.
Gardia cream contains about 13% DEET which is among the oldest, most common, and well-researched chemical insect repellents available. It has a long history of safe use. However, it's important to make sure that your skin is tolerant of any new products. Some people can react to even the most benign of creams or lotions. To be sure it's safe for your skin, properly test the product before you apply it by conducting a simple patch test. Please don't be that person on the tennis court who borrows everything including a random sachet of insect repellent. That's a very risky business which could result in an allergic skin reaction.
What the Pros use:
Belina Bencic: Err…we just ask the Officials for some
Not a lot of well-paid professional players think to add mosquito or insect spray to their arsenal of accessories as evidenced by Belinda Bencic. They just ask the Officials when they need it. The Canadian star Bencic was captured asking officials for "bug spray" at a match against Coco Gauff in Washington last month. She eventually lost to the energetic Gauff 6-1, 6-2
Hand Sanitizer
My Choice: 2Sure Hand Sanitizer Spray
2Sure Hand and Surface Sanitizer is inexpensive and approved by the relevant regulatory authority in my country. This product is readily available in most departmentalized stores and supermarkets. Please don't overthink hand sanitizers. It's a very sensible and essential product to have no matter where you go and no matter what you do. It's been that way since the start of the COVID pandemic and it will remain an essential item for your tennis bag well into the future.
What the Pros use:
The Coronavirus caused tennis to be suspended worldwide at the peak of the pandemic. As things have normalized in recent years individual players have found different ways to cope with the persistent dangers of catching the virus.
Joint And Muscle Pain Relief
My Choice: Deep Heat Cream
If you've ever played an intense game of tennis, you'll understand the immense strain and pressure it puts on the muscles, particularly the muscles of the feet, knees, and arms. There is nothing more soothing than a hot bath followed by a good massage after tennis. But the next best thing is Deep Heat Cream applied liberally to the affected parts of the body. Deep Heat works absolute wonders to help calm the pain points and provide an overwhelming sense of relief.
Some of the practical benefits include that it's lightweight, non-greasy, and has no strong fragrance. It's easy to apply and does not stain fabric. Deep Heat is ideal for players who experience regular aches and pains. For more serious ailments it's best to consider a stronger treatment or consult a physician.
Sunscreen UV Protection
My Choice: Neutrogena Hydro Boost Sunscreen SPF50
Neutrogena products are well renowned for everything skincare. Rarely do they disappoint, and Neutrogena Hydro Boost Sunscreen is no different. It seems like the best fit for the average recreational tennis player's needs. It also meets all the demands and expectations for sun protection on any given hot day.
Neutrogena Hydro Boost is very protective with an SPF50 rating that goes well beyond the ATP standard of SPF30. It's broad spectrum so it meets and protects every level of threat from sun exposure. Broad Spectrum means it guards against all types of harmful ultraviolet rays (UVA and UVB). It's waterproof so it's resistant to high levels of perspiration on hot and humid days. Also, it feels light and leaves no ashy white residue like some regular sunscreens. It's very skin-friendly, hydrating, and effective. The only downside would be its price, which tends to be on the high side. The packaging is also convenient, and it slips easily into my tennis bag's inner pockets.
What the Pros Use:
Bob and Mike Bryan: UV Shield-EGF FGF DNA Sun Protection
The legendary doubles partnership of Bob and Mike Bryan has a permanent place in the annals of tennis history. The pair of twins have an astonishing doubles record which includes 119 ATP Tour Titles (losing finalists on 59 occasions) 16 Grand Slam Titles overall, 4 ATP Tour Finals, Olympic Gold at the 2012 Summer Olympics in London, and Bronze at Beijing in the 2008 Summer Olympic games. They've won the 2007 Davis Cup with Team USA which also included James Blake and Andy Roddick.
Now in retirement, the identical twins teamed up with top celebrity dermatologist and cosmetic surgeon in Beverly Hills, Dr. Ronald Moy to promote his brand DNAEGF Renewal. The brand includes a regimen for the protection of the skin from the dangers of photodamage and ultraviolet radiation. Dr. Moy leverages new enzyme and plant-based technology to create a range of cosmetic products for treating cases of skin damage and to protect. Its UV Protection products are certified by the Skin Cancer Foundation. Particularly its "UV Shield: EGF FGF DNA Sun Protection" is a lightweight and waterproof sunblock that protects from UVA and UVB ultraviolet rays (broad spectrum). It's very effective for all-day use and does not leave unsightly residue.
So that's it. I've about exhausted all my tennis accessories. Of course, it's possible to have much more. What accessories do you have? What makes it important and how does it improve your tennis performance on the court? We would love to see your opinions and comments below.