Team Europe Defends Laver Cup Title

The Windy City delivered a perfect day that would create epic memories for the 93,584  fans who visited the United Center and for the twelve members of Team Europe and Team World 2018. After three days and eleven back to back intense matches, Team Europe came out on top with Alexander "Sascha" Zverev closing with a 10-point breaker over Team World leader Kevin Anderson, 6-7 7-5 [10-7]. In post-event pressers, team captains, McEnroe and Borg, expressed gratitude for the opportunity to work with their team and discussed the respect and affection they felt for their efforts and teamwork displayed throughout the event. Personally, I have never seen so many smiles on the players in any event.
Final Sunday Breakdown [3 team points awarded per win]
Match 9: John Isner & Jack Sock [W] d. Roger Federer & Alexander Zverev 4-6 7-6 [11-9]
Sunday began with electricity in the air and lightning struck multiple times for both Team Europe and Team World.
When this Fab-4 stepped onto the United Center stage, Team Europe held the narrow 2-point margin. This was a highly appropriate given this beautiful game, defined by narrow margins.
Jack Sock and John Isner fought incredibly hard for this win. I do not believe I have ever seen John moving to net so well and making deep knee bends getting '"low" into his shots. His effort sounded more like Nadal today. While he was serving well, he faced excellent returners who allowed only 1 ace for Team World. We know that John relies on his serve to build the score in his favor. That tells you the effort made with his service weapon neutralized by Roger and Sascha. That crucial ace came just in time to go up 10-9 in the match-deciding breaker. The win put Team World ahead for the first time, 8-7.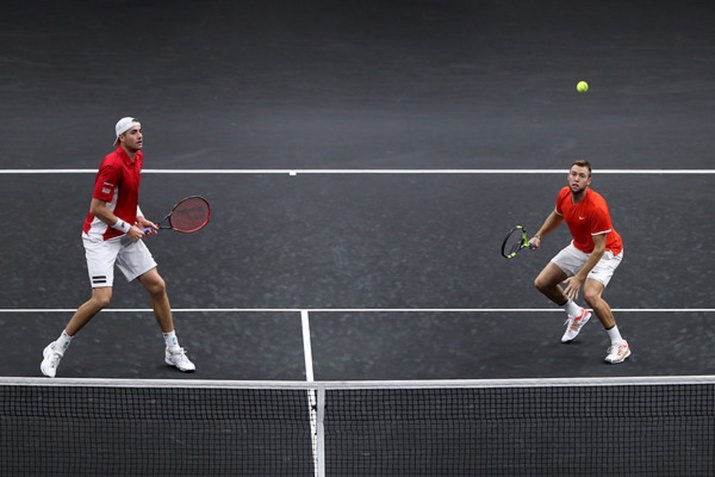 Match Stats:
At 1-hour and 42 minutes, both teams owned one set.
Team Europe won 81% of first serve points and Team World won 85%
Points won on second serve were 59% for Team Europe and 63% for Team World.
Neither team won any points at net.
One single break point was played and won by Team Europe.
The return game was a huge factor for Team World who won 19 receiving points versus 14 for Team Europe.
The match began at 12:16 and completed at 13:52.
Match 10: Roger Federer [E] d. John Isner [W] 6-7 7-6 [10-7]
As the score indicates, this was an almost perfect match for both John and Roger. With Team World in the lead, the crowd atmosphere was like nothing I've ever heard at a live tennis event. This time the aces flew (15 for Federer and 17 for Isner) and John won 21 net points to Roger's 14. Yes, John continued to move well. Once again, no break points won. Roger's solid return and service games pulled him ahead of the American. He won a total of 92 points versus 79 for John. With this win, the score shifted in favor of Team Europe, 10-8. The crowd quite literally went nuts.
Match 11: Alexander "Sascha" Zverev [E] d. Kevin Anderson [W] 6-7 7-5 [10-7]
This match was another display of determined perfection and vehement team sideline support. The player defense of deuce points was exceptional. As such only 1 break point was won going to Team Europe. The two were evenly matched in aces at 6 and total points won was a dead heat at 89.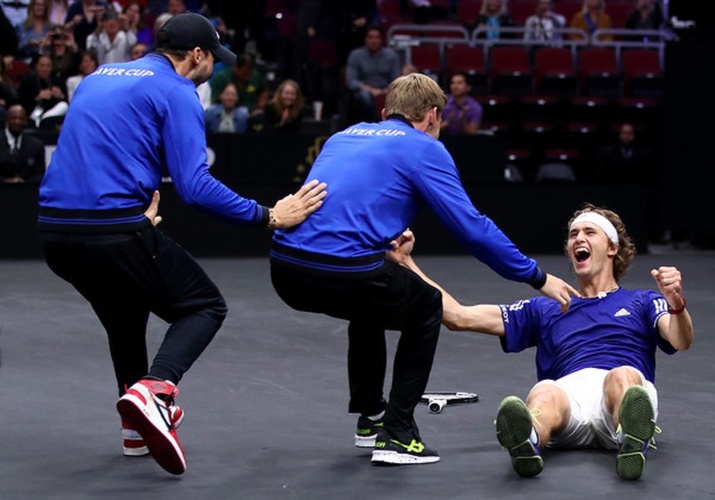 At 1-hour and 54 minutes, Zverev captured the only break to split sets. He let out a battle cry," LET'S GO" and the Team Europe bench went airborne.
The final breaker saw Anderson take then lead to 4-2 but the roller coaster ride was far from over. The Team Europe recruit battled back to 5-5 and then caught Anderson again to 7-7. Everyone was out of their seats and Kyrgios was dangerously close to an "encroachment" violation coming over to Team Europe's sideline camp to support Anderson along with a Fighting Illini crowd. Kevin stated numerous times, the crowd support throughout the event was the best fan engagement of his career. "Let's go Kevin" was a constant for all of his matches. Despite the loss, his predominant memories are overwhelmingly positive. In that sense, the fans in attendance would agree.
As Zverev watched Anderson's final backhand land in the net, he fell to the ground and was quickly smothered by his entire team. This match was without question the biggest win for the 21-year old. However, he is a "veteran" from the inaugural 2017 Laver Cup. Just like his singles career, he seems to absorb, learn, and apply lessons quickly.
Fun Laver Cup facts: This is a big week for Zverev, who is a new uncle, and of course Team World's John Isner is a father to a baby girl.
Match 12: Novak Djokovic [E] v. Nick Kyrgios [W]
While this match was scheduled, it was not played as Team Europe's lead of 13-8 sealed the deal on Sunday.
In 2019, Geneva Switzerland will host Laver Cup. Something tells me Roger will do his best to be well prepared for the 3rd edition of an event that he helped create. Ask any player from Team World or Team Europe and they will tell you this event is one of it not the favorite week of the year. As a fan, this event, above any I've seen, reconstructs tennis history in a unique, interesting, and exciting way. The rich history and tradition add a depth and color to an already exciting event. In the Laver Cup Fan Zone, guests were given the opportunity to cast the ballot for their choices for the Tennis Hall of Fame among a well-designed walk through the years.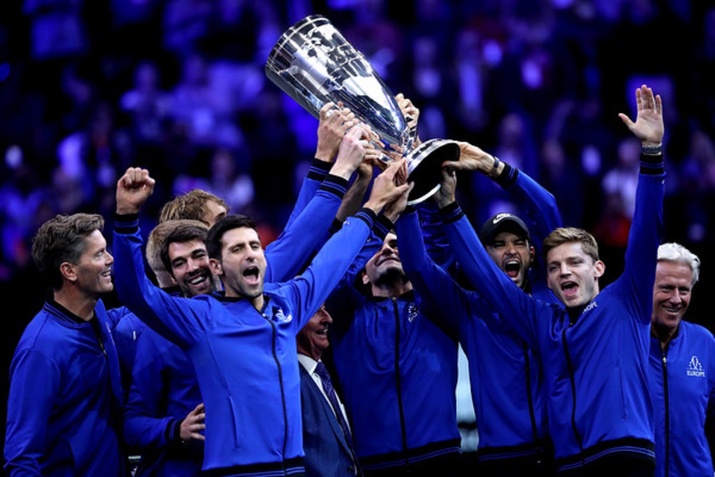 For real tennis fans, Laver Cup is not to be missed. This is one of the only events each year where you will be guaranteed to watch top-10 to top-20 players battle every match, every day. That is the tennis equivalent of a golden ticket. The only event of similar stature is the ATP Year-End Finals currently held in London until 2020.
That's a wrap and see you in Switzerland!
(Photo Source: Clive Brunskill and Matthew Stockman /Getty Images North America)