Tale of Two Swiss: Wawrinka Sinks, Federer Soars in Desert

Nobody had defeated Stanislas Wawrinka in 2014. Fourteen players, including Novak Djokovic and Rafael Nadal, had tried and failed to stop a man who won his first major title and risen to world No. 3.
The task thus loomed large before Kevin Anderson, but Anderson is a tall order himself. At 6 feet 8 inches, the South African had starred in NCAA tennis at the University of Illinois. More recently, Anderson had rebounded from a 2013 slump to produce perhaps his best tennis ever last month. He had reached consecutive finals at Delray Beach and at Acapulco, an ATP 500 event with a quality field.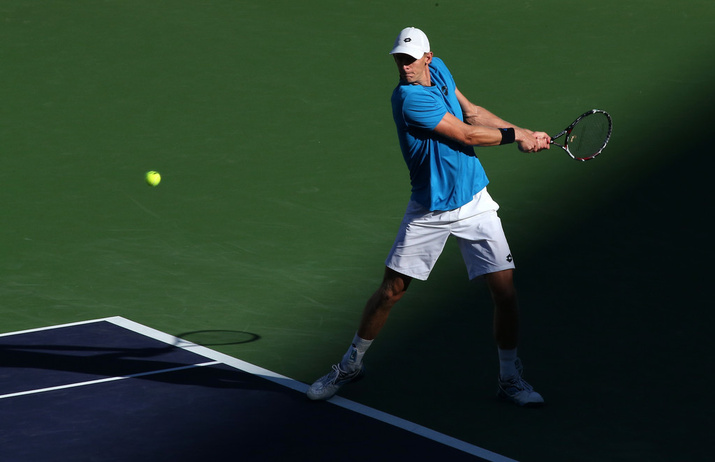 Although Anderson lost both of those finals, both in heartbreaking three-hour epics, his spirit had emerged unbroken. Surely he knew the magnitude of the challenge before him, yet he also should have gained confidence from the memory of his Indian Wells quarterfinal run last year. Anderson delivered an impressive statement by breaking Wawrinka in his first service game. The Swiss star would erase the deficit immediately before the two men settled into a pattern of steady holds. Neither would sniff a serious opportunity until the first set reached a tiebreak.
At that stage, most would have expected the favorite to ride his superior experience past the underdog. But Anderson, who had not seized the moment in his two February finals, seized the moment this time in dominating the tiebreak for the loss of just one point. When Wawrinka's first serve deserted him, Anderson balanced depth with margin on second-serve returns and kept the world No. 3 under constant pressure from the baseline. He deserved his reward of a one-set lead, which sent tremors of a potential upset rippling through the desert once again.
Those tremors merely intensified as Anderson claimed an early break in the second set and held a chance for an insurance break. Wawrinka, who had received treatment on his lower back between sets, needed the tennis equivalent of a strikeout. He got it with a series of heavy first serves that handed him free points. Once off life support, the Australian Open champion seemed to open his shoulders and swing more freely. His surge in form coincided with a predictable dip from Anderson as he realized how little separated him from a dramatic victory.
Wawrinka not only broke back but inflicted relentless pressure on the underdog's serve late in the second set. Gallantly saving break point after break point, Anderson began to miss even the most routine groundstrokes with embarrassing frequency. Only the power of his first serve kept him in the set, and that one shot could not carry him by itself forever. An ugly forehand miss handed the set-ending break to Wawrinka, delighting a crowd hungry for more tennis.
Whenever one man or the other seemed to seize the reins, however, this strange match lost little time in tilting away from him. Wawrinka summoned the trainer again between sets, which gave his opponent fresh hope by telegraphing his frailty. Confirming the fears of his fans, the Swiss dropped serve to start the third set with a particularly weak game. Anderson raced to consolidate the break and soon added the insurance that he could not obtain in the second set. That cushion settled his nerves as the finish line approached. And the South African crossed it with ease, cruising through an anticlimactic 6-1 set for his fifth career victory over a top-four opponent.
A downcast Wawrinka found much to regret as he reviewed the end of his 14-match winning streak. Not only did he serve poorly, in his view, but his ability to withstand negative emotions and search for solutions deserted him. By contrast, Anderson felt proud of regrouping to take command early in the third set after the deflating finish to the second set. The Delray Beach resident, expected to become an American citizen, said that he focused on denying Wawrinka rhythm at the baseline. Like fellow tall men Milos Raonic and John Isner, Anderson noted that the desert conditions helped his serve wreak maximum damage.
Extending the string of Indian Wells shocks, Anderson's victory left only two top-10 men in the draw. One of them, a compatriot of Wawrinka, took the court directly afterward. Tasked with 35-year-old German veteran Tommy Haas was four-time Indian Wells champion Roger Federer. Following the exits of Rafael Nadal, Andy Murray, and Wawrinka from his half, Federer's route to the final sprawled wide open. But could he capitalize?
Invigorated by new coach Stefan Edberg, Federer had rebounded from his 2013 drought to claim a significant title in Dubai last month. He had earned four victories over top-10 opponents in his last two tournaments before the BNP Paribas Open, and he had dominated Haas throughout his career. While the German had upset Federer at a small grass tournament in 2012, the Swiss star had won all of their other 11 meetings over the last 12 years. Still, Haas twice won the first set from Federer last year before fading, so the matchup intrigued.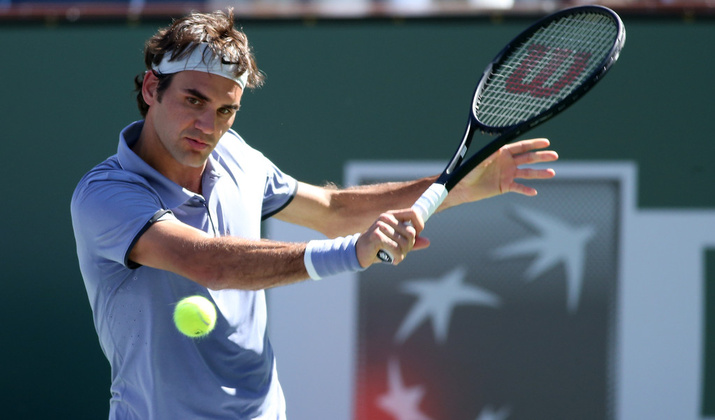 In the end, though, it was not overly intriguing. Federer dropped serve just once, midway through the first set, and never looked likely to cede the momentum thereafter. He closed out both sets with ease in a 6-4 6-4 victory that lasted a tidy 84 minutes. Federer continues to look as crisp as anyone else in the draw, not dropping a set through three rounds. Although not as tall as Anderson, Raonic, or Isner, he plays a style similarly suited to fast courts that should thrive against most opponents in the desert. The four-time Indian Wells champion should be heavily favored against Anderson on Thursday night and on Saturday against Raonic or Dolgopolov.