A Tale of Two Spaniards: The Men's Semifinals at Roland Garros

Rafael Nadal had answered many important questions in the course of his comeback, some more impressively than expected, but he had not yet answered the two most important questions of all. Could Nadal overcome nemesis Novak Djokovic, a thorn in his side since 2011, and could he win his twelfth major title at the first major of his comeback?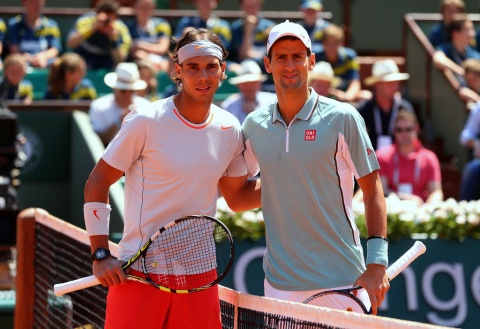 Friday's semifinals provided an answer to one and strongly suggested an answer to the other after two matches of divergent quality. The first match lived up to its sky-high expectations and more as Novak Djokovic's pursuit of the career Grand Slam collided with Rafael Nadal's title defense. The two best players in the world, according to everything but the official rankings, engaged in a classic encounter worthy of a major final that sprawled across more than four and a half hours. Much more suspenseful than most of the previous major finals that they had played, in fact, it rivaled the six-hour marathon at the 2012 Australian Open.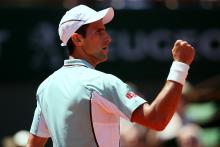 The early stages of this match resembled that epic much less than last year's Roland Garros final between the two men. Edgy under the pressure of the moment, Djokovic berated himself through much of the first set and a half as a relatively composed Nadal built a commanding lead. Midway through the second set, the defending champion nudged within reach of the same two-set lead that he had held last year. But this time Djokovic did not wait until the third set to respond, showing much more resilience in adversity. The experience of losing last year's final had taught him that he could not afford to dig a two-set hole against this opponent at this tournament, and he raced through an inspired stretch to turn the semifinal into a best-of-three affair.
With the match essentially starting from scratch, Nadal could not afford to do what he had done at the 2012 Australian Open. There, he had grown disheartened after a one-set lead slipped away and failed to regroup in a short third set. This third set did not last long either, but here it was Djokovic who fell behind early and faded swiftly as Nadal served his rival a rare breadstick. As the Spaniard surely knew, though, his work was far from done.
This semifinal then unfolded as an mirror image to that Australian Open final with one man threatening to finish off the match in four, the other man storming back to take the fourth, and the first man regrouping to take the fifth after falling behind by an early break. Three times Nadal led by a break in the fourth set. Three times Djokovic broke him back. When the Serb swept through a commanding tiebreak and broke to start the fifth set, many an ordinary man would have wilted. Nadal would not have compiled seven Roland Garros titles and counting, however, if he were just an ordinary competitor.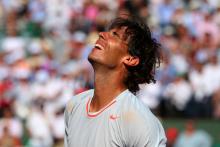 Sharpening his focus, the Spaniard did not concede a lethal insurance break when threatened, nor did he let his archrival breathe too freely on serve. Finally able to regain the break at 3-4 by applying consistent pressure, he traded holds with Djokovic as the tension mounted with neither man giving an inch from the baseline. Not until the sixteenth game did a crack open in either man's armor. On the first point as he served at 7-8, Djokovic opened the door with a poor smash. Tentative smashes cost him at key moments throughout his previous meeting with Nadal, and it proved the same here. Djokovic did not win another point, conceding two routine forehand errors after a backhand winner by the Spaniard to concede the match-ending break at love.
Despite the limp finish, though, the two men had collaborated on the best match of this tournament and probably of this season. Their rivalry has become a rivalry for all surfaces in a way that Federer-Nadal never did, for they now have played a 7-5 fifth set on a hard court and a 9-7 fifth set on clay. Only the narrowest of margins separates them on any given day, on any surface, and fans of men's tennis could not ask for more from the two cornerstones of the sport.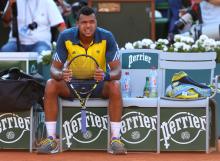 French fans likely felt that they could have asked for more from Jo-Wilfried Tsonga, by contrast, in the aftermath of his stirring quarterfinal upset over Roger Federer. Tsonga has struggled throughout his career to follow up those breakthroughs, though. He fell flat against Djokovic in the aftermath of dominating Nadal at the 2008 Australian Open, against Federer after outlasting Djokovic at the 2010 Australian Open, and against Djokovic after upsetting Federer at Wimbledon 2011. For someone susceptible to a hangover, David Ferrer is probably one of the least desirable opponent's on Tour. The Spanish veteran regularly forces opponent to work for every point, and Tsonga simply could not muster the patience or the focus to complete that task today.
Dropping the first five games before he settled into the second semifinal, Tsonga did threaten to assert himself in the second set. He stayed even with Ferrer on serve until the tenth game, when he threatened to break. The briefest of bursts at that juncture could have completely reversed the trajectory of the match, as Djokovic had earlier in a similar situation. But Tsonga is no Djokovic, and he let the opportunity slip away too easily. Handed that sort of reprieve, Ferrer will punish any opponent outside the top four. He cruised through the eventual tiebreak and the third set, never facing any further resistance.
Impressive in every round, Ferrer has echoed Nadal's previous performances at Roland Garros by reaching the final without dropping a set. He still enters the final as a considerable underdog, burdened by a 16-match losing streak to his countryman on clay and by the memory of a rout in last year's semifinal. Ferrer has tasted success twice against Nadal at majors, once at the US Open and once at the Australian Open, but both of those came against a visibly hobbled Rafa. Like fellow finalist and title favorite Serena Williams, Nadal is a different player when healthy, or as healthy as he can expect when his knees trouble him. He did lose sets to Ferrer in both of their clay meetings this year, even coming within two points of defeat in Madrid.
Still, it is nearly impossible to imagine Ferrer succeeding where Djokovic and Roger Federer have not. Even with the knowledge that his greatest test lies behind him, Nadal surely will approach this final with his intensity undiminished. Some vintage clay-court tennis will lie ahead on Sunday between two men who built their reputations on the surface, but Nadal never has lost a final here and should slide smoothly to his eighth title.