Swiatek Takes Miami Title

Iga Swiatek wins the Miami Open to complete the Sunshine Double, the back-to-back American hard-court events.
After her win in Indian Wells, she defeated Naomi Osaka on Saturday for the title in Miami, 6-4, 6-0, in one hour and 19 minutes.
Swiatek is on a 17-match winning streak, and this is her third consecutive WTA 1000 title.
When the new rankings come out on Monday, she will officially be world No.1 for the first time in her career.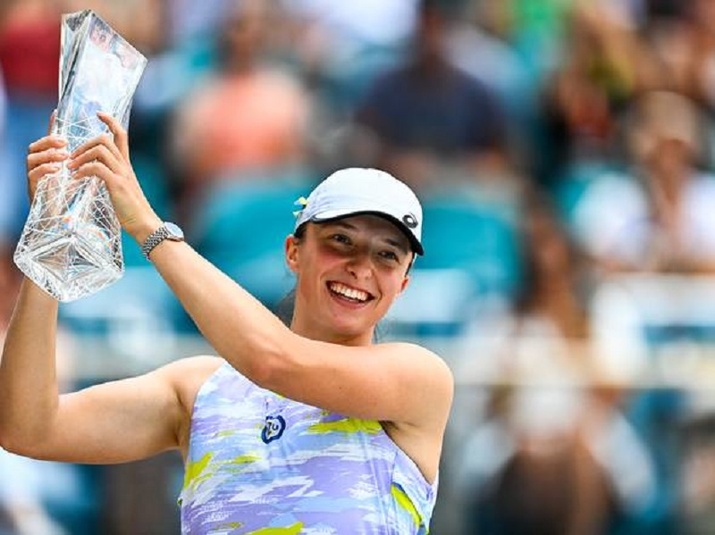 Though her final at Hard Rock Stadium felt routine, things began competitively. The first game lasted ten minutes and had seven deuces, before Osaka finally held serve.
At 2-all, Swiatek broke with a backhand crosscourt winner. Osaka kept trying the tactic of returning from well inside the baseline, but never got her timing quite right. Swiatek never faced a break point, keeping the momentum to run away with the match.
In her post-match press conference, Swiatek said: "Playing against Naomi in a final was pretty exciting, and I knew that the world is going to watch, because it's a nice match just to follow.
"I wanted to give the best tennis I can so people actually can be satisfied. But on the other hand, just seeing that I can play that well against such a player is really satisfying."
Swiatek said: "I just feel really satisfied and fulfilled and also proud of myself. I feel like I have got to celebrate, because I don't know how long I can keep up with this streak."
Swiatek is just the fourth woman to achieve the Sunshine Double. She said she felt privileged. "I wouldn't even dream of it few years ago. I knew it's going to be tough playing these two tournaments in a row.
"Yeah, I mean, I realize at the end it's just another match and I took it step by step. That's how it ended."
Swiatek said she felt focused and composed on the court. "Because I knew that I have a job to do. So basically even though it was a final, I treated it like any other match. I think that was the best way to do it, because I didn't want to put too much pressure on myself."
Swiatek said: "I really used that [winning] streak to have more confidence and also the ranking, you know. Sometimes I felt earlier that the ranking can push me down a little bit. I felt like baggage on my shoulders.
"This time I worked through that, and it was much better and it really inspired me. That's what I can take from it."