Swiatek Rolls Into Miami Quarterfinals

On a perfect-tennis-weather Monday, 20-year-old Iga Swiatek, the second seed, rolled past 18-year-old Coco Gauff 6-3, 6-1 to reach the quarterfinals of the Miami Open for the first time in her career.
Swiatek, with her incredible Nadal-like topspin and impressive serve (83% first serves), was a sight to behold on the deep blue stadium within a stadium court.
She looked very much like the world No. 1, which she will be when the new rankings come out next Monday.
On officially being No. 1, Swiatek said: "Well, the thing is that, you know, after Roland Garros, we also started to kind of prepare for the success, and for sure, you know, there are going to be tough moments and there is going to be like huge amount of pressure. I don't really know how that feels exactly, because I have never been a No. 1. We are going to have to see and, you know, react probably.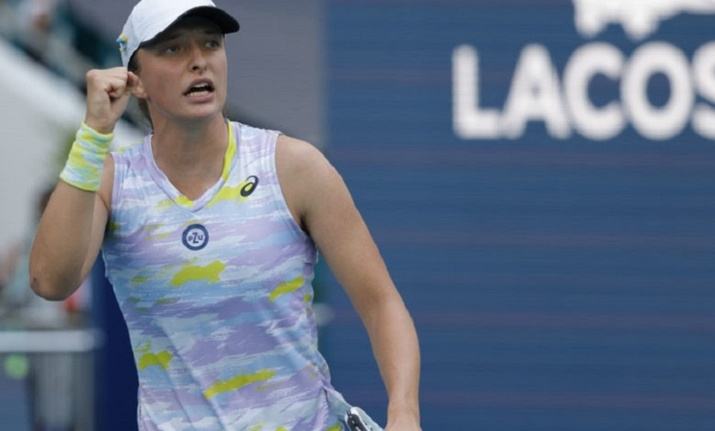 "But I feel right now pretty good. I always had a kind of ease to cut off the rankings and the numbers and just focus on playing. This season I have much more joy from being on court and playing and competing, so I think if I'm going to keep up with the same attitude, it's going to be fine. As I said, you never know what's gonna happen because I never been in such situations.
"Yeah, we'll see, but I'm pretty positive, you know."
Swiatek said: "I mean, yes, there is like more excitement, because after winning Roland Garros, because I can actually compare these two experiences, it's like on the same level, I would say, I felt a lot of doubt and I didn't really know, you know, what's gonna happen and how I'm gonna handle that.
"But right now I feel more prepared and I feel like I'm in a better place. So there is more excitement and more like satisfaction and actually like positive thoughts and emotions. Because after Roland Garros, it was really a mess, I would say (smiling).
"Well, for sure. I think I have learned a lot after, you know, every tournament that I won. There was always a huge amount of work, I would say even more that we did after winning tournaments compared to after, you know, losing sometimes, because, you know, in tennis you're actually more used to losing (smiling).
"So I feel like I'm ready to handle that. You know, it's the beginning of the season basically. I mean, not the beginning, but we're going to see at the end of the season where we are all going to be tired and the season is going to be long, so it's always tougher then to actually manage everything. But this year, you know, I'm not playing doubles. I'm also going to have more breaks and days off.
"So I have full trust in my team that they're going to also give me time to recover and stay fresh.
"For sure, my goal from the beginning when I started was to make tennis more popular in Poland, and I'm going to for sure be focusing on that. For sure now I have more impact also like worldwide. But honestly, I don't want to put too much baggage on my shoulders, and I know handling like the, I don't know, this is something that's pretty tough, so I'm going to give myself a little bit of time and continue what I was doing in Poland, and maybe some day I'm going to feel strong enough to also be like tennis representative in like whole world.
"But for now, you know, I'm just taking it easy, and I know just by playing well and actually showing, you know, good sportsmanship on court, the work is going to be done itself, because we are basically mostly watched when we are playing, you know.
"So I want to for sure be a good example there. Yeah, I hope many young girls are going to pick up the racquet because of that, and in future years, I'm going to see what my plan is going to be for that."