Sweet 17s: Serena Williams, Roger Federer Star in Brisbane

What better place to kick off a new season than the sun-soaked Gold Coast of Australia? A WTA Premier event in Brisbane has attracted all three of the sport's most famous women. The companion ATP 250 tournament welcomes a lesser field overall, but it will showcase a cluster of familiar names as well.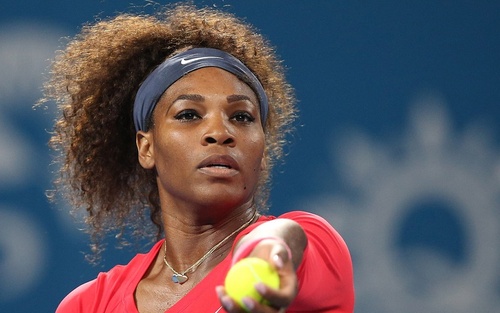 WTA:
Top half: Perched atop a massive lead in the rankings, world No. 1 Serena Williams has lost only one match since Wimbledon last summer. Williams may have set her sights more on Melbourne than Brisbane, but she signaled a season of unprecedented consistency at non-majors in 2013 by claiming a title here. No real suspense should await in an opener against one of the WTA's more distinctive characters. The perennially injured Andrea Petkovic debuted her signature "Petko-dance" after a victory against Bethanie Mattek-Sands, and she will battle the American veteran again for the right to face Serena. This section does feature two women who can capitalize on any rough patches in the top-ranked woman's form. Williams will overpower either Dominika Cibulkova or Caroline Wozniacki when at her best, but each has troubled her on more disinterested days.
As intriguing as any other WTA narrative is the question of what to expect from Maria Sharapova when 2014 begins. Almost nobody except Serena stopped the glamorous Russian during the first half of 2013, but coaching turmoil and a shoulder injury silenced her for the rest of the season. Her ranking down to a precarious No. 4, Sharapova appears at an Australian non-major for the first time. (She had entered Brisbane last year before withdrawing with a minor injury.) Keep expectations modest for the career Grand Slam winner, although a weak draw should give her the match practice that she needs. Caroline Garcia nearly upset Sharapova at Roland Garros in 2011, but she has recorded few notable results since then. All of the other women in this section have struggled with the weight of shot that Sharapova produces, from former champion Kaia Kanepi to US Open quarterfinalists Daniela Hantuchova and Carla Suarez Navarro.
Bottom half: Two years ago, one of the most dramatic encounters of the Brisbane tournament pitted Jelena Jankovic against Francesca Schiavone, who saved two match points before upsetting the Serb. A rematch awaits in the first round of Brisbane 2014, and the winner will hold an experience edge on pre-semifinal opponents. Fans can catch a glimpse of a possible future star in Kristina Mladenovic, perhaps the successor to Marion Bartoli among Frenchwomen. World No. 9 Angelique Kerber may find Mladenovic a tricky first-round assignment as she seeks to build on an encouraging fall of 2013. But Mladenovic has not yet won a WTA title, in contrast to fellow rising talent Elina Svitolina. And both the Frenchwoman and the Ukrainian remain far behind last year's finalist Anastasia Pavlyuchenkova in career achievements. Pavlyuchenkova has struggled to sustain her consistency since her breakthrough in 2011, but she has shone often when revisiting sites of past success.
Among the most disappointing contenders last fall was world No. 2 Victoria Azarenka, who ended the season by losing four of her last five matches. Her fragile body betrayed her early and late in 2013, including a semifinal withdrawal from Brisbane. One of the opponents whom Azarenka defeated there, Sabine Lisicki, could meet her again in the quarterfinals. Despite her charge to the Wimbledon final, Lisicki needs to prove herself a threat on surfaces other than grass. In general, this section offers more in slugging than subtlety, which may be good news for Azarenka as she regains her rhythm. American fans will be intrigued to see whether Madison Keys can regroup from an injury-addled span to shine Down Under a year after her surprise run in Sydney.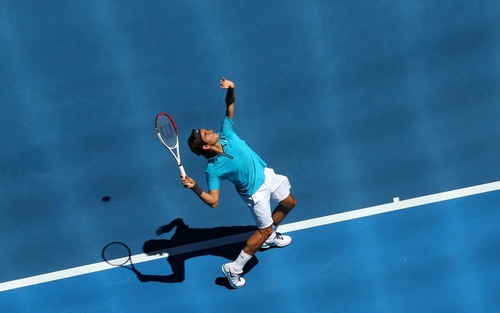 ATP:
Top half: Allied with a new coach in Stefan Edberg, Roger Federer must feel eager to turn the page on 2013 disappointments. The 17-time major champion appears in Brisbane for the first time, and he enters as the clear favorite in a field without any other top-15 man. Federer thus finds himself in a situation with little to gain and much to lose, for anything short of a title would fuel rumors of decline. A chronic thorn in his side, Julien Benneteau will hope to repeat his upset of the Swiss star last February. Brisbane fans may wish that their home hopes had landed in a section further from Federer, but they will enjoy cheering for Marinko Matosevic and James Duckworth nonetheless. For their part, American viewers will be intrigued to see what Sam Querrey can offer in 2014 after an inconsistent 2013.
Frenchmen abound among the men vying to face Federer in the semifinals, including 2013 Australian Open quarterfinalist Jeremy Chardy. Also rife in this group are huge servers, who might find the medium-speed Brisbane court slower than their liking. Wildcard Samuel Groth could engage in a shootout with fourth seed Kevin Anderson, a finalist on Australian soil in Sydney last year. The relatively one-dimensional, offensively oriented playing styles in this section should not challenge Federer if he brings strong form to Brisbane. Few tests of his consistency will loom before the final.
Bottom half: Able to exploit Federer's more erratic moments in the past, Gilles Simon eyes a cozy early draw. The French counterpuncher should grind down the qualifiers in his section before meeting arrhythmic lefty Feliciano Lopez in a quarterfinal contrast of styles. Lopez won their two meetings in 2013, both on grass, but one would favor Simon on this surface. Tinged with nostalgia is the subplot of two-time major champion Lleyton Hewitt returning to home soil one more time. Never a champion in Melbourne, Hewitt has found some of his most memorable late-career magic in Australia and ended 2013 impressively with a second-week appearance at the US Open.
Like Benneteau, second seed Kei Nishikori will hope to repeat an upset of Federer in 2013 should he face the Swiss star in Brisbane. But Nishikori has plenty of work to do before then, tasked with perhaps the strongest quarter of the draw. Absent for much of 2013 with a controversial suspension, Marin Cilic can produce top-10 tennis and has reached a semifinal at the Australian Open before. The 17th-ranked Nishkori should face either Cilic or a flashy shot-maker on the rise in Grigor Dimitrov. Finally proving that he can threaten the elite last year, Dimitrov still needs to find the consistency that would cement his emergence. Solid efforts at ATP 250 events like Brisbane, where he reached the 2013 final, would thrust him in that direction.