The Swan Song of Clay: Events in Hambu0rg, Bastad, Bad Gastein

A trio of European clay events filled the last week before the US Open Series begins. Despite their minor status, these tournaments attracted two of the greatest players in tennis history. The sight of Roger Federer in Hamburg and Serena Williams in Bastad raised eyebrows from fans accustomed to their limited schedules. One of them gained some solace for a Wimbledon disappointment, while another sank deeper into ongoing struggles.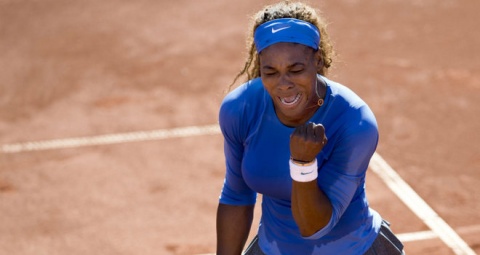 Ad-in:
Serena Williams: Finishing undefeated on clay this year, Serena cruised through the small Bastad tournament without losing a set. She reached the 50-win plateau faster than ever before in a season, and she notched her WTA-leading seventh title. Serena has lost just one match at a non-major since Cincinnati last August, collecting seven titles in that span. She surprised by the choice of playing Bastad rather than her usual US Open Series hard-court tournament at Stanford, though.
Fabio Fognini: When July began, Fognini never had won a title. Now he has won two in consecutive weeks, sweeping the clay 250 event in Stuttgart and the clay 500 event in Hamburg. In these last two weeks, Fognini found the discipline and competitive determination that he had lacked for much of his career. He defeated two of the top three players in the Hamburg draw, Tommy Haas and Nicolas Almagro, and saved three match points in the final. Cracking the top 20 for the first time, Fognini next faces the challenge of translating that success from hard courts to clay.
Italian women: A week after Sara Errani and Roberta Vinci had shone in Palermo, Flavia Pennetta and Karin Knapp took their turns in the spotlight. Italy enjoys an exceptional depth in women's tennis, even as Fognini has emerged as the leading threat on the men's side. Knapp had done little this year until reaching the second week of Wimbledon, but both used the confidence from that achievement to reach her first semifinal of the year in Bad Gastein. The more accomplished Pennetta matched that result in Bastad, also building on a second-week appearance at Wimbledon.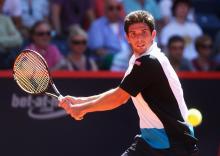 First-time finalists: Few qualifiers reach finals at the ATP 500 level, but Federico Delbonis proved the exception in an eye-opening Hamburg run. Yet another Argentine with clay talent, Delbonis stunned Roland Garros quarterfinalist Tommy Robredo and Wimbledon quarterfinalist Fernando Verdasco en route to the semifinals. Most journeymen would have felt fortunate simply to share a court with Roger Federer at that stage. Showing an unexpected boldness and belief, Delbonis stunned Federer in two tiebreaks to reach the first final of his career, which he nearly won. Also surprising, although less eye-catching, was the debut final of Andrea Hlavackova in Bad Gastein. This Czech has earned much more recognition in doubles than singles, but she exploited a very weak draw at the Austrian resort.
Tall men in Bogota: Just a week after he returned to the Tour in Newport, Ivo Karlovic claimed his first singles title since 2008. The first edition of this replacement to the Los Angeles event revealed how much the altitude in Bogota favors imposing serves. The 6-foot, 10-inch Karlovic played six tiebreaks in five matches and lost just one set all week. The 8,500  feet of elevation also helped lanky South African Kevin Anderson, who fell to Karlovic in a three-set semifinal. If the serve-volley style finds a new home, it might be in Bogota.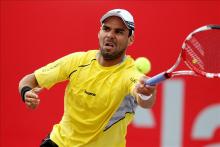 Home hopes: Last year's finalist Tommy Haas may have succumbed to Fognini in the early rounds, but Germans still had reason to cheer in Hamburg. Florian Mayer extended Federer to the brink in a three-set quarterfinal, rallying from three separate deficits. His accomplishment paled next to those of Alejandro Falla, Yvonne Meusburger, and Johanna Larsson, however. Each of those players reached finals as unseeded players at their home tournaments in Bogota, Bad Gastein, and Bastad, respectively. Meusburger even won her first career title, while Falla upset top seed and world No. 14 Janko Tipsarevic. While Larsson could not ambush Serena, she showed grit in a three-set semifinal against Pennetta after gaining Swedish bragging rights with a victory over Sofia Arvidsson.
Martina Hingis: The former No. 1 and five-time major champion entered the Tennis Hall of Fame last weekend. This week, she announced a partial return to professional tennis in doubles, partnering Daniela Hantuchova at the Southern California Open. San Diego fans will catch a glimpse of the talents that earned Hingis a career Grand Slam in doubles. Not content with that appearance, she plans a full five-tournament doubles schedules leading up to and including the US Open.
Arantxa Rus: She ended the longest losing streak in WTA history (17 matches) in Bad Gastein. Tennis has plenty of players less talented than Rus, a tall Dutch lefty who has taken a set from Maria Sharapova and a match from Kim Clijsters. Her nightmare offered a reminder of how quickly setbacks can snowball in a sport that offers no respite. Rus will have gained perspective and strength from surviving it.
Ad-out:
Roger Federer: After a demoralizing defeat at Wimbledon, Federer cannot have entered Hamburg with much confidence despite his strong record there. Even before his semifinal loss to Delbonis, he looked only a shadow of himself in two three-setters against Daniel Brands and Mayer. Federer experimented with a larger, more powerful racket this week, to which he probably needs time to adjust. More ominously, his stiff serving motion suggested that some back pain might persist from earlier this year.
Andrea Petkovic: After a dispiriting spring, her comeback had taken a hopeful turn in June. Last month, Petkovic reached a clay final and then nearly upset a top-20 opponent, Sloane Stephens, at Wimbledon. One expected that recent surge to carry her through the meager field in Bad Gastein. Holding the fourth seed despite a ranking outside the top 50, Petkovic must have lamented her bad luck in drawing Petra Martic. This Croatian talent remains more dangerous than her ranking suggests, and she proved it with an epic three-set upset over the German.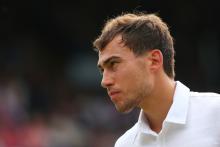 Jerzy Janowicz: Another fourth seed bit the dust relatively early at Hamburg. Throughout his impressive semifinal surge at Wimbledon, Janowicz had taped his vital right arm. The injury protected by those purple straps caught up with him at his next tournament, forcing a third-round retirement. With almost no points to defend over the coming months, Janowicz must recover soon to capitalize on his opportunity.
Simona Halep: Like Janowicz, Halep has soared up the rankings in recent weeks and could soar still further. Also like Janowicz, she ended her week early with a retirement against Pennetta at Bastad. Both of them might have fallen victim to their own successes, advancing deeper into tournaments than they usually do without lightening their schedules to compensate.
Ernests Gulbis: When the Hamburg draw appeared, eyes turned toward the projected third-round meeting between Federer and Gulbis. The Latvian ball-bruiser always had threatened the GOAT in their previous match, even winning one of them. This week, Gulbis fell to a qualifier in the second round as much of the suspense ebbed from the tournament.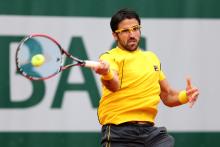 Janko Tipsarevic: The top seed at Bogota won just one match before another disappointing exit. Tipsarevic has won two or fewer matches at all 13 of his tournaments since the Australian Open, and he fell to 14-14 this season overall. Having started the year in the top 10, he could finish it outside the top 20 if his slump continues.
Tsvetana Pironkova: The grass season has ended, which means that we probably have heard the last of Pironkova for several months. Always a dark horse in the Wimbledon draw, Pironkova held the fourth seed at a much smaller tournament in Bastad but fell in the first round.