Survival of the Fittest: Previewing the WTA Year-End Championships

ISTANBUL, Turkey – There is always a slice of Hunger Games irony with which the WTA operates on the final relevant week of its calendar. Before the draw ceremony at the year-end championships in Istanbul, the top eight women are forced to watch as their names are drawn out into their respective groups. The atmosphere contrasts strikingly with the savagery that awaits on court. There, a combination of exhausted bodies and a minimum of three round-robin matches against elite opponents can produce anything from upsets to routs to epics—and everything in between.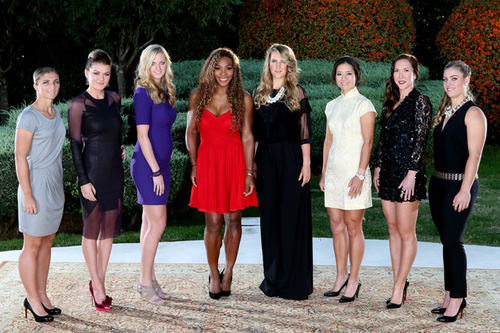 The Istanbul draws were completed on Sunday, thickening the plot further. Among the most intriguing matters was the placement of Petra Kvitova. After a season so poor that her ranking once fell out of the top 10, Kvitova stormed back into contention with a Premier Five title in Tokyo and a Premier Mandatory semifinal in Beijing. Although the Czech eventually ran out of gas there and was beaten handily by Jelena Jankovic, this resurgence served as a warning to all those who doubted her, perhaps including herself.
Two years ago, after Kvitova won Wimbledon and the year-end championships, many expected her to become a player more dangerous on grass and indoor hard courts than other surfaces. To the contrary, Kvitova was at her most impressive during the US Open Series in 2012, when she won two titles in North America. This year, outdoor hard courts in the Middle East and East Asia have proven her most successful battlegrounds. Nevertheless, the former Istanbul champion remains at her most fearsome on the controlled conditions of indoor hard courts. That surface infuses her crushing groundstrokes with even more pace.
When Kvitova was swept into the Red Group with Serena Williams, mouths watered at the prospect of a collision between two of the game's heaviest hitters. Last year, Williams arrived in Istanbul under different circumstances to any other year-end championships where she had ever competed. With four titles at non-majors to her name, she had showcased a commitment to that level of tournament absent earlier in her career. At the time, these results seemed to show as much commitment to non-majors as one could expect from the American superstar. And yet, implausibly, Williams has soared far beyond that level, doubling her total of non-major titles from last year to this year. By the end of this week, she could have won nearly 80 matches in 2013.
The Williams-headed Red Group is the closest thing to a dreaded "Group of Death" in Istanbul. Since the fourth-ranked Agnieszka Radwanska joins Williams and Kvitova there, three legitimate contenders will compete against each other for the two semifinal spots on offer. Overshadowed by the others in accomplishments, Angelique Kerber hopes to pounce on any slips and poor performance.
The White Group is a slightly different affair. Until her US Open runner-up finish, it would have been fair to conclude that Victoria Azarenka had achieved largely similar results on hard courts to her atomic breakthrough year in 2012. Her two victories in hard-court finals over Williams at Doha and Cincinnati had raised her stock perhaps even more than the 26-winning streak with which she opened last season. But Azarenka's last few weeks on Tour have fallen short of the lofty standard that she had set on hard courts. The world No. 2 arrives in Istanbul on a three-match losing streak, all on her favorite surface. Still, she remains favored to advance to the semifinals and possibly beyond, her aura largely intact.
Underneath Azarenka is where it gets tricky. Questions abound for the final three names. Li Na has enjoyed a relatively stable year by her standards under the watchful eye of coach Carlos Rodriguez, and in Istanbul she is a legitimate contender. But despite the unintimidating presence of Sara Errani and Jelena Jankovic in the White Group, those two retrievers could trouble Li more than opponents of greater firepower by exploiting her inconsistency.
On the other side of the coin, Jankovic has proved one of the feel-good stories of the year as she has revived her career from rubble to rejoin the top eight. However, the question of whether she still possesses enough game to upset multiple top players remains unanswered. Finally, Errani has spent the second half of 2013 criticizing her own performances on hard courts and speaking constantly about pressure and the feeling of burnout. That does not bode well for her fortunes in Istanbul.
Aside from the absent Maria Sharapova, these are the eight elite players of the year. All of them are ready to do battle, even at the end of a grueling season, and that is all that the recipe requires for a gripping finale to 2013.
Tumaini Carayol reports exclusively for Tennis View all week from the WTA year-end championships in Istanbul.