The Summer of Steve: Johnson Battles Past Isner in Washington

It's officially the summer of Steve Johnson. The 26-year-old American has been shining through in recent months, winning his first title in Nottingham in June and making a deep run in Wimbledon before losing in a three-set match to Roger Federer. He has followed that up with a run here in Washington, defeating compatriot and No. 1 seed John Isner 7-6(7), 7-6(15) to reach the semifinals.
Avenging his semifinal loss last year to the same man, Johnson saved 12 set points over two sets to come out victorious in a match that could have gone either way.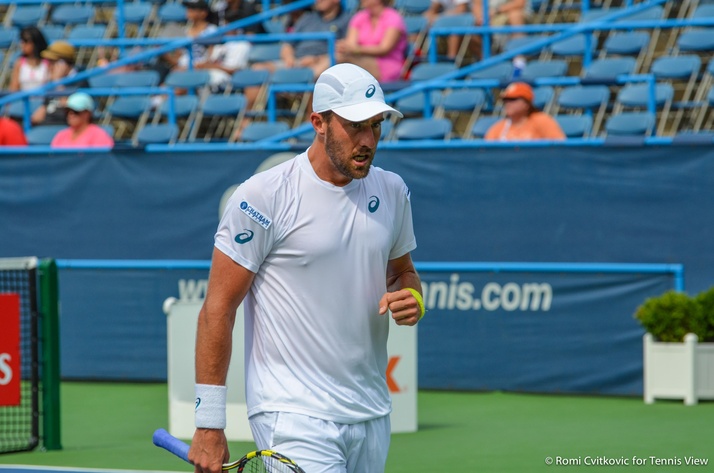 "As an athlete, you just gotta be optimistic," commented Johnson on his mentality. "Things can turn just like that. He could ace me 15 times in a row, but on the 16th point, I'm gonna win it. I really believe that. Even at 6-3, it doesn't look good but in my mind, right there, I'm thinking 'Let's get this one. You don't know what's gonna happen on the next point.' That's the mentality I take. For me it works, maybe for somebody else it doesn't. But you just have to stay positive that you will connect on one of these points and find your way."
Despite an on-court temperature of 110°F (43°C), there was strong fan support for both players. People were eager to see a fresh American face while others wanted to see the veteran continue his run.
In addition to a combined 52 aces between the two Americans, there were no breaks of serve until the tiebreaks. Though Isner's serve was consistent, it was Johnson's variety that gave him the upper hand. As Isner failed to close the first set tiebreak, his frustration came out with a rare racquet smash on Stadium Court.
The second set progressed in similar fashion as the match was decided by a tiebreak. Isner saved five match points but in the end, Johnson kept his composure and patiently broke through winning a long and intense 32-point tiebreaker.
Johnson next faces another big server, Croatian Ivo Karlovic who defeated another American in two tiebreak sets, Jack Sock.
"John had 30 aces today, and Ivo could easily have as many tomorrow," stated Johnson. "You just gotta stay focused on your serve. If you blink on your serve, the set is over that quickly. You just gotta to go out there and hope for the one break, and if not, get to a tiebreaker, and try and hold as many points as possible.