Stuttgart: Top Seeds Stepping Into Red Clay Season

Round 2 of the Porsche Grand Prix in Stuttgart started off Wednesday night when Petra defeated Greet Minnen 6-1, 6-4, but there are plenty of blockbuster matches yet to come with the three more top seeds playing their first matches on the red clay.
Top-ranked Naomi Osaka is set to play Su-Wei Hsieh in her first clay match of the season. Osaka was tepid in setting expectations for her clay season. Considering she does not even rank in the top 10 of the WTA clay power index, this is more than reasonable. With few points to defend on clay, however, she also has an incredible opportunity ahead of her in the next six weeks. Her goals for Stuttgart were pretty simple: "I'm honestly just focusing on the round that I have to play next, not really anything beyond that because I don't have the best record here. So, I'm just coming into this tournament hoping to have a lot of fun."​
This is not to say she will not try her best: "I can't go into a tournament thinking that I just want to kind of coast it out but at the same time I don't want to overrate myself and say I'm going to win this tournament because there is like a lot of clay experts and I'm not one of them. Honestly every time I come here I get injured" she said laughing. Unfazed by past experiences, she added: "I'm hoping that won't happen this year but the last two times it's been rough. I mean I've had to miss out on at least one tournament each season. Honestly, my main goal is not to get injured, to sort of ride it up until French Open." Osaka leads the head to head with Hsieh 2-1; they have never met on clay.​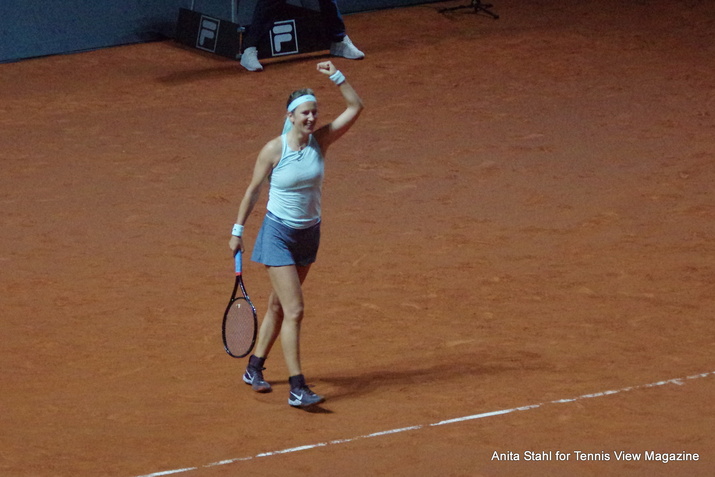 Defending champion Karolina Pliskova is seeded third and begins her defense with a second-round match against Victoria Azarenka. The two have a head to head set at an even 3-3. Pliskova won their last two meetings, including on Madrid's red clay last year in the second round. Aside from her own past success here, Pliskova now has the benefit of working with specialist Conchita Martinez for the first time during a clay season and has already picked up some critical advice: "of course everybody in Spain loves and everybody was born on clay. I think she understands the clay game just a little bit better. And all the exercises, what we did, were pretty good. So, maybe to play more forehand instead of backhand because on clay you have more time, you know to slide more and just to use a little bit different; a little bit different, of course not to be like 3 meters back. It's not my game, I cannot change that much on clay but a little bit different shots I can use on clay." Azarenka, visibly exhausted from jet lag and a long first-round match, previewed the second round with little fanfare, joking: "I don't know what you guys can expect from that, it's up to you but I'm gonna go sleep."​
The biggest match of the day, from a local perspective, will surely be between German wild card Andrea Petkovic and fellow German Angelique Kerber. After setting the clash up with a first-round victory, Petkovic told press she would begin sending her opponent, who happens to be a close friend, text messages to taunt her as soon as her press obligations are complete. Although Kerber may have a reserved reputation in her interactions with the media, that's not what Petkovic sees: "People who don't know her think she's like this really serious German, but I know the really not serious Polish in her. She has a tremendous sense of humor and that's what I really like about her. You can totally taunt her and she would never get angry. Actually, she would give it back. She will probably just send me a screenshot of the head-to-head, be like 'please be quiet Andrea.'" Their head to head goes back to 2005, and Kerber leads 8-3.​
Kerber is going into the tournament still nursing a viral illness, but she is highly motivated. The French Open is the final piece in her effort for a career Grand Slam, and success here provides early confidence and additional match play on her least favorite surface: "Until Paris there are still a few more weeks. So, of course the biggest goal in the next few weeks is Paris but there are like few tournaments before which are also big which I will try to also play good and having a lot of matches, trying to take this as a preparation for me, yes for Paris."