Studs and Duds of Week 1: Top Stories from Brisbane, Doha, Auckland, And More

The new season started with a bang this week, featuring no fewer than five tournaments from New Zealand to the Persian Gulf. Comebacks from injury absences by the two fourth-ranked players in the world led the headlines entering the week. One of them fared better than the other, Andy Murray exiting Doha in the second round as Maria Sharapova reached the semifinals in Brisbane. Revealing less rust than expected, Sharapova looked very much herself in more ways than one. She routed an overmatched youngster, mounted another steely comeback from dropping the first set, and lost a 14th straight meeting to long-time nemesis Serena Williams. Sharapova will travel to Melbourne better prepared than Murray, a three-time finalist there. The reigning Wimbledon champion wasted a commanding lead against Florian Mayer, far from an elite opponent. Murray's loss suggested that his stamina may become an issue in Australia.
Although a much brighter spotlight shown on the top-five comebacks, another pair of comebacks deserves a brief mention. Former world No. 2 Vera Zvonareva had faded almost from memory despite reaching finals at Wimbledon and the US Open as recently as 2010. Handed an impossible mission in the first match of her comeback, Zvonareva competed well against the third-ranked Li Na in Shenzhen. Fans will hope that she can apply confidence gained from that effort to more manageable draws. A less arduous assignment greeted Spanish youngster Garbine Muguruza in Auckland. Returning from a foot injury, this talented shot-maker blazed past Christina McHale to the quarterfinals. Muguruza ranks among the more compelling women to watch from the next generation of Europeans, so bouncing back so crisply from injury was an encouraging sign.
Beyond the comebacks, plenty of other players set off New Year's fireworks—or not.
Studs:
Men's top seeds: At first glance, the ATP draw in Doha posed a series of compelling tests for world No. 1 Rafael Nadal. An avalanche of bizarre upsets (see below) smoothened Nadal's march toward the title considerably, preventing him from facing any opponent in the top 20. The top-ranked man still managed to make life interesting, surrendering sets to two unseeded opponents while dispatching dangerous shot-makers Ernests Gulbis and Gael Monfils more convincingly.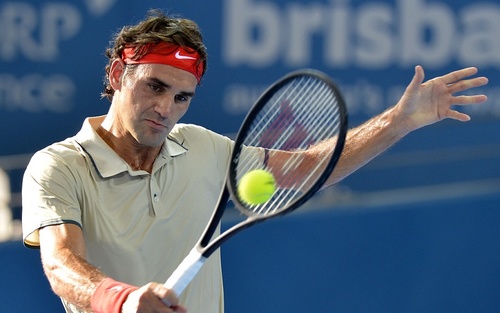 By contrast, archrival Roger Federer eyed a comfortable route in Brisbane from the outset. The only man in the top 15 there, he did not drop his serve until he reached the final. A steely performance by a veteran long in his shadow stopped him there, but Federer collected the match play that he needed before Melbourne. It took the Swiss legend more than four months to reach his first final of 2013. It took him just four days to reach his first final of 2014.
The 2012 and 2013 seasons of Stanislas Wawrinka had begun with stumbles in the Chennai quarterfinals, but Wawrinka made sure this year that the third time was the charm. He avenged a loss to Aljaz Bedene, the last man who defeated him there, before advancing smoothly through the last two rounds. Like Nadal, Wawrinka never faced an opponent of his quality this week. Still, both men will have felt satisfied to start their seasons on the brightest note possible.
Top two women: At the first WTA Premier tournament of 2014, not much seemed to have changed from 2013 or even 2012. All of the top four seeds reached the semifinals, and the top two met in the final once again. Defending champion and world No. 1 Serena Williams encountered little resistance en route to that stage, while world No. 2 Victoria Azarenka had dropped sets in two previous matches. Although Serena repeated her victory in the US Open final, her archrival will have felt reassured with this finals appearance ahead of defending her Australian Open crown. As she did on North American hard courts last summer, Azarenka found ways to win even as she struggled to find her best form for long stretches. After a dismal fall campaign in 2013, the world No. 2 needed a solid week more than did the nearly unstoppable Serena.
Home hopes in Brisbane: While they produced mixed results in Brisbane qualifying, the Australian men who received direct entry to the main draw shone. Three of them reached the final eight, including the mercurial Marinko Matosevic and the massive serve of Samuel Groth, who rewarded organizers for his wildcard. The 17-year-old Thanasi Kokkinakis showed his potential by reaching the main draw with an upset over the 82nd-ranked Andrey Golubev.
But the last Aussie standing once again was the evergreen (and ever-green-and-yellow) Lleyton Hewitt. In fact, he was not just the last Aussie standing but the last man standing in Brisbane, a champion on a hard court for the first time since 2007. Hewitt faced seven break points in the third set of the final against Federer, but he saved each of them to notch a staggering upset.
Although less sensational, the Australian entries in the women's draw surpassed expectations in the absence of Aussie No. 1 Samantha Stosur. As Stosur stumbled through a winless week in Perth, doubles partners Casey Dellacqua and Ashleigh Barty notched main-draw victories over higher-ranked opponents. Unfortunately for Barty, a 17-year-old with great promise, injury forced her to withdraw ahead of an intriguing clash with Sharapova.
Home hopes in Shenzhen: Tested at the outset by Zvonareva, Chinese superstar Li Na battled through a nervy three-set quarterfinal to move within range of defending her home title. Li's second straight final came against countrywoman Peng Shuai, who had advanced without losing more than three games in any set. When they met at Shenzhen last year, Li had routed Peng for the loss of just four games. Their 2014 meeting would prove more competitive, but the talent gap separating the world No. 3 from the 42nd-ranked doubles specialist proved too great to overcome.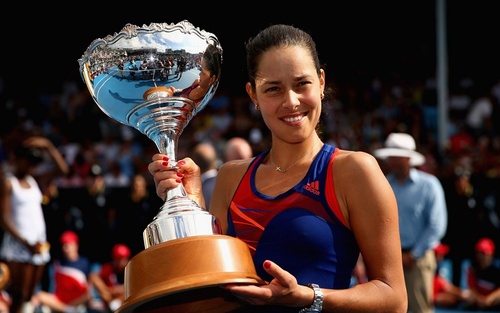 Serbian former No. 1s: Both Jelena Jankovic and Ana Ivanovic had notched encouraging fall campaigns, momentum that they translated to the start of 2014. Ivanovic reaped the rewards of replacing Brisbane on her schedule with the less significant event in Auckland, where she won her first title on an outdoor court since 2008. The five victories there will boost her confidence for the Australian Open, where she will hold a top-16 seed. Destined for a top-eight seed is Jankovic, able to extend Azarenka deep into the third set of their Brisbane semifinal. Like Ivanovic, who dominated the 20th-ranked Kirsten Flipkens, Jankovic notched a victory over an opponent near her ranking in world No. 9 Angelique Kerber. Women's tennis is a livelier place when both Serbs are relevant.
Americans in Auckland: The Stars and Stripes flew high above New Zealand, where a small International event pitted seven-time major champion Venus Williams in a semifinal against Jamie Hampton. Projected to be seeded at the Australian Open, Hampton built upon a breakthrough campaign in 2013 by reaching her third semifinal in seven tournaments. Physical woes have dogged her small frame, however, and a walkover gave Venus the rest that she needed to battle Ivanovic deep into the third set of the final after saving match point in the second set. An underrated competitor, the 33-year-old American becomes a notable spoiler to watch at a major that always eluded her.
Peter Gojowczyk: Ranked No. 162 heading into Doha, the 24-year-old had won just one ATP main-draw match. Gojowczyk raised that total from one to four in a week that included an upset of sixth seed Philipp Kohlschreiber and a set snatched from world No. 1 Nadal. Since little separates players outside the top 100, his exploits this week could prove vital in giving him the greater opportunities that come with a higher ranking.
Ross Hutchins: The British doubles specialist lost his first match in Brisbane. So why does he appear here? After a six-month course of treatment, Hutchins finally returned to the court this week for his first match in 14 months. That achievement sets whatever the scoreboard says into stark perspective.
Rory McIlroy: Good on you, mate.
Duds:
Tomas Berdych: Nobody could have envied the season-starting assignment for Berdych in Doha, where he faced Ivo Karlovic. Even as he fades, the 6'10" Croat remains a threat to opponents far above his level because of the distinctive trajectories that his serve creates. Berdych is more vulnerable to early upsets than most top-10 men, so a two-tiebreak loss did not astonish. But it was not the ideal way for an Australian Open dark horse to prepare for Melbourne.
Elite clay specialists: Once celebrated for his consistency, David Ferrer veered from an outstanding first half of 2013 to a dismal summer to a strong fall. Those atypical ebbs and flows in his form continued when 2014 began. Impressive in an Abu Dhabi exhibition, Ferrer fell meekly to Daniel Brands in the second round of Doha. Less surprising was the early exit of Sara Errani in Shenzhen. The former Roland Garros finalist and doubles superstar had admitted to burnout last year, and the short offseason may not have sufficed to rekindle her passion for the game.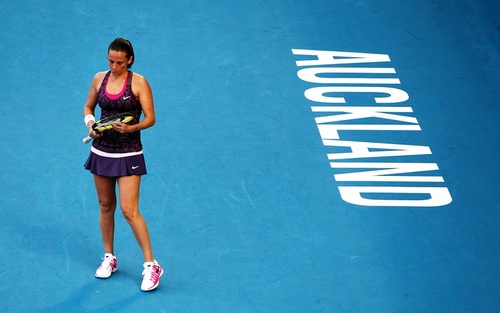 Auckland seeds: Only three of eight survived the first round at this International tournament. World No. 14 Roberta Vinci set the tone by conceding a one-set lead against an opponent outside the top 250. But perhaps more notable setbacks befell two more powerful women. While last year's Toronto finalist Sorana Cirstea fell to a qualifier, Lucie Safarova could not extend her momentum from a strong fall season. A quarterfinalist at marquee events in Tokyo and Beijing, Safarova could not find enough consistency to overcome the light-hitting Ayumi Morita.
Bojana Jovanovski: The young Serb launched her season with a flying start last year, reaching the second week of the Australian Open after a quarterfinal at her first tournament. She would compile just a 17-19 record for the rest of the season, though, and a first-round loss in Shenzhen continued those struggles. A poor Melbourne could hinder Jovanovski's hopes of direct entry into main draws afterward.
Player health: Otherwise an entertaining event, the Hopman Cup exhibition in Perth offered a sobering reminder of how short the offseason remains. Wimbledon semifinalist Jerzy Janowicz and US Open quarterfinalist Tommy Robredo exited with injuries before the tournament began, while Italians Andreas Seppi and Flavia Pennetta as well as American Sloane Stephens retired from matches during it. Combined with 12 main-draw retirements or withdrawals in Brisbane and Chennai alone, these events showed that injuries haunt each new season from the outset during an era of enhanced physicality.