Studs and Duds: Reviewing Round 4 in the US Open Men's Draw

In a round that saw Roger Federer lose in surprising fashion, the top three men got through unscathed. Novak Djokovic obliterated an overmatched Marcel Granollers, while Rafael Nadal and Andy Murray each met some stiff opposition at times but managed to make it through without too much drama. And Lleyton Hewitt, who at times looked to be in a form strong enough to actually challenge Djokovic in the quarterfinals, subjected his fans to yet another heartbreaking five-set loss.
Who Looked Good:
Tommy Robredo: Robredo's performance was very impressive, and it was not just because he beat Roger Federer at a major. Robredo was hitting the ball clean and hard from all over the court, and the precision with which he hit some of his passing shots was second to none. He weathered the storm whenever Federer raised his level a bit, and he took advantage whenever Roger opened the door, converting four of seven break points. All in all, it was an incredible performance.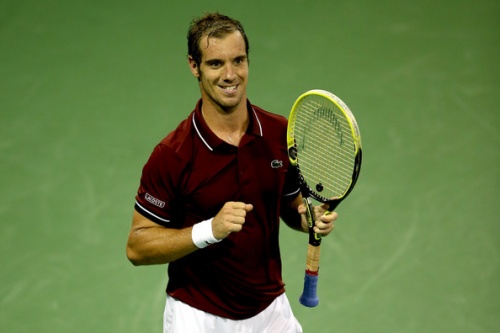 Richard Gasquet: Gasquet is often hampered by an apparent lack of fitness, but it definitely did not show in New York. Drenched in sweat in a long, stressful match in some harsh heat and humidity, Gasquet stood tall when it counted. He outlasted Milos Raonic in two tiebreaks—no easy feat—and hit some great shots to earn himself a break of serve at 5-5 in the fifth set. A winnable matchup with David Ferrer awaits for Gasquet, who is looking for his first US Open semifinal.
Who Looked Bad:
Roger Federer: Federer is often criticized for not seeming to care while being down in big matches. This is silly, obviously. If he did not care, he would not be out there playing anymore. But the fact of the matter is that this era of tennis fans expect the favorites to pull out the incredible when push comes to shove. They expect shots like Djokovic's return while down match point against Federer at the US Open in 2011. They expect to see an appreciable rise in level when the chips are down. Federer does not do that. He tries to play his same game no matter what, whether up by two sets or down by two sets. Far be it from me to tell Roger Federer what to do. The man has won 17 major. But as his number of early losses begins to rise, one cannot help but think that he has to start doing something a little differently to prevent this trend from continuing.
Lleyton Hewitt: It was not that Hewitt played poorly, for he did not. He played one of the best matches that we have seen from him in a long time. The only reason that Hewitt falls in this category is that he seems to have a chronic inability to serve out sets and matches. It plagues him in big matches and small matches, against great players and against poor players. This time, it cost him the match. He showed, once again, that he can still hang with anyone in the world. But it counts for little if he cannot finish off matches.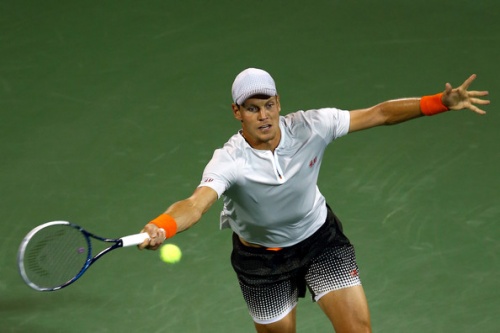 Tomas Berdych: Once again, a player can go from looking like a surprise contender to crashing out of the tournament in just one match. Berdych looked as strong as ever in the first set here, cracking massive groundstrokes and looking good to move through. He lost his concentration in the second set a little and never got it back. Wawrinka did not play great tennis, but he was also hitting massive shots and it clearly troubled Berdych. The Czech started spraying errors and making poor decisions, and in short order one of last year's semifinalists was out in the fourth round.
Match of the Round:
We were treated to a host of good matches, and the best match of the round was without a doubt Hewitt/Youzhny. It had the best quality and the most exciting tennis. The only reason I am giving this slot to another match is because Gasquet/Raonic just had a better atmosphere. Raonic looked strong from the baseline, fighting in a lot of Gasquet's service games. Gasquet, for his own part, did an incredible job at breaking Milos' serve. He clawed his way back from a break down in multiple sets, which is no easy feat at all against the big-serving Canadian.
This match took its turn from entertaining to dramatic in the fourth set. The first three sets featured quality play, including tiebreaks in each of the first two sets and a great set of tennis by Raonic in the third. Gasquet looked out of the match at times in the fourth set, but he fought his way back to force a tiebreak. This tiebreak showed nerves from both, but overall the level of play was quite high. Gasquet went up a minibreak a few times, but Raonic managed to get it back each time. Gasquet was also forced to save match points, although Raonic never had one on his own serve. Eventually, Gasquet pulled it out to force the decider.
The fifth set was a tense affair in the hot, muggy night. Chants of "Richard" began to percolate throughout the crowd as the Frenchman won them over as the match went on. Finally, Gasquet pulled out to a 0-40 lead in the 11th game of the set with some strong returns. Milos could not dig out of that hole, and Gasquet served out the match without too much trouble. It was an incredible match to watch, and the atmosphere on Court 17 was electric. Gasquet may very well have earned the crowd's support for his quarterfinal against Ferrer with this win.