Starting the Series: Stanford, Atlanta, and More

The tallest man in the top 50 and the shortest woman in the top 50 kicked off the US Open Series with titles at Atlanta and Stanford, respectively. Meanwhile, Europeans fond of clay feasted on their favorite surface once again before traveling to North America.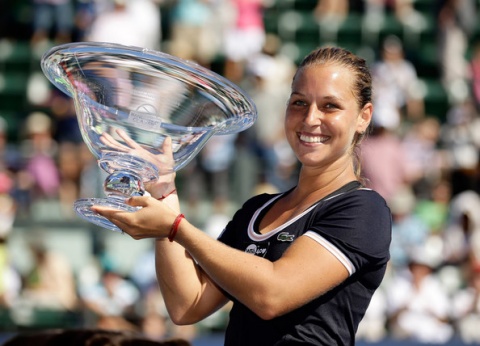 Ad-in:
Dominika Cibulkova: At a Premier tournament in January, Agnieszka Radwanska faced Dominika Cibulkova in the most lackluster final of 2013. That double bagel boded ill for their rematch on the fast court of Stanford, but Cibulkova entered that match knowing that she could do no worse than before. In a stunning reversal, she rallied from losing the first set to avenge her loss in Sydney. Radwanska led by a break twice in the final set and battled to the bitter end, erasing four match points and earning a break point as Cibulkova served for the match. But the tiny, feisty Slovak fought off her nerves just enough to convert her fifth with a blistering backhand. Cibulkova has recorded some of her best results during the US Open Series, including two of her three titles and a Premier Five final in Canada.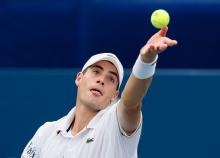 Giants in Georgia: A former Georgia Bulldog, John Isner always feels at home in Atlanta. He has reached four consecutive semifinals there, and this year proved no exception. Where it did diverge from Atlanta appearances past was the ending, Isner's first title there. That achievement did not come easily, requiring him to win three of his four matches 7-5 or 7-6 in the third set. Isner has grown accustomed to living on the edge, though, as a game with spectacular strengths and glaring flaws requires. Perhaps his most impressive effort came in the semifinals against Lleyton Hewitt, a nemesis of his twice this year. Isner dropped serve just once in three sets despite his opponent's expert returning skills, turning a new leaf on this matchup and setting up the tallest ATP final ever.
Also the longest three-set ATP final of the season, that match pitted the 6-foot-9 Isner against the 6-foot-8 Kevin Anderson, a graduate of the University of Illinois. Anderson lost just one service game in the entire tournament, and he faced only one break point in the final. In contrast, Isner sustained repeated pressure during his service games, saving 11 break points and two match points on the threshold of the decisive tiebreak. Having lost the first tiebreak convincingly, Isner won the second and third tiebreaks just as convincingly. As the top American man, he could not have asked for a better start to the US Open Series.
Tommy Robredo: The Roland Garros quarterfinalist won his second clay title of the season, adding Umag to Casablanca in his trophy cabinet. Robredo cruised through the final in part because of external circumstances (see below), but his play earlier in the week did justice to his surface credentials. Bouncing back from a difficult start to July, he will regret to leave clay behind for the rest of 2013.
Italians in Umag: A third consecutive title on European clay eluded Fabio Fognini, but the Italian spared no effort in the attempt. Unwilling to content himself with Stuttgart and Hamburg crowns, Fognini saved three match points in an epic semifinal that showed his enhanced resolve. Fatigue caught up with him in the final against Robredo, preventing him from displaying his talents to their fullest. Still, a top-15 ranking may lie in the near future.
Whereas Fognini toiled tirelessly en route to the final, compatriot Andreas Seppi owed his semifinal appearance to a remarkable surge of good fortune. Two retirements followed a first-round bye, leaving Seppi facing Robredo on Saturday without converting a match point all week. To his credit, he took the eventual champion deep into a final set.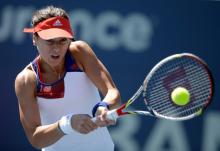 Romanians everywhere: At three different tournaments in three different continents, this nation not known for its tennis prowess produced semifinalists. Sorana Cirstea at Stanford, Victor Hanescu in Switzerland, and Alexandra Cadantu in Azerbaijan all fell to the eventual champions of those events. For Hanescu and Cadantu, this week marked their second semifinal in three tournaments.
Robin Haase: Most of the headlines that he generated earlier this year revolved around his historic ineptitude in tiebreaks. Haase lost 17 straight of those to set an ATP record, but he won two this week at the Swiss tournament in Gstaad. Also famous for his frailty under pressure, Haase twice rallied from losing the first set en route to the Gstaad final, defeating a top-15 opponent in Janko Tipsarevic and a clay specialist in Marcel Granollers.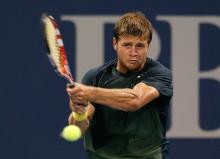 The Brothers Harrison: Always a memorable moment in a young player's career, the first ATP main-draw victory came in Atlanta for Christian Harrison. The 19-year-old defeated a veteran opponent in Alejandro Falla, ranked inside the top 100 and a runner-up in Bogota just the week before. Unfortunately for Christian, his own brother may have upstaged him in Atlanta. Ryan Harrison reached his first semifinal in over a year, surviving edgy passages of play and finding more confidence as the tournament progressed. He faces an intriguing clash with Hewitt at the upcoming Washington event.
Andy Murray: Why does the Wimbledon champion appear here, you might ask, when he played no tournament this week? Because of this tweet on Sunday: "Really hoping the baku cup 2014 becomes a combined event.. Some good footage of it on the tennis channel this week." Watching a tiny women's event from his Miami residence, the world No. 2 showed how much he loves the sport.
Deuce: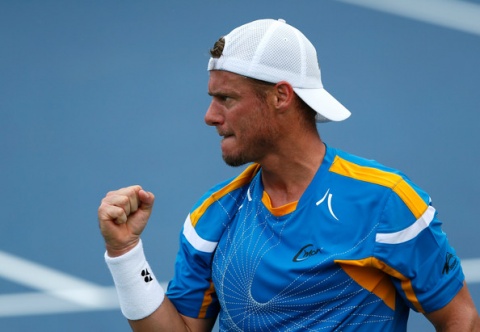 Top Australians: Unable to continue his mastery of Isner, Lleyton Hewitt still enjoyed an encouraging week in Atlanta. At the age of 32, the evergreen Aussie has reached the semifinals at three consecutive non-majors as he climbs back toward the top 50. Hewitt rallied from losing the first set for the eighth time this year in the Atlanta quarterfinals, when he upset third seed Ivan Dodig, and he nearly repeated the feat against Isner.
On the opposite coast, former US Open champion Samantha Stosur stayed after her early exit from Stanford to hone her game. She had reason to commit the extra time, for Stosur looked only a shard of her usual self as she dumped 10 double faults in a first-round loss.
Top Russians: The champion in Gstaad, Mikhail Youzhny found the path grow easier rather than harder as he neared the title. Three three-setters to start the tournament preceded comfortable wins in the semifinal and final. The top-ranked Russian man defeated two players fonder of clay than him in Pablo Andujar and Juan Monaco, saving match point against the latter.
Meanwhile, top-ranked Russian woman Maria Sharapova withdrew from the Premier Five tournament in Canada, not for the first time. Sharapova rarely has fared well in Canada, and some of those memories may have crossed her mind as she chose to give her hip injury from Wimbledon more time to heal. Her fans north of border still can expect to meet her during a Sugarpova promotion ahead of the tournament, though, and two will win the chance to share lunch with her in Los Angeles this offseason.
French men: As the top seed in Umag, Richard Gasquet must have expected to overwhelm Albert Montanes in the second round. He had won all of their previous matches, including several on clay, so a straight-sets reversal came as a shock. Then Montanes fell into a hidden trap of his own in the quarterfinals, laid by a Frenchman whom he had dominated on clay.
Gael Monfils had lost the Nice final to this Spaniard just a few months ago, but he eked out a grueling three-set epic to earn his revenge. Unable to convert his match points against Fognini, Monfils fell just short of a second final and withdrew from Washington next week. All the same, his comeback has found far firmer footing this summer than it did when 2013 began.
The Sisters Radwanska: After a golden opportunity slipped away at Wimbledon, Agnieszka Radwanska rarely found her best tennis at Stanford. The top seed came close to claiming the title all the same, edging within five points of victory at 4-2, 40-15 in the final set. For the second straight tournament, Radwanska could not close the door on a tenacious but lesser opponent. She has not won a title since January, and these recent disappointments may sap her morale.
The younger and less famous Radwanska, Urszula, reached the quarterfinals as a top-eight seed before also falling victim to Cibulkova. Stanford's new champion became the first woman since the 2012 US Open to defeat both Radwanska sisters in the same tournament. That performance did not fall short of expectations for Urszula but did not exceed them either.
Daniel Brands: Beware of defeating Roger Federer, ambitious underdogs. Brands could not finish off the Swiss star in Hamburg the previous week, but he delivered the coup de grace successfully in Gstaad without dropping his serve in the match. That latest blow to the Swiss star's spirits did not ignite a deep run for Brands, who exited one round later. The German became the fifth straight man to defeat Federer before the final of a tournament and lose his next match.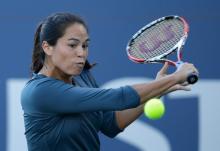 Jamie Hampton: Seeded at a WTA tournament for the first time, Hampton answered the bell in style with a semifinal appearance. She cracked 51 winners in a hard-fought battle against NCAA singles champion Nicole Gibbs, producing fearless tennis on the fast court. Hampton grew a bit too fearless for her own good against Radwanska, not nearly able to repeat her upset of the Pole last month.
Tamira Paszek: One week after Arantxa Rus ended her record losing streak in Bad Gastein, Paszek snapped a 12-match losing streak in WTA tournaments at Stanford. She had won just one match this year before receiving a retirement while leading a qualifier in the third set. Unlike Rus, Paszek sank back into the loss column immediately in the second round.
Ad-out:
Home hopes in Gstaad: Five days after he fell to an opponent outside the top 100, Roger Federer bit the red dust at his home tournament in Gstaad. His opening-round defeat testified to a back injury that hampered his preparation, although he graciously refrained from hiding behind it as an excuse. That injury could imperil Federer's participation in the North American summer tournaments and raises concerns more serious than the loss itself. He depends now more than ever on his serve, a shot that in turn depends on the health of his back.
The 17-time major champion did not have the only balky back among Swiss men this week. His countryman Stanislas Wawrinka, the second seed, withdrew late in a likely loss there with a back injury of his own. Wawrinka's own success may have contributed to his undoing, for the vast quantity of matches that he has played (and won) this year may have worn down his body.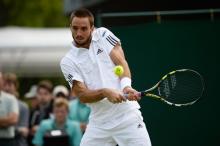 Second-tier Serbs: The reeling Janko Tipsarevic tumbled out of Gstaad as the third seed, winning just four games from Haase. But he must have counted himself the more fortunate of the Serbian men not named Djokovic. After he lost in Umag, Viktor Troicki received the bad news of an 18-month suspension for refusing a drug test in Monte Carlo. If the decision stands upon appeal, and the facts look grim so far, Troicki's foolish decision this spring could cost him the rest of his career.
Coco Vandeweghe: Last year, she reached the Stanford final as a lucky loser. This year, she qualified for the main draw but could not recapture the old magic, falling to Cirstea. Having dropped outside the top 150, Vandeweghe has much work to do to rebuild her career.
Jack Sock: His booming serve-forehand combinations could not carry him past clay specialist Santiago Giraldo in the first round of Atlanta. Taking a broader view, Sock has won only a handful of main-draw matches this year. If Americans must pin their hopes for a future men's star on him, they may need to wait for him to mature.
Baku: Extending tennis to all regions of the globe is an admirable aspiration. But did a tournament happen if nobody sees it? Row upon row of empty seats in a sterile arena greeted the semifinalists and finalists at the Baku Cup, a WTA International event. Galina Voskoboeva suggested an explanation for this eerie atmosphere on Facebook. According to the Kazakh player, temperatures regularly soared near 45 degrees Celsius (113 Fahrenheit) during the hours scheduled for matches. Organizers should recognize that Baku residents generally stay inside until the evening during that heat and adjust the schedule accordingly.