Stacey Allaster Discusses the WTA's Bright Future

ISTANBUL, Turkey - Those grand double doors did not stop swinging all morning. One by one they came, all in turn confirming that they had received the fashion memo of the day that required them, in true WTA style, to dress up to the nines and saunter down to take their spot on the podium. Victoria Azarenka kicked things off at the All-Access Hour in Istanbul, followed by Jelena Jankovic, then Angelique Kerber, then Agnieszka Radwanska and then Li Na before finally the two former champions, Serena Williams and Petra Kvitova, closed the session out with aplomb.
But before all the players could settle into answering questions, it was WTA CEO Stacey Allaster's turn to take center stage as she delivered her annual speech addressing the state of the WTA. Just hours before, she had torn up the dance floor in the draw party, winning admiration all around.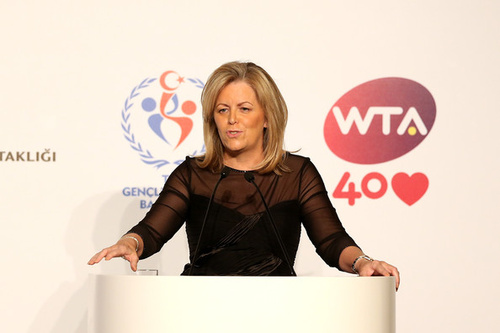 In 2011, Allaster had stood in another press room in Istanbul, this time at the tournament site, as she delivered a considerably shorter speech to the gathered media. The Tour's leader delivered that speech to congratulate Caroline Wozniacki on finishing world No. 1 for the second straight year. But many of the words that trickled out of her mouth two years ago were aimed squarely at those who attempted to delegitimize Wozniacki's lengthy reign at the top.
Those words were far from inaccurate or misguided. Wozniacki was deservedly the No. 1 player in the world two years ago, but her stranglehold over the top also evoked the problems hampering the WTA as it trawled the earth for sponsors and financial backing to keep itself afloat. Injuries, burnout and illness had left the landscape of women's tennis decimated then. As the Williams sisters, Justine Henin, and Kim Clijsters scaled back their commitments, a second tier of players from Svetlana Kuznetsova to Ana ivanovic and Jelena Jankovic crumbled under the pressure of supplanting them.
Sensing opportunity, it was a third group that shot into relevance, from Wozniacki to Li, Kvitova and Samantha Stosur. This would have been a welcome sight had the latter three women coupled their breakthroughs at majors with impressive displays across the entire year, or if Wozniacki's consistency was complemented with more game and a killer instinct. Neither of those trends developed over time, however.
Most of the various WTA 40-love adverts commemorating 40 years of the WTA close with the voice of Billie Jean King, in typical Billie Jean King style, proclaiming "We've come a long way baby!" It is a reference to the treatment that women's tennis players received upon the inception of the WTA, but it could easily refer to the dramatic transformation that the Tour has undergone over the last two years.
As Allaster began her speech, she rushed to mention the world No. 1. "Serena Williams Last night, I must tell you, I was pretty pleased when I heard two things from Serena: 'I love this sport, and I don't want to retire,'" she deadpanned. The comment was made in jest, but it was a reminder of just how pivotal Williams is to the Tour. After years of being criticised for her lack of commitment to tennis, Williams has become one of its most irreplaceable cogs. An elite sport is nothing without its most supreme and elite competitors, and Serena epitomizes that, with Victoria Azarenka and Maria Sharapova following close behind.
Also pinpointed by Allaster was the fact that, for the first time in a long while, genuine hope abounds when peering into the WTA's future. Eleven teenagers currently reside in the top echelon of the game, alongside a myriad of other young hopes. It is easy to understand why the WTA is so excited about this incoming bunch. Marketability drives the so-called "product" presented by individual sports. In the WTA, looks and nationality matter as much as anything.
Luckily for them, they have the best of both. Not only are there a number of agreeable-looking youngsters moving up the rankings, there is prominent representation of many tennis powers, such as the United States, Great Britain and France. Other countries like Croatia also seem on the brink of exploding into relevance as their Balkan rival did six years ago. It is very difficult to judge how these players will turn out, particularly at a time where younger players take so much longer to bridge the gap into the top 20, top 10 and beyond, but the future is bright.
In the past, when all other arguments fail, Stacey Allaster has mentioned rising prize money in an attempt to convince onlookers that the WTA is thriving. Thus, it was interesting that, in a year where Serena Williams looks set to become the first women to demolish the $10 million prize money barrier, such tidbits were unnecessary. Not needing to rely on that argument, she summoned convincing proof of the hopeful future toward which women's tennis can look forward.