Sock Advances In Return To Delray Beach

In 2018, American Jack Sock was the top seed and defending champion of the Delray Beach Open, though lost in the second round to Reilly Opelka, who was then ranked world No. 228. Sock's struggles in singles continued, but in that year, he also won two slam titles in doubles, Wimbledon and the US Open.
On Tuesday night in Delray Beach, the unranked Sock, who's been as high as world No. 8, saved a match point to take down the defending champion and world No. 51 Radu Albot 3-6, 6-3, 7-6 (2).
The 27-year-old American said through tears: "I don't think I was this emotional winning Wimbledon. I don't know, it's just been a couple of tough years, especially last year not even playing that much. Close to not playing the sport anymore.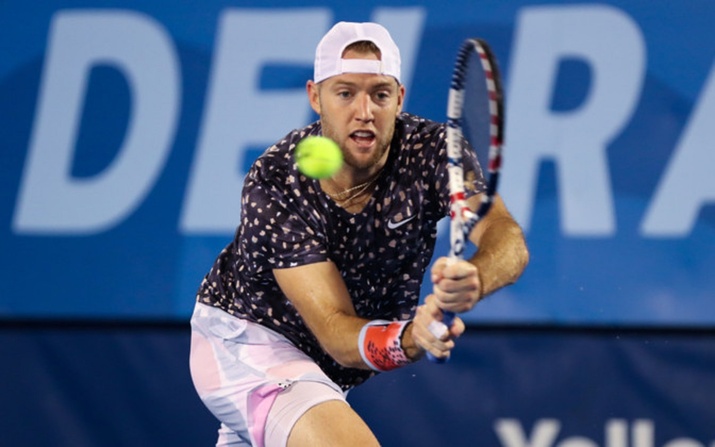 "Without the people in my corner, I probably wouldn't be here. Thanks to them for keeping my spirits up, keeping my positivity up, my belief up, because I didn't have a whole lot there for a while."
The crowd in the packed stadium gave Sock enormous support. Sock was immensely grateful to them: "That was amazing, especially for a weeknight early in the tournament. A massive factor in pulling that out for sure."
Earlier in the day, American Reilly Opelka, the fourth seed, defeated two-time Delray Beach champion Ernests Gulbis of Latvia 6-7 (5), 6-4, 7-6 (4) in 2 hours and 39 minutes. The colossal-serving American had 20 aces. Gulbis, who serves tremendously well and has been ranked as high as world No. 10, had 13 aces.
After the match, Opelka said: "He's [Gulbis] got some confidence here, a good start to the year. He was serving huge. It was a tough match. We both had to really be sharp on our own serves. I had a lot of chances to break in the first, didn't convert, and mentally just hit it really hard and was able to get the win."
Opelka also spoke about his key to winning tiebreakers: "It's tough. I play a lot of them. I play a lot more I think than most players. So having a plan going into every tiebreaker, being prepared for crucial things is important, more so for me, because I play a lot more tiebreakers."
There are still nine Americans left in the draw. Next up for Sock is compatriot Steve Johnson. Next up for Opelka is compatriot Mackenzie McDonald. The other Americans still in contention are Ryan Harrison, Brandon Nakashima, Noah Rubin, Frances Tiafoe, and Tommy Paul.