Six Out of Seven Seeds Prevail in Stuttgart

While this year in tennis has been defined by deep fields and a breadth of unexpected champions, it is almost refreshing to see the seeds at work in the Porsche Grand Prix in Stuttgart. Although there was an early shake-up when Simona Halep withdrew before the event began, the draw is largely intact and without any surprises.
Naomi Osaka defeated Hsieh Su-Wei 6-4, 6-3. Going into the tournament with little confidence in her red clay play, Osaka is quickly learning to make the best of the surface. Speaking with press, she still grappled with the advantages it gives her style: "I mean I didn't feel like I was in control but I felt like the way our games are set up she takes more risks than me and it pays off faster on hard court, so I felt like this surface is more suited for me and that sounds pretty weird."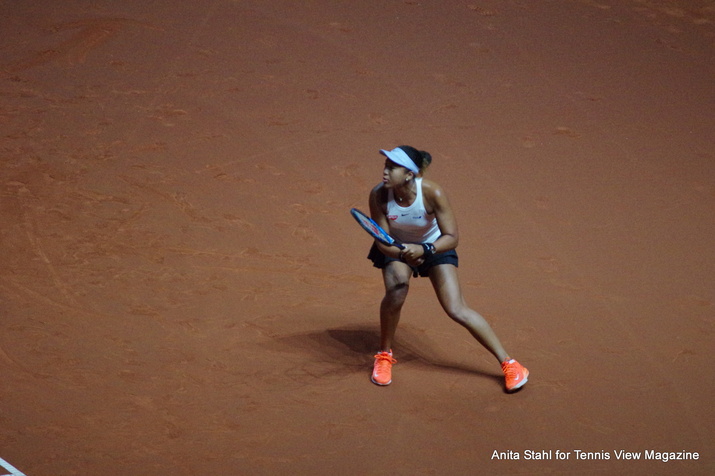 In a moment of reflection, Osaka expressed a simple but deep gratitude for her support network as she comes to terms with her new position as a two-time slam winning world number one: "I was thinking about this, I'm really grateful for everyone that's sort of has been really positive to me like during these past few months because it was really rough and kid was depressed out here. I feel like just like having people that are constantly bringing light and positivity into your life, it really helps because you don't know that you're feeding off energy until you're out." She faces Donna Vekic, who defeated Daria Kasatkina 6-1, 7-5, in the quarterfinal.
Fourth-seed Karolina Pliskova lost in a tight three-set battle to Victoria Azarenka. The Belarusian won 4-6, 6-3, 6-4 in a night match that exceeded two hours. The stadium was still packed from the all-German battle between Angelique Kerber and Andrea Petkovic. Kerber, still battling a cold that kept her off the courts for a couple weeks, worked off some pent-up energy with a quick 6-2, 6-4 victory. In their tenth career match, the two friends worked hard to get ahead of the other's familiar shots, and Kerber was quicker to get an advantage that she would not let go of. Petkovic was in high spirits with press after the match, saying she owed Angie dinner. A few minutes into the press conference, Petkovic shifted in her seat and took a reverential tone, when it turned out Kerber had wandered into the press area and was laughing and signaling to Petkovic behind the reporters' backs. It was clear no love was lost between the two and that their long embrace at the net was born of sincere affection.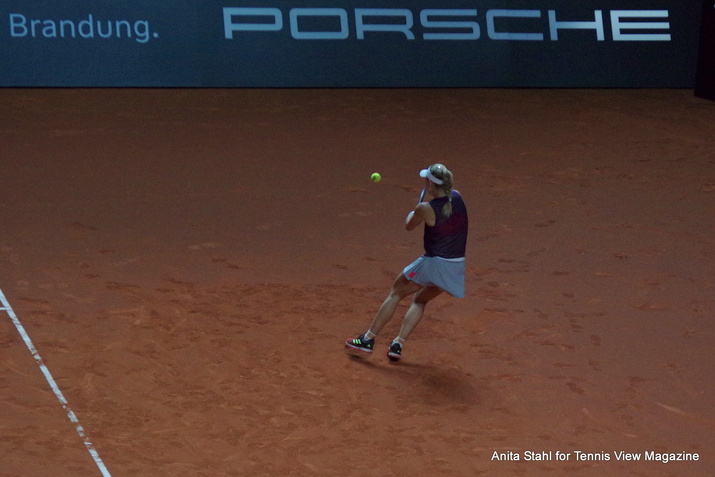 For her part, Kerber still does not feel she has fully recovered from the break she took due to illness, as she tries to get her bearings here on red clay, the surface she has historically struggled on the most. "Maybe [illness] helped me mentally to get ready for the clay court season that I had now a longer break but for sure, bodywise, I don't know if it helps me because I was really lying in the bed, I was not able to do anything. But the last few days from Saturday I was able to do more and more every single day and today I played good and I'm looking forward to continue this tomorrow."
Kerber faces clay expert Kiki Bertens in the quarterfinal Friday. Bertens struggled in her 4-6, 6-3, 6-4 victory over Belinda Bencic, but did not show herself to be discouraged going forward: "it was tough today. For sure it was a fight. I don't know if it was like a good fight or not. But at least I really tried and I fought hard today but it was tough. I think from the beginning I didn't really feel the ball and didn't also really get the rhythm. I think for the first one and a half set I felt like really bad on the court. I'm just really happy that I could manage to turn it around and, of course, my serve helped me a lot today."