Sinner Wins Citi Open Title In Thrilling Final

On a perfect-tennis-weather Sunday, Italian Jannik Sinner defeated American Mackenzie McDonald 7-5, 4-6, 7-5 in a thrilling final at the Citi Open in Washington, D. C.
Sinner, who turns 20 on August 16th, won his third career ATP singles title; all in the past nine months.
The Italian became the third-youngest champion in the Citi Open's 52-year history, and Sinner is the youngest ATP 500 champion since the category was created in 2009.
Watching the final from the press box, I was reminded of the stadium court at Cincy at the Lindner Family Tennis Center. The court colors are the same blue and green, and you can see cars parked in a field in the distance (reminiscent of cars parked at a state fair).
And because the Citi Open takes place in Rock Creek Park, you can see the wavering treeline of beeches, oaks, and maples.
The treeline reminded me of the Crandon Park Tennis Center in Key Biscayne (where the Miami Open used to be held), but the trees are palms and mixed with the white-light cityscape in breaks between the stands.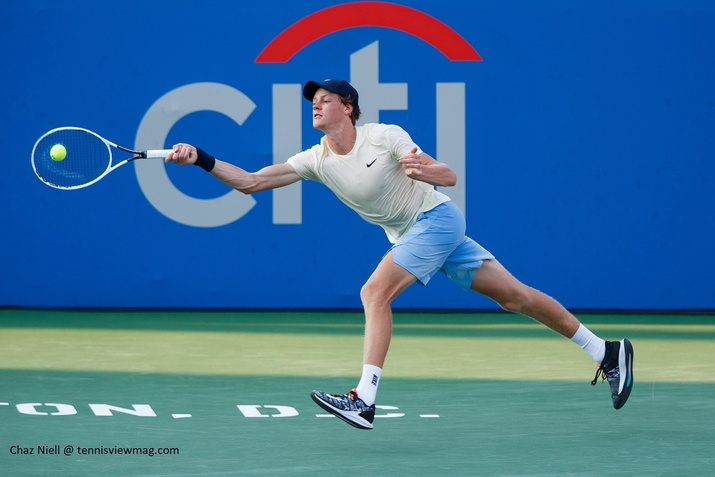 There's a feeling of intimacy at all three venues between players and fans and all three are public facilities.
I cannot remember if there's ping-pong at Cincy. If so, I did not play. But I did play in Key Biscayne in the sand.
Here in Washington, I played with Alex Gruskin, best known as the Cracked Racquets guy. It was clear from our first hit that he was much better, and so he became my coach, taught me his secrets: "Be Andy Murray, lean into the ball."
By the last night, we were hitting forehand-and-backhand-topspin-crosscourts, standing five feet behind the table, with that popping against the paddle of that lightweight ball through the air.
But back to that fantastic final. I was sitting near Alex, and I asked him: "Does Sinner's ball sound different?"
"Absolutely," he said. "I call it a sonic boom. Only Rublev and FAA have it, too."
McDonald's ball does not have that sonic-boom sound, but he was scrappy—moving here, there, and everywhere—hitting with creative variety, always trying to step in on the return, making some incredible forehand and backhand winners.
But the match always felt like it was on Sinner's racquet.
In his press conference, Sinner, when asked if his victory was more physical or mental, said: "Oh, I think it's tough with mental, because, you know, I had a lot of chances. I couldn't use it, because first he was playing better in the crucial moments. But I tried to work for one more chance and for one more chance and trying to break him like this.
"No, it was a little bit of a roller coaster, to be honest, because I started well in the third set. I tried to going a little bit up with the rhythm, trying to play a little bit faster. I broke him like this. And then trying to serve it out I had before two match points, and then after, I was not serving well. He was returning well.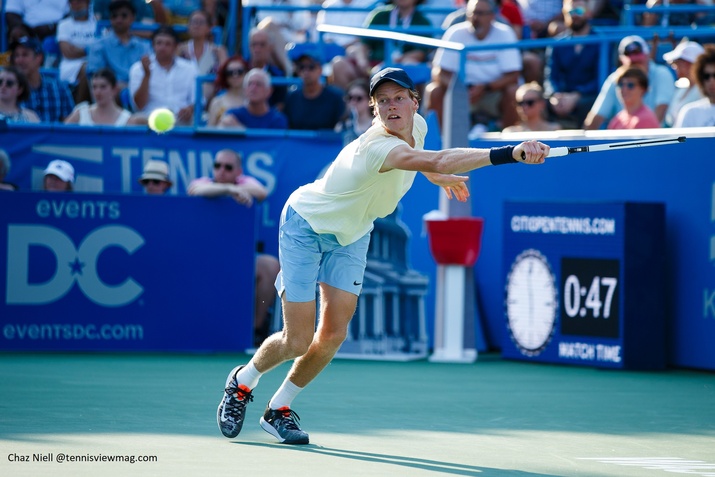 "I missed a couple of backhands and, you know, I think we both were there and, you know, trying to stay mentally strong and obviously physically if you're playing nearly three hours. I played doubles as well this week.
"So, as I said yesterday, with 19, 20, even if you play really long, you recover fast. So obviously it is physical, but I think most likely it was mental."
Sinner was asked if his level is good enough to compete with the best in men's tennis.
He answered: "It's a tough question. When you play against the best, you have to go out of court and really have to play your best tennis.
"I think there is still much work to do, to be honest. A lot of experience to put in, working hard as we are doing now, and, you know, trying to play important matches, important matches and important moments of a match. Today I think I had a lot of them. I can learn many things about today.
"But I think, you know, when the best players are playing their best tennis, they are very, very tough to beat. I don't know. I'm just already focusing about the next week."
The next week for Sinner is the National Bank Open in Toronto. It's another warmup for the US Open, a Grand Slam tournament, which begins on August 30th in New York.