Sinner Rolls Into Citi Open Semifinals

On a sunny and windy Friday afternoon, at the Citi Open in Washington, D. C., 19-year old Italian Jannik Sinner, the No. 5 seed, beats 31-year old American Steve Johnson, 6-4, 6-2, in one hour and 11 minutes to move into the semifinals.
By doing this, Sinner becomes the third Italian semifinalist since the Citi Open started in 1969 (Barazzutti in 1980, Furlan in 1996).
If Sinner defeats wild card American Jenson Brooksby on Saturday, he will be the first Italian finalist in the Citi Open tournament history.
Sinner served incredibly well, with seven aces and winning 93% of his first serve points. He saved all three of his break points.
Sinner is six foot two—long-limbed and lithe—and absolutely crushes the ball.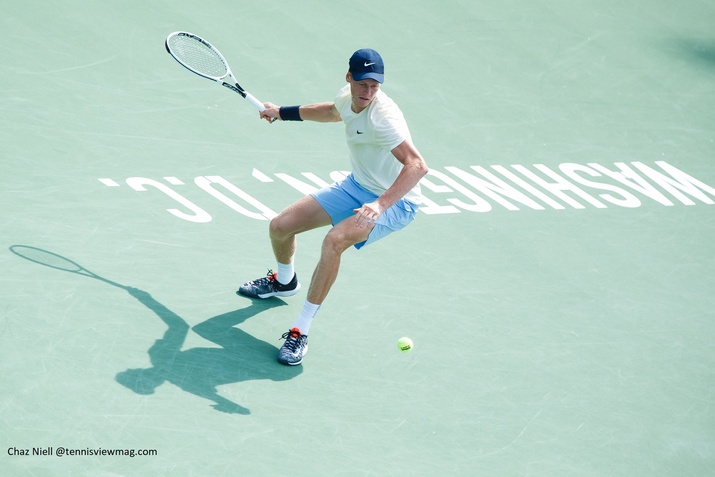 His backhand is his more steady shot, but his forehand is fantastic, too. He has easy power, the ball seeming to shoot off his racquet.
He has a similar playing style, especially off the ground, to young American rising star Sebastian Korda, who is his doubles partner. The pair have proven to be a formidable team and are in the semifinals, playing later this evening.
In his press conference, Sinner said of his three-match losing streak coming into the event: "Yeah, I mean, it's not easy. Not easy times, because I was up many times. First of all, in Queen's for me was not easy playing on grass. I don't have so much experience. So, you know, but I was up so many times, and I lost that match.
"Then after, in Wimbledon, you know, at the end, you know, he played well, but I had my chances. Then in Atlanta I had my chances, as well, especially in the first set. I had three set points, I couldn't close it out.
"But, you know, we were always working hard, you know, trying to get my confidence a little bit back. Now, you know, winning three matches for me was important, you know, especially for the next tournaments, having some match practice, singles and doubles, which I think doubles helps me, helps me a lot, helps me on the net and on serve and return.
"So, no, obviously thanks to, yeah, Sebastian Korda that we have the chance to play together, like last week with Reilly Opelka. It's nice to have some other kind of conversation with other players. You know, getting a little bit of confidence with everyone, and, yeah, I think, yeah, it's very nice."
About his singles semifinalist opponent, Jenson Brooksby, Sinner said: "I think he's a very tricky player. He is maybe in the best moment of his young, young career, you know, playing the best tennis. He is, yeah, in confidence, really, really in confidence.
"I don't know exactly how he plays. We never practiced together. We didn't spoke so much. I mean, just "hi" and "how are you" around the locker room.
"Yeah, I think it's going to be a very interesting match, a very tough match. He puts a lot of balls in the court. It's very, maybe it's going to be physical.
"But, you know, I see tomorrow how it goes, and then hopefully it's going to be a great match."