Sinner Reaches Wimbledon Quarters

Jannik Sinner is in the quarterfinals of Wimbledon for the first time.
The 20-year-old Italian, who is the tenth seed, beat 19-year-old Spaniard Carlos Alcaraz, the fifth seed, 6-1, 6-4, 6-7(8), 6-3
It was the youngest Wimbledon men's singles match-up (in terms of combined age) in the round of 16 or later since 17-year-old Boris Becker defeated 21-year-old Henri Leconte in the quarterfinals in 1985.
It was the second Tour-level meeting for Alcaraz and Sinner and their first at a Grand Slam or on grass. Alcaraz won their only previous meeting at Tour-level, in the third round at Paris-1000 last year.
On Centre Court on Sunday, Sinner played amazing tennis, hitting deep flat shots that sounded like a sonic boom off his racquet, skidding slices, and deft drop shots and volleys.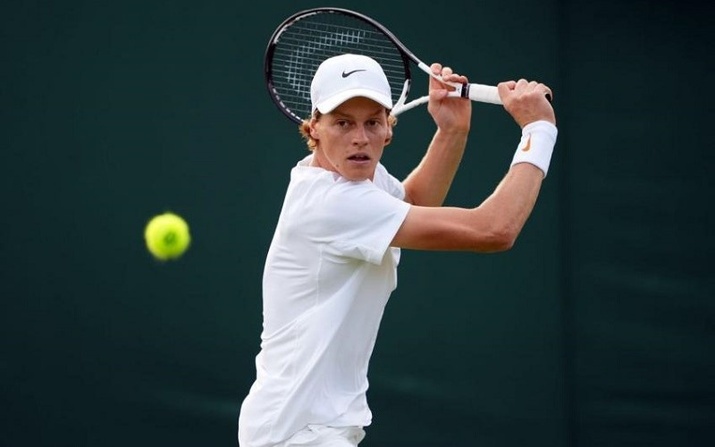 (Source: Tennis 365)
Though Sinner lost the third set after having two match points, he remained composed. In the fourth set, he needed four more match points to win the battle, billed as a clash of future tennis stars.
Seven days ago, Sinner had never won a match at Wimbledon. Now, he is in the quarterfinals.
Sinner said in his press conference: "Yeah, it was a tough match, obviously knowing that before. I think the level from both of us was great.
"Yeah, I think that's the most important, to show a great level of tennis. Yeah, I'm very, very happy.
Sinner said after losing the third set that he tried to stay in the present moment. "I mean, I had chances in the third. I didn't use them.
"But still, as I said before, the level was high. I tried just don't to drop my level. I think I was struggling a little bit in the fourth in the beginning, so I tried to serve well.
"Yeah, I mean, I'm happy to close it out in four sets today."
Before the match, there was a ceremony to celebrate the 100th year of Centre Court, with Roger Federer, Bjorn Borg, and Billie Jean King, among the returning champions.
Sinner said: "First of all, it's a special day. Many, many great champions are here or were here. It's just great to see the crowd is fully packed. Obviously when you go out there and you see the crowd cheering and enjoying, that's the most important.
"For me was a privilege today to go for the first time there in the Centre Court. Yeah, hopefully also the next round will be there. It's a very special feeling."
In his press conference, Alcaraz said: "Well, of course I start really nervous. Playing on Centre Court is not easy for me. Jannik could handle it better than me, the nerves and the pressure, I'd say.
"Of course, I was trying to get better, trying to think what was happening. Of course, in the third set it was a little bit different. He could break my serve I think a couple of times. I was struggling a lot with my serve and couldn't return well.
"After the third set I had chances to break the serve to be up in the fourth, but I couldn't took that chances. I think in the second break point he had, he break me the serve.
"Well, it was tough to come back in the fourth being break down.
"All I can say is I couldn't take the chances. That's tough."