Simona Halep, the Serena Williams of the Second Tier

The past decade of the WTA Tour has been a tumultuous one. With the multitude of early retirements, extended hiatuses and comebacks, the ranking system lacked a decisive structure, and results appealed more to those who enjoyed upsets and chaos than to fans of order and balance.
In the last 24 months, however, that dynamic has drastically swung in the opposite direction. Serena Williams has reclaimed her position as the undisputed best in the game, but her undefeated week in Istanbul was striking in how much she remained able to outclass her closest competitors. This was particularly true in the knockout rounds, where she appeared to be running on fumes.
In the mid-1990s, Martina Navratilova lamented the devolvement of the WTA into a story of "Steffi [Graf] and the Seven Dwarves," and heading into 2014, Williams has filled that role with frightening efficiency. If complete chaos is not compelling, what can be said about unrivaled domination?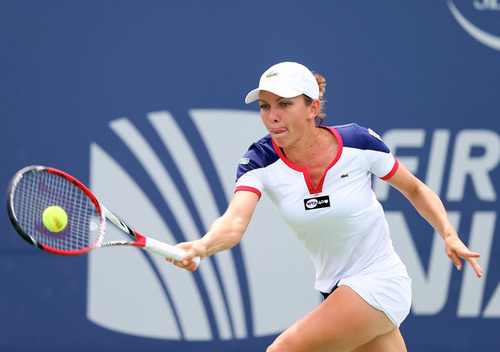 An oddly parallel story played out during the Tournament of Champions, what could be deemed the WTA's Tier II Year-End Championships. If Williams was at the top of the class nearly everywhere that mattered, Romania's Simona Halep was that everywhere else. In a career season for the 22-year-old, Halep won six titles in five months, culminating in an undefeated romp through the Tournament of Champions in Sofia. Like Williams, Halep was ruthless in her round-robin matches, and she dug deep through two three-setters in the knockout rounds, coming back from one-set deficits against former major champions Ana Ivanovic and Samantha Stosur.
Since she finished the year one big result from reaching the top 10, there are those who see Halep's minor-league domination and predict bigger things to come over the next few years. There are, however, just as many who point to Halep's paltry record at majors. Losing before the third round at the Australian, French and Wimbledon Championships, Halep's backlogged success meant that she was only seeded at one major tournament this year, where she failed to take advantage of a thoroughly decimated US Open quarter.
One can look at the Romanian's wins in Budapest and 's-Hertogenbosch and scoff at her big-league prospects, but that does mean ignoring other parts of her 2013 resume. Finishing with the seventh-best winning percentage in the WTA against top-10 players, Halep struck a respectable 4-5 record against the game's elite, including wins over Agnieszka Radwanska and Petra Kvitova. Compare that to a Sloane Stephens, a player who impressed on the biggest stages but finished 2-9 in the same category.
Simona Halep may have won a ton of titles that few concerned with the sport's bigger picture care about, but there is something to be said about winning a ton of titles in any echelon of the WTA. Jelena Jankovic was able to parlay a seemingly one-off run to a win in Bogota into a major quarterfinal and a return to the top 10. Consider even Williams herself. Would we be talking about one of her best-ever seasons had she compounded a shock loss at Wimbledon with another loss at the minor clay event in Bastad?
For competitive athletes, a win can be intoxicating. For players like Williams and Halep, winning was contagious this year, no matter the stage.