Short 'n Sweet, The Abbreviated Serve

A-Rod is the master of the abbreviated serve. Will using the condensed motion make you produce more aces too?
ANDY RODDICK POSSESSES one of the most powerful, effective serves on the circuit, consistently ranking among the best in total aces produced. Unlike most players, he uses an abbreviated service motion where during the moment he tosses the ball the racquet head is pointing up. On the contrary, most players' racquet head faces down or a neutral position during the ball toss.
As the coach of serving bomb John Isner, Craig Boynton knows a thing or two about serve motions and success. He says, "Rumor has it that Andy had a longer service motion when he was a junior. Then, one day he was goofing around with players to see how hard he could hit a serve, and he abbreviated the motion. It worked so well that he adopted the style from that point forward," says Boynton, director of the Saddlebrook Resort Academy. Boynton adds, Roddick's first serve percentage has increased over the years as he focuses more on accuracy and placement than sheer speed. The American boasts a career 65 percent first serve stat. "He can still hit the bomber serve, but he's more concerned with holding serve than hitting an ace."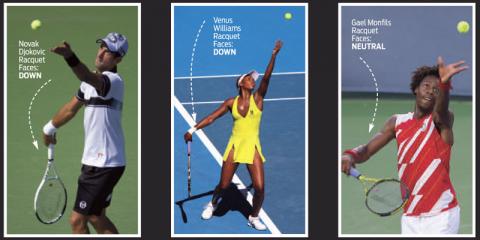 The abbreviated serve has fewer steps, therefore, technically and theoretically, less can malfunction with the stroke. Boynton says Roddick has the most effective abbreviated service motion on tour. So with such serving success, why wouldn't more players – pros and recreational players alike – mimic this motion? The compact motion requires greater coordination than the traditional motion, notes Boynton, and it's more complicated to perfect. It's not recommended for beginners. "Because there are fewer steps, the timing must be more precise. If it's performed incorrectly, the motion can increase stress on the body and cause injury."
But if it's performed correctly, the abbreviated serve may actually reduce shoulder stress. Plus, another upside to the motion, because the ball toss is lower and the service motion is quicker, the opponent has less reaction time to return.
Although Roddick is the player most often associated with the shortened serve others such as Justin Henin and Gael Monfils use it with great success, too. The choice to use the abbreviated serve is personal. If you're not already using it, Boynton suggests sticking to the traditional full-range service motion and leaving the shortened serve to the pros.
Abbreviated Serve
| | |
| --- | --- |
| Advantages | Disadvantages |
| // Deceptive, more difficult for opponents to read and react to the serve, may reduce shoulder stress. | // Requires great coordination, complex and difficult to master, timing must be precise. |
| | |
This article is from the July / August 2012 issue

SOLD OUT

Subscribe now and you'll never miss an issue!