Sharapova Delivers Against Defending Champion

The last time the Maria Sharapova and Caroline Wozniacki were being mentioned in the same sentence, they were trading barbs at the US Open.
Wozniacki suggested that "someone who comes back from a drug sentence and performance-enhancing drugs and then all of a sudden gets to play every single match on center court", while Sharapova retorted: "All that matters to me is I'm in the fourth round. Yeah, I'm not sure where she is."
But as the match began, the mudslinging was irrelevant. Two slam champions and former world number ones took to the court, interested in nothing but victory. It was Wozniacki who rolled out of the blocks quicker, hitting with length and flitting to a 4-1 lead in the first set, but Maria Sharapova quickly took over. She reeled off 5 straight games, her forehand dialed in and producing 11 winners.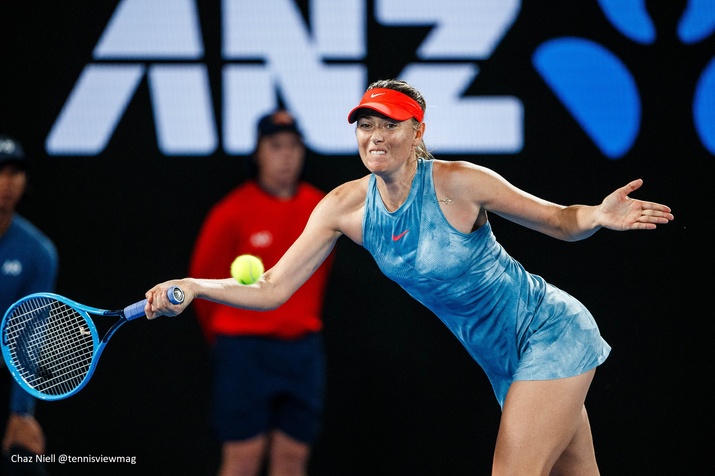 As usual, the pair's contrasting styles met in the middle to produce physical, bruising points with long exchanges as Sharapova tried to break down the Danish defense, searching for avenues to end the point early but without overhitting. But while Sharapova, still searching for form, Wozniacki was far too tentative, missing returns.
After the two double faults in the first set, Sharapova started the second with three double faults in her opening game, missing all three second serves. It set the tone for a set that crumpled in quality. Sharapova relinquished her grip on the Dane's serve, firing returns long missing second serves. The tension released in the tenth game as the Russian attempted to serve to stay in the set.
By 3-3 in the third set, Wozniacki seemed to be on top. She was serving 71% first serves and hadn't lost a single point behind her first serve throughout the final set. As Wozniacki made more returns and cut out the looser errors, Sharapova's form shook.
And then it happened. From 3-3, Sharapova landed at least 6 great returns across a tight deuce game to secure the elusive break. She started the game with two point-ending bulldozing returns, then ended it on break point with a great stretched forehand return off an exceptional Wozniacki second serve, setting up an easy forehand winner. Sharapova held and then broke again to secure a significant victory.
"No, yeah, it was definitely, you know, a match that I looked forward to and when the draw came out obviously, I had to get there first and so did she," said Sharapova. "But, yeah, I thought it was, as usual, as expected, a physical match. Didn't have to be in some ways, but I felt like even in the longer rallies I did a great job of winning those. Put a lot of pressure on her. You know, those are the rallies that I think many years ago that she used to win. I thought I did a great job of getting a higher percentage of wins in those."
For Sharapova, the victory was a statement of intent. It showed that after a torrid 2018 ransacked by injury and poor form outside of clay courts, forcing people to question whether she could return to the top of the game, she is here. Right at the beginning of the year, her level is good enough to compete with another top player on the biggest stage. As the focus rested on her form and the tension of the match, it showed that the grudges don't matter when the tennis delivers.