Shapovalov Continues High-Level Play In Rome

During the US Open, Patrick Mouratoglou, best known for his academy in Nice and as the coach of Serena Williams, tweeted that Shapovalov's serve was impressive, that he was rare to be so aggressive and consistent, and that he was dangerous on the run. Then one last tweet: "And one more thing before the match [against Goffin in the fourth round, which Shapovalov won] is over, Shapo is incredibly exciting to watch!"
World No. 14 Denis Shapovalov, age 21, of Canada, has picked up right where he left off on the hard courts of New York and transitioned beautifully to the red clay of Rome. He defeated world No. 37 Guido Pella, age 30, of Argentina, 6-2, 6-3 in one hour and 26 minutes in the first round of the Internazionali BNL d'Italia.
Shapovalov is incredibly exciting to watch. He brings that same electricity to a stadium as Rafael Nadal. Like Nadal, he's an intense lefty with a vicious forehand.
And he has routines. Before he serves, he bounces the ball back through his legs twice, then four times in front. On changeovers, to combat what used to be, perhaps, too much twitchy energy, he now closes his eyes and meditates, visualizes.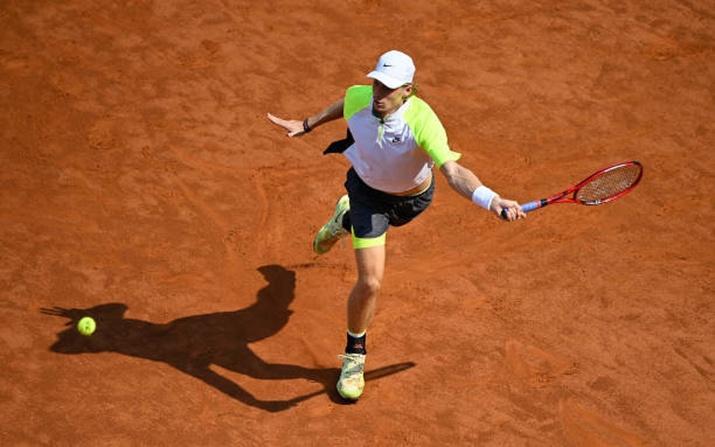 He's aesthetically pleasing to watch. With his blond hair peeking out from under his white baseball cap, he's lithe and long-limbed with long swings. On clay, especially, he flows like a skater or surfer, often taking big jumps, most often on his one-handed backhand, in his quest to win every point.
In the first set, in the first game, Pella, who is also left-handed, held in a battle that had five deuces and lasted seven minutes. In the second game, Shapovalov, looking confident, dictated the long rallies and held with a sensational forehand winner. At 1-all, in another seven-minute game, Shapovalov broke with a punishing backhand down-the-line and a netted forehand from Pella to go up 2-1. Then Shapovalov held at love for 3-1, and Pella held with a heavy forehand down-the-line winner.
Serving at 3-2, Shapovalov showed off his incredible feel, as he snuck into the net to feather a backhand drop volley winner. He then held with an ace out wide for 4-2. In the next game, with Pella serving, Shapovalov showed off his great hands again as he approached with a down-the-line slice and hit a forehand drop half-volley pickup for a winner to break. He then held with an ace and a devastating serve down the T that caused Pella to miss his forehand wide.
In the second set, in the first game, Pella held at love. As they switched sides, though, Shapovalov still looked focused, determined. His neon yellow shoes were now smudged with red clay. Serving at 0-1, he hit an inside-out jumping forehand that set up a crushing forehand crosscourt. Then he hit another massive inside-out forehand and a delicate dropshot to hold.
They stayed on serve until Shapovalov broke for 3-2, when Pella missed another forehand. Shapovalov stayed calm and composed, but still intense. Pella looked subdued.
At 3-5, Pella was serving to stay in the match. He double-faulted, then got down love-40. There was a spark of hope when he hit a fantastic forehand crosscourt winner, but it was not enough. At 15-40, he sailed a backhand long.
In his interview afterward, Shapovalov said: "Not an easy match, it was a very tough match, especially on this kind of surface, really great player for my confidence, and I'm happy to get the win today."
Shapovalov agreed that he was moving well, but said he was jet-lagged. "I'm struggling with that quite a bit, definitely the body as well. It's not an easy turnaround, especially with the long matches I had [at the US Open].
"I felt like it was a long three weeks there. I'm definitely trying to do everything I can. I'm really happy with the way I was able to move, and I think I just played at a really high level today, so I'm really happy that was possible."
Next up for Shapovalov is Pedro Martinez, a qualifier whom he's never played. "I don't really know him too well. I'll do a little bit of scouting. Obviously, I have Mikhail [Youzhny, his coach and former world No. 8] with me here, so he's going to help me out with that as well.
"I think it's great to get as many matches as possible before Roland-Garros, so I'm really happy to be through."
(photo courtesy of Getty Images)