Serena Williams Withdraws from BNP Paribas Open

Serena Williams retired from her match against Garbiñe Muguruza at the BNP Paribas Open Sunday. In a written statement to media, she explained: "Before the match, I did not feel great, and then it just got worse with every second; extreme dizziness and extreme fatigue."
Williams appeared herself and took a quick 3-0 lead in the first set when she began to slow down. Her pace declined quickly in terms of footwork and pacing on the ball, as she began to hit toward the center of the court and made an uncharacteristic series of unforced errors. Muguruza, who was moving as well as she ever has in her career was quick to take advantage and won the next six games. Between sets, Williams sat down and requested the trainer. Trainers came on court and checked her vitals but did not appear to administer any medication or treatment.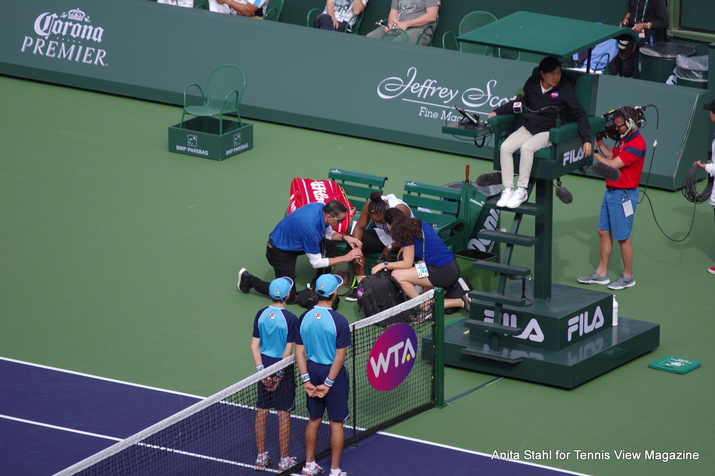 Williams got up from her chair and resumed the second set on Muguruza's serve. Muguruza won the next four points, bringing her lead to 6-3, 1-0. Williams returned to her chair and told Donna Kelso, the tournament supervisor, that she would retire. Muguruza went to shake the still seated American's hand 46 minutes after play had begun.
Asked when she could tell that something was wrong with Williams, Muguruza said: "I guess at the end of the first set or when the first set was over, I felt that she was calling the trainer. She wasn't feeling very well, I guess. But I think she started actually playing very well at the beginning." Williams herself disagreed, saying in her statement that "By the score, it might have looked like I started well, but I was not feeling at all well physically. I will focus on getting better and start preparing for Miami."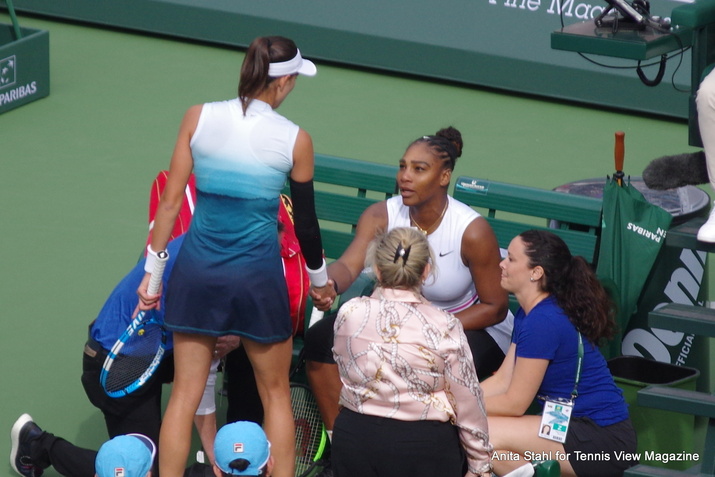 Muguruza faces Kiki Bertens next and is excited for a challenging match with the player she said was getting better and better. "I look forward for all the matches. Right now, the more the time goes by, the more that anybody can beat anybody. Doesn't matter the ranking or… That's it." Muguruza has been in perhaps the best shape of her career. At her practices, the Spaniard has been extremely focused, hitting every ball with uncompromising pace and precision. So far this season, she is 11 and 5 for her win/loss record. She made the Australian Open round of 16, before losing to Karolina Pliskova. Her next match will likely be played Tuesday. Bertens leads their head to head 3-1, but each of those victories came between 2010 and 2012.